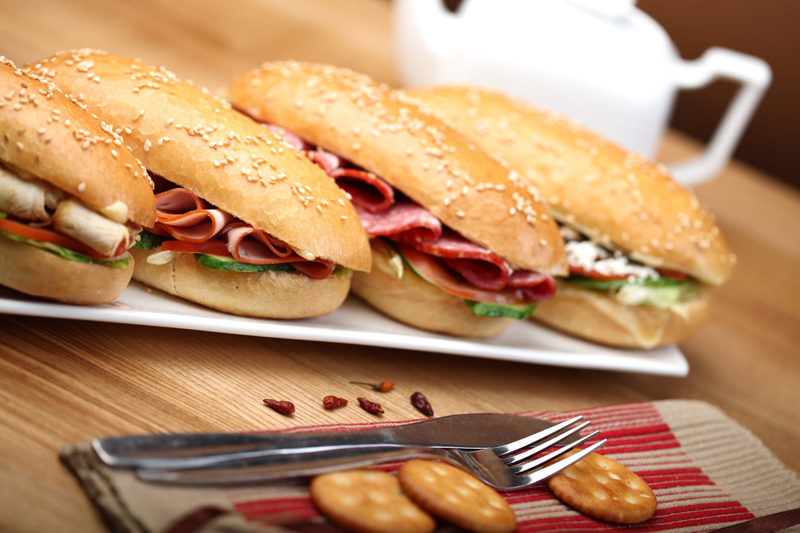 These sandwich ideas are from the Sandwich Name Game in the BellaOnline Sandwich Forum. Instead of recipes, these ideas give lists of ingredients to create your own sandwiches.
10 Holiday Party Sandwich Ideas


These sandwich ideas work well on a party table. They were picked because they are not hard to make. When it is a busy time of year, the last thing that you need is to have to fuss with a difficult recipe. While these sandwiches won't make themselves, it won't be hard for you to create them.
10 Sandwich Ideas for Meatless Monday


Do you need some creative sandwich ideas for Meatless Monday? Whether you have a vegetarian lifestyle or are a dedicated carnivore, these tasty sandwich ideas are loaded with flavor and filled with good nutrition.
10 Sprout Sandwich Ideas


This article has 10 delicious sprout sandwich ideas and directions for making your own sprouts at home. Sprouts are easy to grow and very cost effective. It takes the worry out of eating sprouts, because you know how they are grown!
12 Fresh Tomato Sandwich Ideas


With fresh from the garden tomatoes, a tomato on a sandwich doesn't need to be a sadly pale slice. It can be bright red and bursting with flavor. Thickly sliced fresh tomato on white bread with mayo is taste bud heaven! Below, there are a dozen tasty sandwiches made with tomatoes. Summer tomatoes!
15 Hot Sandwich Ideas


The Sandwich Name Game on the Sandwiches Forum at BellaOnline is an almost endless source of fantastic sandwich ideas. These hot sandwich ideas can help you manage your food budget with ideas for using those odd bits of food that lurk in your fridge. Our tasty, warm sandwiches will hit the spot.
15 Sandwich Ideas for Ground Meat


For cost effectiveness and creative spicing options, there is nothing quite like ground meat for sandwiches. Don't be afraid to experiment! Here are 15 outstanding ground meat sandwich ideas.
15 Turkey Sandwich Ideas


Here are some ideas for great turkey sandwiches. These ideas come from the Sandwich Name Game on the BellaOnline Sandwiches Forum. This game that produces sandwich ideas has been viewed over a million times. It is a good resource to find sandwich ideas. Check out the articles in the Related Links.
16 Ideas for Meatless Monday Sandwiches


Do you ever feel like you are eating more meat than you think is good for you? Would you like to trim some fat out of your food budget? Meatless Monday is a movement that can help you limit your meat consumption. For one day a week, just don't eat meat! Imagine the wonders of meatless sandwiches.
16 Summer Sandwich Ideas


Summer is the time for fresh, fresh, fresh! Pile those garden fresh ingredients on your sandwiches. Some of these treats are flavorsome vegetarian sandwiches, while others are luscious for meat lovers. Take a little peek at these tasty sandwich delights!
16 Wrap Sandwich Ideas


When you have good leftovers that you need to repurpose, transform them into a tasty wrap sandwich. Whether you are following an urge for a certain taste or using the wrap sandwich for using leftovers, they make a creative basis for a tempting sandwich meal. Here are 16 tasty ideas!
20 Lenten Sandwich Ideas


The forty days of Lent might bring some sandwich challenges. Here to the rescue is the BellaOnline Sandwich Name Game from our Sandwiches Forum. Try these sandwiches for your Lenten observations or any time of the year when you need a good sandwich.
6 Wrap Sandwich Ideas with Variations


Whether you use a grain product or a veggie leaf to hold a filling together, wrap sandwiches are delicious! Use these ideas, or build your own special wraps. Wrap your favorite meat dish or salad. Turn leftover veggies or beans into a wrap sandwich. You can wrap almost anything!
A Dozen Fresh Turkey Sandwich Ideas


There are certain times during the year when there is an overabundance of leftover turkey in the fridge. It's great for sandwiches, but sometimes you need some fresh new turkey sandwich ideas. This article is for you!
A Random Assortment of Sandwich Ideas


This time the Sandwiches Idea article does not have a theme; you just get a lovely assortment of delicious sandwiches. There are two dozen of them! Some are vegan, others are meatless, and some of them are pleasing to carnivores. Watching your carb counts? You will find sandwiches here for you.
Avocado Sandwich Ideas


When I was a girl, the most exotic items in the produce department were artichokes, eggplants, and avocados. With the many new produce items from all over the world, avocados no longer seem exotic…but they haven't lost their charm. Here are ideas for sandwiches that feature tasty avocado .
Bacon Sandwich Ideas


Who doesn't love bacon? Well, other than doctors and all of those people who are worried about saturated fats. Oh, and vegetarians, too! I know a lot of people who just drool over a crispy piece of bacon. Here are bacon cooking methods and Bacon Sandwich Ideas.
Breakfast Sandwich Ideas for Busy People


Why do so many people skip breakfast? Nutritionists tell us it is the most important meal of the day. It helps provide your body with ingredients to make the energy that you need to get through your busy day. Try some of these tasty breakfast sandwich ideas from the BellaOnline Sandwiches Forum.
Cheese Sandwich Ideas


Do you remember the classic 1950's sandwich? Who doesn't remember American cheese on white bread with a swipe of mayonnaise? Cheese sandwiches today have become creative and versatile meal staples. Here are ideas for vegetarian cheese sandwiches and some that feature meat paired with the cheese.
Chicken Sandwich Ideas


The chicken sandwiches of my youth were tasty, but boring. The chicken was boiled, broiled or baked. These sad little sandwiches were served on white bread or limp white toast with mayonnaise. Chicken sandwiches have changed for the better. They can be a part of exciting and varied sandwich meals.
Deli Meat or Cold Cut Sandwich Ideas


Whether you call them cold cuts or deli meats, those thin sliced little bits of meaty goodness can make a dandy sandwich. Combine several types for a hoagie style sandwich. Dress the sandwich up with veggies and condiments. Your imagination is the most powerful tool that you have in your kitchen.
Egg Sandwich Ideas


Eggs are affordable and they cost less than most meats. In addition, an egg only has 70 calories and contains 6 grams of complete protein per egg. When you have access to eggs, there is never an excuse for a boring sandwich. They make creative and delicious sandwiches. Here are some tasty ideas!
Exotic Sandwich Ideas


Are you tired of the same old sandwiches? Here are some old ideas with a new twist! Take a journey down a road that totally bypasses the fast food lane. Find some new ideas. These exotic sandwich ideas will tickle your taste buds.
Four Weeks of Deli Meat Sandwich Ideas


Look at this list of tasty sandwich ideas for deli meats! We have four weeks of scrumptious sandwich ideas just waiting to be created on a plate in your kitchen! This is a good start on building sandwich meals for a month. Find some great sides and enjoy those sandwich meals!
Grilled Sandwich Ideas


I love a grilled sandwich. They just look elegant and rustic, all at the same time. That first toothsome crunch when my front teeth break through that crusty bread is just delightful. That burst of oily, browned-off flavor rushes across my taste buds. If you love them, too, here are some ideas.
Ground Meat Sandwich Ideas


Ground meat in its many variations, such as beef, pork, buffalo, turkey, chicken, and lamb, is incredibly versatile. These tiny bits of meat just wait for your imagination and creativity to make it come together in an amazing sandwich!
Ham Sandwich Ideas


What can you do with leftover ham? Here are 15 great ideas for delicious ham sandwiches.
Ideas for Sandwiches with Fried Fillings


Fried foods are a guilty pleasure. You know that you aren't supposed to eat that much grease, but it tastes oh, so good! Here are 16 delicious ideas that are just waiting for a creative cook to bring them to life. These sandwiches with fried fillings include both meaty and vegetarian ideas.
Ideas for Sandwiches with Salad Fillings


Here are some ideas for sandwiches made with salad fillings. The breads and condiments on this ideas list might help you get started with suggestions for your own tasty sandwich buffet. Enjoy visiting with friends and family when you make a sandwich buffet.
Luscious Pork Sandwich Ideas


In addition to being a succulent meat, pork is versatile. It easily absorbs the flavors that it is cooked with. Be creative! Use your favorite flavors & condiments to build some luscious sandwiches. Use these 12 sandwiches to get ideas. Then, tell us about them on the BellaOnline Sandwiches Forum.
Meat Salad Sandwich Ideas


There are times when you have a small amount of meat left over. Combine the meat with chopped veggies, fruits, and nuts to make a meat salad. Add a binding agent like mayonnaise, mashed avocado, or a favorite salad dressing, for a delicious sandwich filling. Here are 10 meat salad sandwich ideas.
Meatless Monday Sandwich Ideas


What is Meatless Monday? This is a campaign to get people to eat fewer meals that are based on meat. Instead of going "cold turkey," so to speak, participants slow their carnivorous appetites incrementally by replacing meat in meals on one day of the week. Enjoy these tasty meatless sandwich ideas!
More Meatless Monday Sandwich Ideas


Meatless Monday is a movement to help people eat less meat. By replacing meat in meals on one day of the week, people can discover just how tasty a meatless meal can be. Here are a few sandwich ideas that can help your family have successful and tasty Meatless Monday sandwich meals.
Mushroom Sandwich Ideas


Mushrooms have jumped out of their cans and gotten fresh with the world of cooking. No longer relegated to semi-tasteless, little rubber-like pieces, this versatile fungus family can star in a sandwich. Grilled, sautéed, or fried, mushrooms are mouthwatering in sandwiches.
Pita Sandwich Ideas


Maybe it is the thought of lazy summer days, but I have been thinking about pita sandwiches lately. Do you have some ideas for pitas? I do! Try my fresh, tasty pita ideas. Then, feel free to share pita ideas with us on the BellaOnline Sandwiches Forum. Your creative ideas are welcomed and valued.
Pocket Pita Sandwich Ideas


When it comes to stuffing your pita pocket, we have some ideas from the BellaOnline Sandwiches Forum. Some have meat, while others are perfect for Meatless Mondays. Many of these ideas can be found in the Sandwich Name Game. Use these ideas for a start, and then add your own creativity!
Pork Sandwich Ideas


Did you know that there are new guidelines for safely cooking pork? You don't have to serve dry, tough pork on your pork sandwiches. Make it juicy! Here are some delightful ideas for pork sandwiches, They come from the Sandwich Name Game at the BellaOnline Sandwiches Forum.
Roast Beef Sandwich Ideas


Whether you roast a piece of beef and slice it or buy deli sliced roast beef, there are hundreds of sandwiches that you can create with this tasty meat. Here are ideas for delightful roast beef sandwiches. They were adapted from sandwich ideas originally found in the BellaOnline Sandwiches Forum.
Rotisserie Chicken Sandwich Ideas


A good rotisserie chicken can give you a lot of meat for those special sandwiches. In the winter, those chicken bones can give you the means to make a great soup stock to complement your sandwiches. I love buying a large chicken that I don?t even need to cook. It is the ultimate fast food.
Sandwich Ideas with Pico de Gallo


Pico de Gallo is a simple, finely diced, fresh sauce, or salsa. At its easiest to create, Pico de Gallo is usually made with tomatoes, onions, peppers, cilantro leaves, salt, and lime. Jalapenos are the peppers used by many, but some people use serrano or habanero peppers. Yummy Pico de Gallo!
Sandwich Name Game and Sandwich Ideas


Do you need sandwich ideas? A new section of the BellaOnline Sandwiches Site will use ideas from the Sandwich Name Game at BellaOnline to give readers ideas for sandwiches. This resource will assemble sandwich ideas by ingredients and sandwich style.
Sausage Sandwich Ideas


Spicy or mild, smoked or fresh, sausage makes a wonderful addition to a sandwich. A simple sandwich of sausage, bread, and a condiment or two can be the basis for a hearty sandwich meal. Here is a list of tasty sausage sandwich ideas from the Sandwich Name Game on the BellaOnline Sandwiches Forum.
Seafood Sandwich Ideas and Seafood Sauce Recipes


The Sandwiches Name Game in the BellaOnline Sandwiches Forum is the home for some of the most creative sandwiches that I have ever seen. These Seafood Sandwich Ideas are delightful, and I would like to share some of them with you. There are also some sauce recipes at the end of the article.
Shrimp and Fish Sandwich Ideas


Shrimp is one of those foods that most people don't associate with sandwiches. However, boiled or fried, they make lovely sandwiches. Fish also plays well with breads and rolls! Here are ideas for sixteen excellent shrimp and fish sandwiches.
Steak Sandwich Ideas


Where can you go to find great sandwich ideas? The BellaOnline Sandwiches Forum has the Sandwich Name Game. Readers use creativity to invent novel sandwiches. Now, these sandwich ideas are gathered in an easy-to-use article. See the many varieties of steak sandwiches.
Sweet and Nutty Sandwich Ideas


We tend to think of sandwiches as a utilitarian way to slap together a quick meal. It's a radical idea, but there are sweet sandwiches that are terrific desserts. Some of them are great for snacks. Others are fabulous with tea. Meat sandwiches can be enhanced by the additions of fruit and nuts.
Tasty Healthy Sandwich Ideas


Any time of year is a good time to make nutritious food choices. Your favorite sandwiches can be modified to make them more healthful. Be a sandwich adventurer by combining novel ingredients. Feel free to enjoy sandwiches that are as good for you as they taste. Enjoy your sandwiches!
Thanksgiving Sandwich Ideas with Turkey and Ham


Are you excited about leftovers the first day? When do you get the feeling that you just want to be rid of them? We often over-buy turkey and ham. Well, here's the good news for you! There are plenty of sandwich ideas in this article to help you use those pesky leftovers!
Thin Sandwiches with Bold Taste


Sometimes it's satisfying to bite into a thick sandwich with a huge hunk of meat. However, thin sandwiches with bold taste have their own charms. They are usually lower in calories and carbs than their thick cousins. Did I mention the outstanding variety of flavors that they can contain?
Tomato Sandwich Ideas


Any time of year is a good one when you are making a sandwich with tomatoes. The summer tomatoes are especially succulent. Their jewel tones and juicy texture can make any sandwich an eating event. Bursting with flavor and nutrition, they are hard to beat as a sandwich ingredient.
Turkey Sandwich Ideas


Why does turkey make such a wonderful sandwich? First, it absorbs the flavors that it is cooked with. This makes it ideal for creative sandwich building. It is a low-fat source of high-quality protein. Share a turkey with friends, if a whole one is too much. The price is right! Try turkey tonight.
Vegetarian Sandwich Ideas


What do you serve to people who have a vegetarian lifestyle when they come to lunch? Peanut butter and jelly sandwiches? Grilled cheese? These are perfectly good sandwiches, but they lack pizzazz. Here are some creative meatless alternatives to those humble sandwiches.
Wrap Sandwich Ideas


When you really can't face another traditional sandwich, or you just want a bit of variety, you need to wrap your sandwich ingredients! Wrap with tortillas, naan, rice wrappers, lettuce leaves, or even thin sliced deli meat. However you wrap it up, here are some delicious ideas for you to explore.
Editor's Picks Articles
Top Ten Articles
Previous Features
Site Map
Content copyright © 2018 by . All rights reserved.
This content was written by . If you wish to use this content in any manner, you need written permission.
Contact BellaOnline Administration for details.