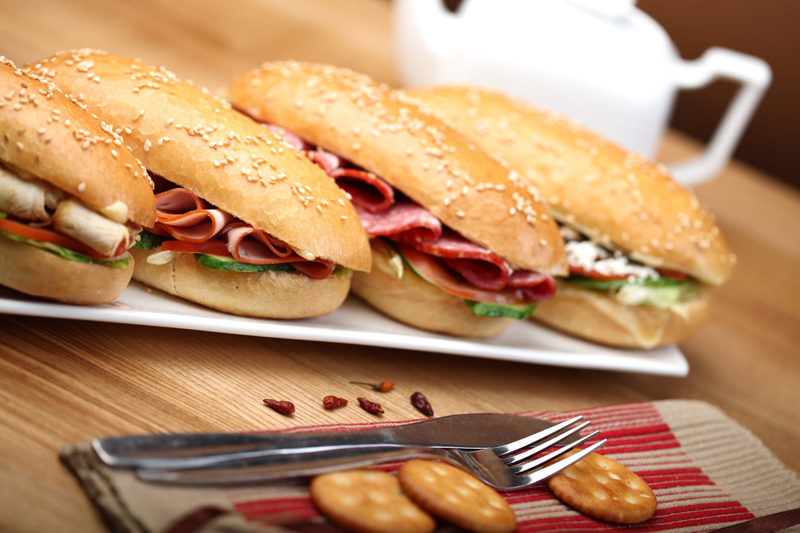 Sandwiches don´t need meat to be tasty. Explore the lighter side of sandwiches with these vegetarian or vegan delights.
A Goat Cheese and Muffaletta Sandwich Recipe


A day-old baguette that I had hanging around my kitchen inspired this sandwich. I looked at it and said, "What if I rubbed it with garlic oil and filled it with goodies?" The result is this rich and tasty sandwich that is perfect for a Meatless Monday meal.
Chile Relleno Casserole Wrap Recipe


When you crave the taste of a chile relleno, but the thought of the deep frying makes you feel queasy, try this tasty casserole, instead. Chile Relleno Casserole Wraps are so good!
Classic Egg Salad Recipe


What is delicious, cost-effective, and easy to make for a few people or a crowd? A Classic Egg Salad covers all of those bases!
Falafel Chili Recipe


I want to share a recipe that I created with you! It is perfect for cold weather and Meatless Monday meals. Filled with lively flavor and fiber, this chili is suitable for vegetarians, vegans, and carnivores. Try some tasty falafel chili!
Florentine Vegetarian Sandwich Ideas


Start with a spread that increases nutrition and adds taste to your fresh sandwich ingredients. Before you can say, "Florentine vegetarian sandwich ideas," you've started a meal. Here are several great vegetarian sandwich ideas.
Fried Green Tomato Pocket Pita Recipe


Late summer and early fall are the best times to find green tomatoes. With approaching frost, sometimes you have more green tomatoes than you can easily ripen on a windowsill. What to do, what to do? Turn them into delicious fried green tomato pocket pita sandwiches with a Mediterranean twist!
Golden Lentil Vegetable Soup Recipe


This golden and luscious lentil soup resembles soup served at Holy Land Cafe in Kansas. It's a simple vegetarian soup made in a slow cooker with red lentils, a few spices, and vegetables. This soup isn't completely smooth, but it isn't chunky, either. It is perfect for Meatless Monday Meals.
Grilled Cheese with Giardiniera Recipe


Would you like a grilled cheese with a sassy attitude? My grilled cheese recipe has 4 cheeses with giardiniera on pumpernickel. It screams, "Bite me!"
Hummus and Veggie Grilled Tortilla Recipe


My hummus is a garlicky delight. Grilled in a tortilla, I couldn't ask for more. Here's how to make a Hummus and Veggie Grilled Tortilla for you to enjoy. iT'S fantastic with a chopped salad, marinated veggie salad, or a green bean salad. Add some fruit, and your meal is complete.
Hummus Recipe for Sandwiches


Hummus is widely used as a dip or spread, but did you know that it can make a variety of tasty sandwiches? Here is a simple recipe for homemade hummus.
Low-Carb Veggie Sandwiches with Salsa Recipe


Here are ideas for using roasted vegetables to make low-carb sandwiches. These sandwiches use salsa for a southwestern taste.
Mashed Bean Sandwich Recipe for Meatless Mondays


Mashed beans can be used cold or hot in your sandwich creations. Sandwiches can be simple, or they can be multi-layered. Use your creativity and refrigerator contents to make unique sandwiches that your family will enjoy. They are perfect for Meatless Monday Meals.
Melted Mixed Cheese Sandwich Recipe


What do you do with those tiny bits of shredded cheese that are left at the bottom of the bag? Do you have a little dibble-dabble of cheese in about four different bags? Put the cheese onto a bun, and bake a great, melted mixed cheese sandwich! Add some lettuce, tomatoes, or fresh sprouts. Wow!
Pakora Patties for Wrap Sandwiches


How do you turn vegetables into a delicious vegetarian sandwich filling? Add garbanzo bean flour, also known as besan, to the grated vegetables. Stir the mixture and fry the pakora patties. Slip the delicious patties into a pita or wrap them up with your choice of condiments. It's that simple!
Portobello Italian Sandwiches Recipe


This recipe is a quick and easy fix for when you want a couple of savory Meatless Monday sandwiches without too much fuss. It benefits from the use of some premade ingredients. I used California Sun-Dry's Sun-Dried Tomato Pesto and Enrico Formella's Muffuletta Salad for ease of preparation.
Portobello Mexican Wrap Recipe


When you are looking for a toothsome and savory lunch or dinner treat, look at this tasty vegetarian wrap. It uses a Portobello mushroom cap as a base. Layer on the veggie delights and top it with cheese. Cook to perfection, and wrap it up with guacamole and lettuce in a warm tortilla. So simple!
Spicy Veggie Falafel Wrap Recipe


You don't have to pay a lot of money and go to a restaurant or street vendor to enjoy your falafel. This super meat alternative is easy to make in your own kitchen. Using an easily available mix and a few vegetables, you can enjoy falafel whenever you feel like mixing up a batch!
Summer Squash Burger Recipe


What do you do when you have a lot of squash in the fridge? Make Summer Squash Burgers! Made with yellow summer squash or zucchini, this burger is low in cost, but high in flavor. Amaze your friends and family. Show them what you can do with squash!
Vegan Chili Dog Recipe


This is a tasty recipe for a vegan chili dog. It uses a version of my wonderful recipe for Falafel Chili and pairs it with a large vegan hot dog. This mild, full-flavored chili enhances the Jumbo Smart Dog by Lightlife to make a chili dog that just drips with good taste.
Vegan Indian Fry Bread Taco Recipe


Have you ever tasted Indian Fry Bread? It is a PowWow legend! This versatile bread can hold many different toppings. By pairing Three Sisters Corn Bean Salad with Indian Fry Bread. we pay homage to the Native American peoples with this fresh tasting Vegan Indian Fry Bread Taco Recipe.
Vegan Spiced Carrot Soup Recipe


Perfect for Meatless Monday, this Vegan Spiced Carrot Soup Recipe makes a versatile soup for cold winter evenings or hot summer days. Filled with complex flavors, solid nutrition, plus it's a treat for the taste buds and the eyes. How could it get any better? Well, it's easy to make, too!
Vegan Sweet Potato Burger Recipe with Dip


Too often when I buy meatless burgers, they taste strange, have a weird texture, or they are so expensive, I need to take out a second mortgage to make dinner. These Vegan Sweet Potato Burgers are better than store-bought. They taste great, have a good texture, plus they are cheap & easy to make.
Vegan Tofu Salad Sandwiches Recipe


Tofu is a versatile ingredient that is often overlooked in making sandwiches. This vegan "Better than Egg Salad" may be your first adventure into using tofu in sandwiches. I'll bet that it won't be your last!
Vegan Veggie Burger Recipe


Here is a tasty veggie burger that is great for a vegan diet, too! Inexpensive to make, with a terrific texture, this recipe makes enough burgers to serve right away and to freeze. These burgers are equally at home on a bun, wrapped in a flour tortilla, or slipped into a pita. Try some today!
Editor's Picks Articles
Top Ten Articles
Previous Features
Site Map
Content copyright © 2018 by . All rights reserved.
This content was written by . If you wish to use this content in any manner, you need written permission.
Contact BellaOnline Administration for details.