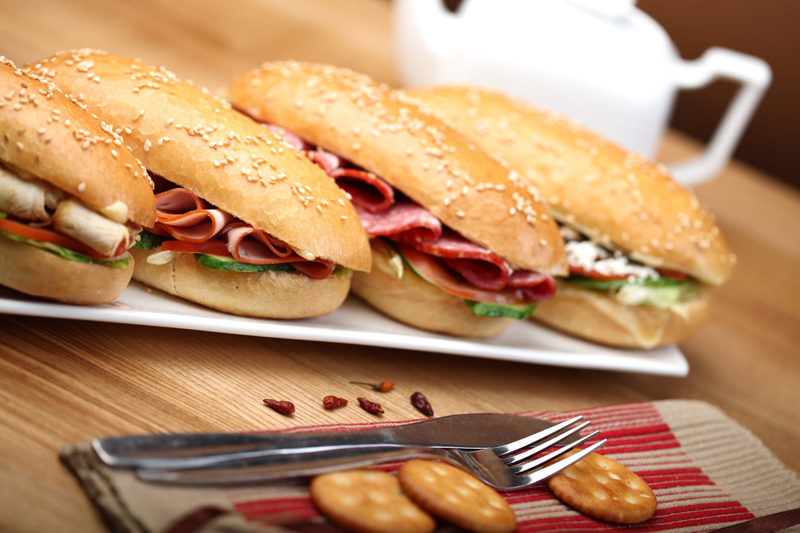 These are the sandwiches that people have heard of throughout their lifetimes. Learn more about how to make them.
Bacon Lettuce and Tomato Sandwich Recipe


A Bacon Lettuce and Tomato Sandwich is one way to grab a bit of juicy goodness. Properly made, they are a food group all by themselves! Pay attention to the tomatoes and bacon, and you can't go wrong by serving this iconic sandwich.
Beef with Mushroom Gravy Sandwich Recipe


Covered with rich brown mushroom gravy, this open face roast beef sandwich recipe creates the basis for a satisfying meal.
Classic Chicken Salad Recipe


Chicken salad is a great favorite any time of the year. It is versatile. Serve your sandwiches on crackers, grilled, or as wraps. You make it your way!
Dill Chicken Salad Recipe


What do you do when you have a lot of hard-boiled eggs to use? Make this Dill Chicken Salad recipe! The recipe is fresh tasting and easy to make. It is perfect for those times when you need a tasty dish to feed a crowd.
Grilling a Great Reuben Sandwich


This article isn't really a recipe; it is more like a how-to, or tips for making this amazing sandwich. The sandwich is the beloved Reuben Sandwich, which can be a tasty treat or a total mess. Let me give you some secrets for making it as tasty as can be.
Grilling Your Perfect Sandwich for a Recipe


Grilling sandwiches adds that extra special touch. Whether it is a salad-style grilled sandwich or a more conventional grilled meat and cheese, it's the grilling that makes the difference! Get that old iron skillet out and start grilling to add the extra dimension to your sandwiches!
Ham Salad Sandwich Recipe

What can you do with leftover ham? Get out your cutting board and favorite chopping knife, or buzz up your food processor. It's time to make ham salad! Turn leftovers into a family favorite.
Homemade Roast Beef Sandwich Recipes


Do you sometimes long for the taste of roast beef in a sandwich? There's no need to run out to a restaurant or deli to get a great roast beef sandwich. Use these recipes to make the beefy sandwich of your dreams.
Hot Roast Beef Sandwich Recipe


A hot roast beef sandwich is a delicious treat that takes very little of the cook's attention. Let your roast and gravy cook while you do other things. It's time to dust off the crock pot and get ready for a classic comfort food delight!
Juicy Hamburger Recipe


Now that hamburgers need to be cooked to well-done, how do you keep them from drying out? This Juicy Hamburger Recipe is the answer! Tender, juicy, and flavorful, these burgers are sure to please.
Meatloaf Sandwich Recipe


As a child I always hoped we would have enough meatloaf left over for sandwiches. Since I'm the cook, I can guarantee the leftovers! Meatloaf sandwiches are one of the tastiest easy meals that you can make. Pair them with soup, salad or a side dish for a nutritious meal.
Mix and Match Grilled Cheese Meals


Sliced or shredded, cheese is toothsome in a crispy, crunchy grilled cheese sandwich. You don't have to stop with a single cheese! Mix it up. Use your favorite bread or roll to grill your sandwich. Spice it up with a little deli meat before you serve it with a soup or salad.It's a full meal!
Peanut Butter Sandwich Ideas


What do you like on your peanut butter sandwich? Is it the classic grape jelly and white bread? That's always a tasty combination. The ideas here will give you a chance to take your peanut butter sandwich in a completely different direction. Accept the challenge and enjoy your sandwich adventure!
Pumpernickel Grilled Cheese Sandwich Recipe


Sometimes, I want a full-flavored hearty sandwich, something with Old World comfort. That's when I turn to this delicious sandwich. It has a rich crunch and ingredients that satisfy my need for real food.
Salvaging a Dry Roast


There's an old saying, "When life gives you a lemon, make lemonade." Well, when you get a dry roast, it doesn't need to stay that way! Use your creativity and the ingredients from your pantry and refrigerator to turn that sad little roast into a totally new, delicious sandwich meal.
Sandwich Meatloaf Recipe


Do you love meatloaf sandwiches, but you just don't have time to fiddle with making a meatloaf? This easy recipe comes together in about 10 minutes. Now, you can have a meatloaf sandwich whenever you want one!
Simple Muffeletta Sandwich Recipe


How many ways can you spell muffeletta? Whichever way you spell it, this sandwich is a delight for the senses! Filled with meat, cheese, and olive salad, this handy, hearty Muffeletta Sandwich is a New Orleans treat that is simple to make.
Slow Cooker Chuck Roast Recipe for Sandwiches


Tenderness is never a problem with a slow cooker chuck roast. It is always tender and juicy. Filled with flavor, this is an easy way to make a roast for delicious sandwiches. With a recipe for slow cooker chuck roast and some simple roast beef sandwich ideas, how can you go wrong?
Three Beef Sandwiches Recipes


Don't you like to be able to use one recipe three different ways? In the Related Links is a roast beef recipe that you can use for three very different sandwiches. You can also go to your favorite deli and buy the best upscale roast beef that you can get to make these classic beef sandwiches.
Turkey Salad Sandwich Recipes


What happens to turkey breast leftovers? Too often, the meat is left on a platter and becomes dried out. Other than being a teensy bit dry, there's nothing wrong with it. That leftover turkey makes fine turkey salad. Discover the joy of turkey salad! Here are two recipes to help you out.
Editor's Picks Articles
Top Ten Articles
Previous Features
Site Map
Content copyright © 2018 by . All rights reserved.
This content was written by . If you wish to use this content in any manner, you need written permission.
Contact BellaOnline Administration for details.