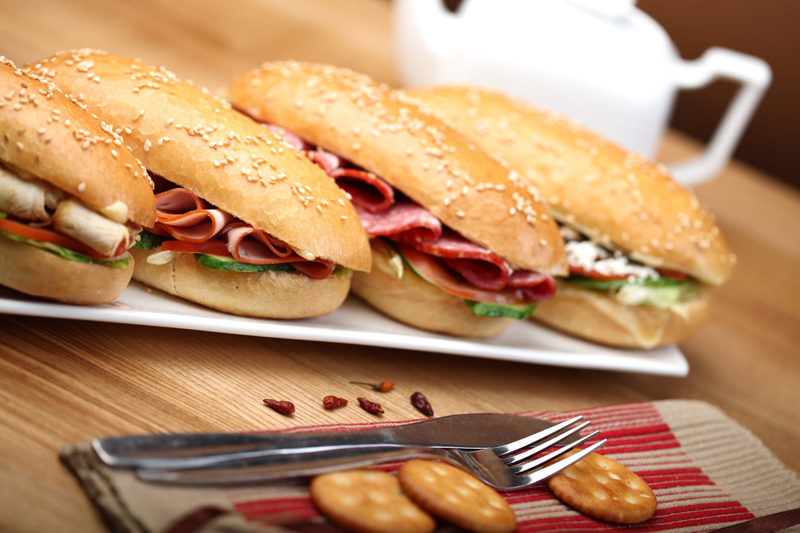 What is a great sandwich meal without a bit of a sweet treat at the end? Find desserts and sweets to add that perfect finish to your sandwich meal.
Apricot Dessert Bites


This is a tasty little dessert that is delicious at the end of a sandwich meal. These sticky, gooey Apricot Dessert Bites are also great with strong coffee or tea, especially peach tea. Try making some today! They are super-easy to make.
Baked Devil's Float Recipe


Baked Devil's Float is a recipe that Grandma used for extra special occasions. It's a little like a brownie, something like a pudding, and totally delicious. Filled with chocolaty richness, decadent to the max, this recipe is a fabulous ending to any sandwich meal. It is also easy to make!
Baked Rice Pudding Recipe


When I was a child, I loved baked rice pudding for the flavor and texture. As an adult, I also love the solid nutrition that it provides. Served as tasty ending to a Meatless Monday sandwich meal, it is a perfect complement to a vegetarian sandwich.
Brightly Colored Fruit Salad


This fruit salad is so fresh and filled with sweet deliciousness that it doesn't seem possible that it is also full of vitamins, minerals, and fiber. My fruit salad is as easy to make as 1-2-3! It's simple enough for an everyday meal, but tasty and gorgeous enough to make any meal a special event.
Butter Cookie Recipe to Add to Sandwich Meals


This article will provide you with a recipe for a nutty, crispy, and light butter cookie for the perfect end to that lovely sandwich meal. It will also give some pairings for great sandwich meals to serve before those tasty butter cookies!
Easy Blueberry Cobbler Recipe


Easy and delicious blueberry cobbler! Serve the Easy Blueberry Cobbler warm from the oven. You can dress it up with a scoop of vanilla ice cream or a dollop of whipped cream. This makes 8 small servings or 6 generous servings. What could be a better dessert to go with a sandwich meal?
Figs for Dessert with Sandwiches


From San Diego to Delhi, Damascus to Brisbane, the amazing fig is a sweet treat with great nutritional benefits. Explore the world of figs! Then, make them a part of a great sandwich meal. Figs make a dandy dessert!
Fizzy Drinks for Sandwich Meals


A tasty sandwich meal deserves a special drink, and what could be better than a sweet and fizzy drink? Made with sweet fruit juices or punch and a bit of the bubbly, these drinks are super simple to make. Just use your creativity to custom make a drink that perfectly complements your meal.
Ginger Peachy Dump Cake Recipe


Need a fast, easy and delicious way to end a perfect sandwich meal? Try this Ginger Peachy Dump Cake Recipe. It's a delightful way to turn a few ingredients into a rich and luscious dessert. What a perfect way to complement your sandwiches!
Gluten Free Nut Flour Cookie Recipe


Most people don't need gluten free cookies, but those that do can eat these with confidence. There is no gluten here! Don't confuse gluten free with low calorie. Made from nut flour, instead of wheat flour, these high-fat cookies have a lower carb profile than cookies made with flour. Delicious!
Healthy Oatmeal Cookie Recipe for Sandwich Meals


Healthy Oatmeal Cookies are a rich tasting cookie that is made from natural ingredients. There is quite a bit of fiber in these tasty bites! They are perfect to eat with a good sandwich meal.
Oat Nut and Fruit Cookie Bar Recipe


There are times in our lives when we need to bake dessert that can feed a crowd. Maybe you're having a get-together with friends or a block party. Whatever the occasion, these Oat Nut and Fruit Bars can be your go-to recipe. Easy to make, cost-effective, these tasty bars will do the trick for you.
Peanut Butter Cookie Recipe


In my youth, peanut butter cookies were the go-to dessert for lunch ladies everywhere. These nutty bits of goodness make any sandwich meal into a special occasion.
Sweet Fruit Desserts for Sandwich Meals


When many people think of dessert, they believe these foods should be rich, gooey, and decadent. Fruit desserts can be delicious and a more nutritious option for that sweet finish to a sandwich meal. Easy to make, they almost create themselves! Try some sweet fruit desserts soon.
Sweet Goat Cheese Quesadilla Recipe


Are you craving something tangy, sweet, and gooey? Do you need something different to satisfy your appetite? Try making a sweet goat cheese quesadilla. Use your favorite fruit spread! Easily constructed and cooked in about 10 minutes, this quesadilla can be used for dessert, tea, or breakfast.
Sweet Spreads for Dessert Sandwiches


Making a delicious sweet sandwich treat for that special somebody doesn't need to take hours of preparation. Bake a quick loaf of chocolate bread and use some easy sweet spreads to do the rest. Philadelphia Indulgence and Nutella are used to create sweet sandwiches for an intimate snack or buffet.
Two Simple Vanilla Cookie Recipes


When does one recipe make two different cookies? This one does! Depending on the type of flour and sugar that you use, this Simple Vanilla Cookie Recipe makes two very different cookies. Both are absolutely delicious as part of a sandwich meal.
Vegan Carrot Muffin Recipe


When you are serving a sandwich meal on a Meatless Monday, you might want a sweet treat. These Vegan Carrot Muffins are just the thing. Filled with sweet taste and full of fiber, they satisfy your sweet tooth and your need for bulk in your food.
White Fudge Candy Recipes


I like to save money on food. Buying several kinds of candy for dessert plates can be expensive. My White Fudge Recipe can yield quite a few unique types of candy, just by changing the add-ins and coatings. A sandwich can stand alone, but adding a small sweet treat can enhance your sandwich meal.
Editor's Picks Articles
Top Ten Articles
Previous Features
Site Map
Content copyright © 2018 by . All rights reserved.
This content was written by . If you wish to use this content in any manner, you need written permission.
Contact BellaOnline Administration for details.