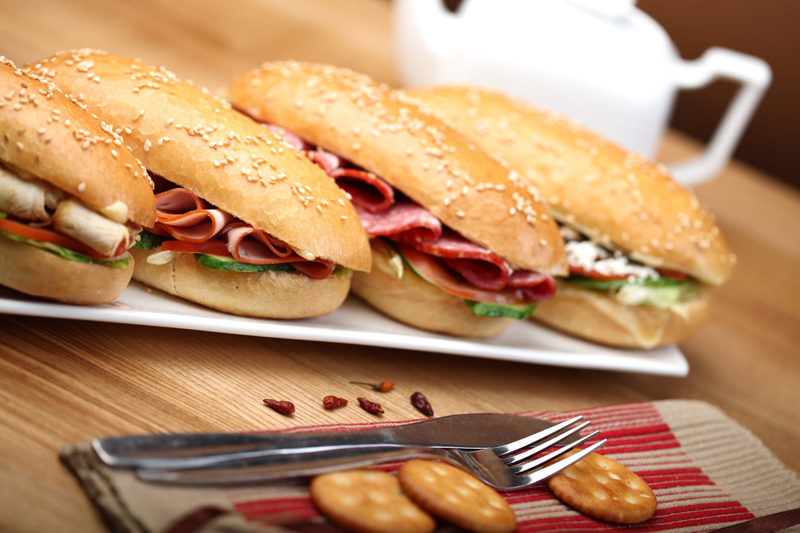 I love fiddling with elaborate sandwiches. However, sometimes I just need a sandwich that I can make in a red hot minute! You will find those sandwiches here.
Buffalo Sloppy Joes Sandwich Recipe


Do you need a quick, easy, reliable meal that's made from ingredients that we all have in our kitchens? Try this Buffalo Sloppy Joes recipe! It makes a great meal in half an hour.
Corned Beef Sandwich Recipes


What do you think of when somebody mentions a corned beef sandwich? Is it a Reuben? Here are two recipes for updated versions of corned beef sandwiches. Plus, there is an easy-to-make Tangy Tomato Dressing that is just yummy with corned beef.
Double Cheese Grilled Turkey Sandwich Recipe


Find creative ways to use that leftover holiday turkey. This is a delicious sandwich, and so simple to make! Enjoy the delicate crunch of the grilled bread contrasted with the melted flavors of the cheeses. These sensory delights combine to make the turkey especially toothsome!
Easy Artisan Rolls Recipe for Sandwiches


Steve Gamelin of Artisan Bread with Steve, has a wonderful method for making bread without fancy equipment or a bread maker. Using flour, water, yeast, and salt, this recipe takes just a few minutes to make. I made a dozen rolls for under $2! What did you pay for artisan rolls at the store?
Easy Tostadas and Fresh Salsa Recipe


Do you enjoy eating Mexican style food, but you can't find time to prepare it? This recipe for Easy Tostadas and Fresh Salsa can be on your table in thirty minutes! Make life easy on yourself, and give your family a treat. Enjoy this tasty little sandwich.
Grilled Salami and Provolone Sandwich Recipe


It's a simple sandwich, but one that can show different personalities with the change of a condiment. A Grilled Salami and Provolone Sandwich on sourdough bread can be the basis for a delicious sandwich meal.
Italian Beef Burger Recipe


For a quick-to-make and extremely tasty burger, try these Italian Beef Burgers! They take less than thirty minutes from the time that you start making them to when they are on your table.
Jalapeno Cheddar Roll and Chicken Sandwich Recipe


A jalapeno cheddar roll makes a fantastic base for a colorful summer sandwich. Adding beautiful herb salad, tomato, onion, and healthy avocado slices and a high-quality deli chicken to a grilled roll makes a wonderful light meal. Complete the meal with a delicate simple soup.
Olive Walnut and Cream Cheese Spread Recipe


Combine the ancient goodness of olives and walnuts to make a modern savory sandwich spread. This low carb spread is especially tasty on a variety of open-face sandwiches and as a filling for roll-ups.
Peppery Grilled Corned Beef Sandwich Recipe


If you love to cook and have a lot of time, you can bake your own bread, cook your corned beef, thin-slice the cheese, and make a sauce from scratch. However, if you enjoy being a creative cook, but don't live a life of leisure, there are short-cuts that you can take to make creative sandwiches.
Quick and Easy Sandwich Meals for Busy People


Life can be hectic at times, but there's no need to eat tasteless food. By pairing a great sandwich with a tasty soup or side dish, you can have the basis for a good meal. Add some fruit and a beverage, and you have an easy meal to satisfy your body and spirit.
Roast Beef Saucy Sandwich Recipe


What do you do when you are too tired to cook? These quick and easy sandwiches are just the thing! Add a salad or soup, and it's a complete meal. I have also included a short review of Sara Lee and Di Lusso roast beef products.
Spicy Grilled Chicken Recipe for Sandwiches


What happens when I forget to buy the Daddy Hinkle's marinade? It's time to get creative using the hot spices that I have! This lovely marinade is the result of our failure to shop effectively for our weekend chicken grilling extravaganza.
Spinach and Provolone Dip Recipe


The Spinach and Provolone Dip can be used for a variety of sandwiches and purposes. Just stir the five ingredients up in a bowl and let it chill. That's it! Did I mention that it is easy to make and versatile? Spinach and Provolone Dip is so tasty that you'll want to eat it right out of the bowl!
Sweet and Savory Chicken Pocket Sandwich Recipe


There's a new player in the pita pocket market. How do the Orowheat Pocket Thins Flatbreads compare to the traditional pitas? Stuff one with Sweet and Savory Chicken and let me know what you think!
Turkey and Ham Holiday Spread Recipe


What can you make when you have just a bit of turkey and a dab of ham? You can blend it together with fruits, veggies, spices, and mayo! Is it a salad, or is it a spread? Whatever you call it, Turkey and Ham Holiday Spread makes any occasion special.
Turkey Patties with Greek Seasoning Recipe


What can you do if the budget is small and you have a crowd to feed? Make Turkey Patties with Greek Seasoning! Whether it's a casual meal at your house or a youth group, this menu works well. For about thirty dollars, you can feed 10 people a full meal deal. This article will tell you how to do it.
Turkey Quesadilla Recipe


When it comes to feeding a crowd, it's hard to go wrong with a turkey. It's easy to cook, costs relatively little, and there is meat for every taste. What can you do when your crowd is casseroled and sandwiched out? Make turkey quesadillas! They are easy, tasty, and just a bit different.
Turkey with Mango Mayo Croissant Recipe


When you use the right ingredients, you don't have to fuss over a sandwich to make it special. Using a croissant piled with DiLusso's Sun-dried Tomato Turkey Breast paired with a complex mango mayonnaise, and Muenster cheese can make any meal a delight.
Editor's Picks Articles
Top Ten Articles
Previous Features
Site Map
Content copyright © 2018 by . All rights reserved.
This content was written by . If you wish to use this content in any manner, you need written permission.
Contact BellaOnline Administration for details.