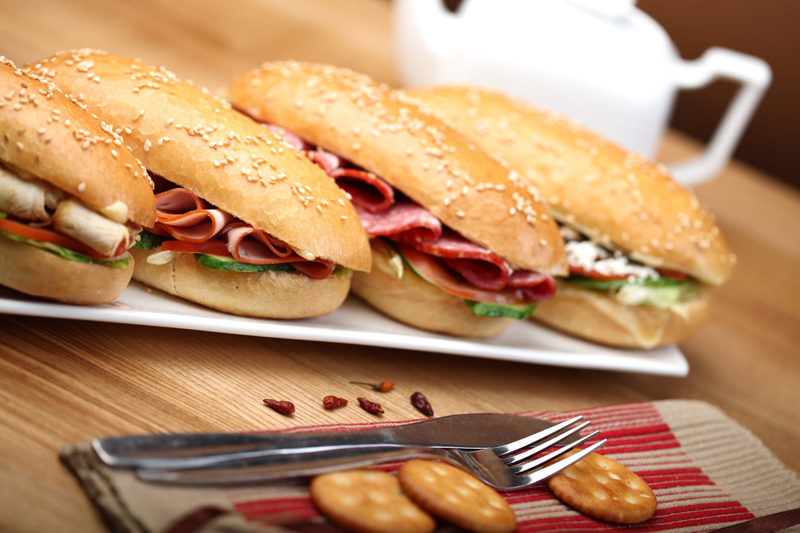 Learn about sandwiches´ history and what it takes to make them. Sandwiches aren´t just for food. You can have fun with them, too!
Basic List of Sandwich Ingredients


Creating a fantastic sandwich is a matter of having the building blocks of the sandwich available. You don't need to have all of the ingredients on this list, but keep the ones that you regularly use handy. A tasty sandwich is just minutes away from the plate!
Creating a Sandwich Meal


When you want to create a sandwich meal, look for inspiration in your fridge and pantry. There's no need to buy elaborate ingredients. Use the ingredients that you have. After that, add a heaping helping of creativity.
Flavored Mayo Recipes for Sandwiches


Luscious and rich, mayonnaise adds moisture and class to many sandwiches. Take a step beyond plain mayo; walk on the wild side! These flavored mayonnaise recipes will start you down the path to sandwich adventure.
Sandwich Ideas and Tips


There are times that we get into a routine. We make the sandwiches that we know with ingredients that we always use in just the same ways. Even though those sandwiches are tasty, why don't you shake things up a little? Try something a bit different. Here are ideas!
Sandwiches Hangman


Welcome to Sandwiches Hangman! This classic game has you try to guess our word letter by letter. Each correct letter is revealed for you. Each incorrect guess adds one more part to the hangman, and if you miss 10 letters, you are out! Good luck!
Sandwiches Hangman and Word Scramble


Word games can help to keep your brain feeling young. Plus, they are just a lot of fun to play. The Sandwiches site at BellaOnline has Hangman and Word Scramble available for your amusement. Use your knowledge of sandwiches and their ingredients to test your wits on these interesting games.
Sandwiches Newsletter Article


What can the Sandwiches Newsletter do for you? This weekly newsletter informs you of the latest happenings on the BellaOnline Sandwiches site. Find out about new articles and recipes. Learn about sandwich related activities.
Twist Tie Codes and Fresh Bread


Some people squeeze the bread in the store to test it for freshness, while others just take their chances. How can you know how fresh a loaf of bread is when it is on the shelf at the store? There's a simple way; it's as easy as ABC.
When You Mess Up a Recipe


Creating new recipes is a lot of fun and a great way to use up ingredients that are taking up space in the refrigerator. What happens when the new recipe doesn't quite work out like you planned? Here are some ideas for salvaging your ingredients.
Editor's Picks Articles
Top Ten Articles
Previous Features
Site Map
Content copyright © 2018 by . All rights reserved.
This content was written by . If you wish to use this content in any manner, you need written permission.
Contact BellaOnline Administration for details.