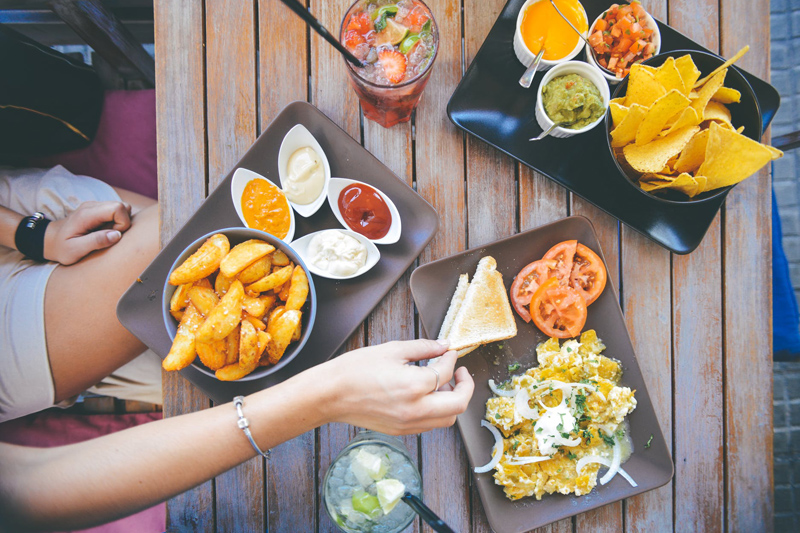 The side dishes and salads that accompany Mexican main course can frequently become delicious vegetarian alternatives. Explore the flavors and textures of the abundant world of Mexicans produce throug
A pot of beans


No Mexican kitchen is ever without its bubbling earthenware cazuela of frijoles – beans are an integral part of everyday life and food. They are utterly earthy, true Mexican food for the soul, wholesome, soothing, satisfying.
Avocado, pear of the Indies


The Aztecs' ahuacatl has become the avocado but the name bestowed upon it by the Spanish conquistadores was both more romantic and more evocative: pera de las Indias, pear of the Indies, illustrating its shape and what must have seemed, in the sixteenth century, an exotic and outlandish provenance
Caesar Salad - Lime and Hominy Style


The Caesar salad owes its fame to a US immigrant from Italy, who prospered with a restaurant in Mexico. Inspired by Caesar's Place's 1924 recipe this version pays homage to the salad's history and the place with a pair of ingredients reflecting where it all happened, Tijuana Mexico.
Calabacitas - Zucchini


"Calabacitas", a popular Mexican zucchini dish with as many versions as there are cooks. This version of calabacitas is ideal for the seasons when fresh corn is not available. It's an easy recipe with bright, flavorful results.
Ceviche Recipe


Raw fish marinated in citrus juice is a traditional way of preparing seafood, found all along the coast of Mexico, and Latin America generally. The sharp, acid fluid effectively "cooks" the flesh without ruining the soft, delicate texture.
Eating Cactus - Cholla Buds


The people of the Sonoran desert, for centuries, harvested from both cultivated crops and the wild. The spring desert bloom marked the time to harvest the delicate and delicious cholla cacti buds. Ciolim harvesting was nearly lost to the modern western diet, but it's making a tasty comeback.
Huitlacoche Quesadillas Recipe


With the onset of the long rainy season, Mexican cooks start looking forward to the appearance of the so-called truffle of Mexico. It is smooth and velvety to the touch, soft and spongy, dark to silver grey in colour and creepy beyond description.
Jícama, the Mexican turnip


Brown, bulbous and rather hirsute, Pachyrrhizus Erosus has little to offer in the way of glamour, but it is an important member of the Mexican larder, both ancient and modern.
Lenten cooking in Mexico - Torta de elote


Vegetable "tortas" or "budines" are popular vegetable bakes served during La Cuaresma or Lenten period and very far removed from pre-Hispanic dishes, as they are set with eggs and tend to contain dairy products, none of which made an appearance in Mexican cuisine until after the Conquest.
Mexican Refried Beans Recipe


16th September is Mexican Independence Day, and I am celebrating this momentous occasion with a quintessentially Mexican dish: "frijoles refritos", otherwise known as refried beans. This description, however, is a misnomer, as the beans are only fried once.
Mexican Salpicón of Beef Recipe


A salad, a filling for tacos, quesadillas, poblano chillies or even empanadas, a topping for tostadas and a stuffing for large fish – the Mexican "salpicón" is versatile and multi-faceted, fresh, light, tangy and boldly flavoured.
Nopales - Cactus Paddles


Cooking with cactus may be daunting to cooks because of its prickly nature, but the leaves, or paddles, of the prickly pear cactus are an ancient food that still delivers loads of potential to cooks, it's versatile and delicious.This article offers the basics for cleaning and preparing nopales.
Of Calabacitas, Courgettes and Zucchini


The Squash family, Cucurbita, is Mexican, whatever you may choose to call its various members, and the earliest traces, dating as far back as 7000BC, have been found in Oaxaca and Tamaulipas. However, the modern courgette or zucchini is thought to have originated in Italy in the 19th century.
Pea Pudding Recipe


Mexican budines are totally post-Hispanic and have little to do with the country's historical gastronomy. They are however very popular and make a regular appearance in provincial restaurants as part of the comida corrida, either as a vegetable course all on their own or to accompany meat and fish.
Pickled Beets - Betabeles Escabeche


A classic winter vegetable with a very Mexican treatment, "betabeles escabeche, " or pickled beets, are a favorite bar "botana" or snack, but they are also elegant and festive. Introduce them at your New Year's eve spread. This recipe is simple to prepare.
Plantain Crisps Recipe


Un tostón = fifty centavos. I do not believe that the tostón of my childhood still exists, but it was a lovely coin, with an Aztec head on one side and the Mexican eagle and snake on the reverse. My only experience of a tostón nowadays is not gastronomic, as the name of a Mexican Caribbean snack.
Poblano Chillies with Cream Recipe


One of the poblano chilli's best mates in my kitchen is dairy produce, particularly cream which somehow manages to enhance its flavour, its aroma, its warmth and its texture all at the same time. Rajas con Crema makes a rich, mellow, utterly satisfying main dish or vegetable accompaniment.
Sweet potato, a very early vegetable


Sweet potatoes, with their rough, scratchy skin and warm orange or deep purple flesh, were one of the first vegetables to be cultivated. They originated in South America, probably Peru, where 8,000 year old traces have been unearthed.
Sweet Potatoes - Camotes


Mexicans have been eating sweeting potatoes since preHispanic times. This recipe, a festive, savory side dish, tempts back memories of holiday marshmallow casseroles and candied yams, but with added sophistication from the earthy, New World gift of piloncillo, Mexico's unrefined pure cane sugar.
The Sauces of Mexico - Yucatecan Sikil Paak


Rich and creamy with pumpkin seeds, spicy with roasted chillies and fresh with the juice of the very local sour orange, naranja agria, the Mayas' Sikil Paak is one of the Yucatán's great specialities.
The spices of Mexico - Cumin


"Comino" is one of the countless gastronomic immigrants which travelled to Mexico aboard the Spanish galleons and landed on the shores of the Gulf of Mexico - more likely than not in the port of Veracruz, where it made itself very much at home and was willingly absorbed into the local cuisine.
Veracruz - Tortillas in Black Bean Sauce Recipe


Enfrijoladas are a simple formula: stale corn tortillas bathed in a purée of whatever the local bean may be, red, black, white, speckled or tan – it is the food of the home, the market, the countryside, cheap, comforting, soulful - a favourite of street cooks, a truly pre-Hispanic antojito.
Yucatán – Black Rice Recipe


Sinister and rather sullen looking, the Yucatecans' Arroz Negro is cooked in the broth of the local black beans, which gives it a wonderfully earthy, mellow flavour. The colour is frankly muddy rather than actual black but once you taste it, you will forget about its appearance.
Yucatán – Venison Salpicón Recipe


The Maya hunted a small, red deer which they cooked with aromatic sauces boldly flavoured with chillies and often thickened with seeds or nuts – moles and pipianes. In modern times, domestication has enabled this species of venison to remain a traditional Yucatecan dish.
Yucatán – Yellow Rice Recipe


Rice which has been dyed yellow by whatever means is popular throughout Latin America. The colouring medium is usually saffron or turmeric but the Yucatecos' Arroz Amarillo or Yellow Rice is different in that it involves the very indigenous and even regional ingredient Annatto or Achiote.
Editor's Picks Articles
Top Ten Articles
Previous Features
Site Map
Content copyright © 2018 by . All rights reserved.
This content was written by . If you wish to use this content in any manner, you need written permission.
Contact Mickey Marquez for details.