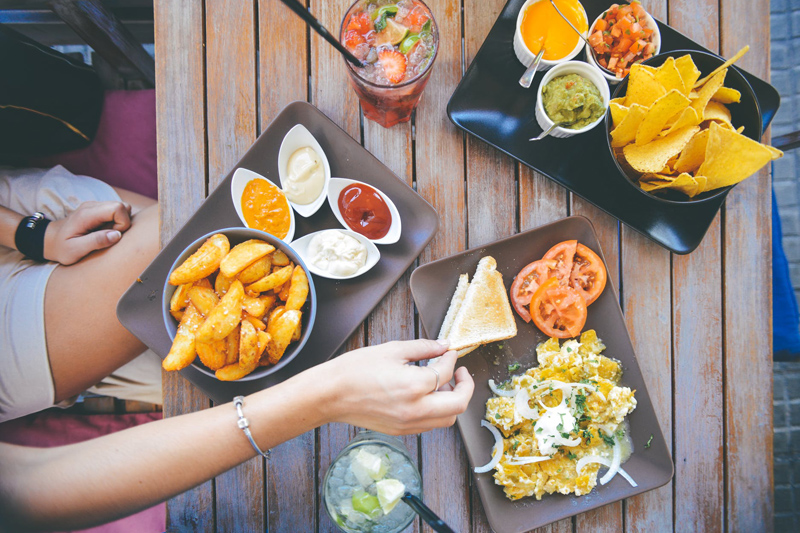 Comfort food is comfort food in any land. Mexico´s is no exception. Beef cocido, classic rustic chicken soup and the cure all of all cure alls: menudo (and more).
A pot of beans


No Mexican kitchen is ever without its bubbling earthenware cazuela of frijoles – beans are an integral part of everyday life and food. They are utterly earthy, true Mexican food for the soul, wholesome, soothing, satisfying.
Broth from Tlalpan Recipe


The pre-Hispanic village of Tlalpan has been gobbled up by Mexico City, becoming a suburb of the capital. It does however have a number of charms to recommend it and boasts a modest gastronomic standing, particularly for its nationally renowned Caldo Tlalpeño or broth from Tlalpan.
Chilaquile Casserole Recipe


In this very Mexican casserole, stale tortillas are folded into a rich, smoky tomato sauce studded with feta cheese, topped with cheddar and baked until crusty. Rich, savoury and utterly satisfying.
Chilorio Recipe from Sinaloa


Sinaloa, in the North West of the country opposite Baja California, is the home of the very regional Chilorio, which has spread north and east across the state's borders but not much further. The best way to describe it is perhaps as the Sinaloaense cooks' version of pork carnitas.
Dried Hominy - Pozole


Fundamentally, really good food is a matter of superior ingredients. When ingredients are choice even the simplest preparation yields showstopper results. Using rehydrated, dried hominy, rather than canned, elevates a common ingredient for stunning results in flavor and texture.
Eggs in Mestiza Sauce Recipe


The traditional name is impossible to describe or interpret. Translated word for word, it means eggs in the rags and tatters of a woman born of a Spaniard and an indigenous Mexican – which of course means nothing at all!
Green Pozole Recipe


Pozole is a popular fiesta food, served at celebrations, but national holidays also provide an excellent excuse, particularly 5 de Mayo or 5th May, a date which commemorates the Battle of Puebla in 1862 when a small, poorly equipped, hopelessly outnumbered Mexican army routed the French invaders.
Lenten Cooking in Mexico - Lentil Soup Recipe


Lentils are a more recent and post-Hispanic addition to the Mexican larder but they have made themselves very much at home and team up regularly with more native ingredients, particularly during Lent, La Cuaresma, in the spring and the Días de los Muertos, Days of the Dead, in November.
Lenten Cooking in Mexico - Salt Cod Recipe


Salt cod…. It does not sound appetising, nor does it look particularly attractive. But throughout the Christian world, it makes a regular appearance during Lent, and while it has a dubious reputation – hard, stringy, chewy, briny, horribly saline – when treated well it is utterly delicious.
Mexican Chicken Broth


Mexican food is based on layers of flavor. A basic flavor is the simple umami of homemade chicken broth, from a flavorful chicken. If making and freezing homemade stock isn't already part of your chicken routine, now is a good time to start with this super easy method.
Mexican Chicken Soup for the Soul


Wander around any Mexican market and you will be struck by the countless chickens on the butchers' counters. There seem to be hundreds, if not thousands, and it is difficult to believe that there is a demand for quite so many of them!
Mexican Meatballs Recipe


Meatballs are a global favourite, and recipes for them abound. There are of course countless ways of making them, some very regional like the one below, some virtually international. Certain additions however do seem to be very Mexican, which contribute to their specific texture and flavours.
Mexican Rice with Chicken Recipe


The rice came from the Far East, sailing across the Pacific aboard the Manila Galleons, while chickens arrived in Mexico from Europe, courtesy of the great Spanish Fleet. To these were added Mexican tomatoes and chillies, and today Arroz con Pollo is to be found throughout the country's kitchens.
Oxtail in Oaxacan Coloradito Recipe


Oaxaca's Mole Coloradito is a splendid partner to braised oxtail – a rich, bold and spicy combination.
Poblano Chillies with Cream Recipe


One of the poblano chilli's best mates in my kitchen is dairy produce, particularly cream which somehow manages to enhance its flavour, its aroma, its warmth and its texture all at the same time. Rajas con Crema makes a rich, mellow, utterly satisfying main dish or vegetable accompaniment.
Prawns in Garlic Sauce Recipe


There are versions of mojo throughout Latin America, and in Mexico, Mojo de Ajo or simply Garlic Sauce is very garlicky indeed, bright with lime juice and rich with butter. All along the coast, both Pacific and Gulf, it is a regular and oh so delicious partner to fresh prawns and shrimp.
Squash Blossoms


Pumpkins and squashes are very much in evidence in Mexican markets and vegetable dishes throughout the summer and autumn, but the golden blossoms are their crowning glory for a brief and very colourful season when stalls and green grocers are festooned with their bright yellow and orange petals.
The Day of the Dead - Pork in Green Mole Recipe


Mole Verde or green mole comes in different guises with the elaborate and very delicious Oaxacan version perhaps taking pride of place. Many other much simpler kinds of mole verde however are to be found throughout the country, and their main characteristics are their freshness and sparkle.
The herbs of Mexico - Coriander


The very Mexican herb, coriander or cilantro, is a newcomer to the cuisine and yet it is such an essential ingredient – wherever you wander in a Mexican market, you will see great big bunches of coriander with the roots still attached, and green-flecked salsas fragrant with its pungent aroma.
The Sauces of Mexico - Oaxacan Coloradito


Oaxaca's Mole Coloradito is much bigger than its name which translates quite simply as Little Coloured Sauce, or Little Red Sauce. Habitually referred to as just Coloradito, it is life-sized and powerful, gutsy and spicy, rich and deep.
The Sauces of Mexico - Salsa Borracha Recipe


The blue-grey maguey, with its wavy, fleshy arms spiked with sharp thorns, is an indelible feature of the Mexican landscape and the source of a mildly alcoholic, pre-Hispanic drink known as pulque. The sweet sap of the plant has been fermented for millennia to produce something akin to beer.
Tortillas, the bread of Mexico


Corn tortillas are quintessentially Mexican, intoxicatingly fragrant and utterly addictive. They take centre stage in the national cuisine as the "bread" of Mexico, and no meal is complete without this truly pre-hispanic food which is eaten daily in every household.
Veracruz - Arroz a la Tumbada


The Spaniards brought rice – most likely from Europe or perhaps from Asia aboard the legendary Manila Galleons – and the rich coast of Veracruz provided the seafood for one of the state's most renowned dishes: Arroz a la Tumbada, Tumbled Rice
Veracruz - Camarones Enchipotlados Recipe


Langostinos or Camarones Enchipotlados are one of Veracruz's most classical and typical seafood dishes, partnering the very "Jarocho" chipotle chilli with the fabulously seafood caught in the river waters as they flow into the sea.
Veracruz - Chicken Tlatonile Recipe


Italian immigrants in the late 19th century undoubtedly left some kind of culinary legacy, but the gastronomy of the town of Huatusco is founded not on pasta and pizza but on ants and more particularly on the famous local "tlatonile", a "mole" based on ancho chillies and sesame seeds.
Veracruz - Mole de Xico


Veracruz's best known mole may not be as celebrated as those of other regions but it deserves a hearty accolade. Its flavours are nutty, rich and fruity – even steamy, lush and tropical – and the texture is thick and wonderfully jammy. It is not fast food but very manageable and worth the effort.
Veracruz - Mole de Xico Recipe


Veracruz's best known mole may not be as celebrated as those of other regions but it deserves a hearty accolade. Its flavours are nutty, rich and fruity – even steamy, lush and tropical – and the texture is thick and wonderfully jammy. It is not fast food but very manageable and worth the effort.
Veracruz - Tortillas in Black Bean Sauce Recipe


Enfrijoladas are a simple formula: stale corn tortillas bathed in a purée of whatever the local bean may be, red, black, white, speckled or tan – it is the food of the home, the market, the countryside, cheap, comforting, soulful - a favourite of street cooks, a truly pre-Hispanic antojito.
Yucatán - Beans with Pork Recipe


Variations of pork with beans are found all over Latin America. In the Yucatán Peninsula, the indigenous black beans are used, as well as the fiery habanero chilli which notches up an impressive 10/10 on the heat scale and can cause painful damage if restraint and care are not applied.
Yucatán - Chicken with Capers Recipe


A speciality of the state of Campeche on the Yucatán Peninsula, Pollo Alcaparrado or Chicken with Capers is very post-Hispanic in that it features ingredients like raisins, capers and olives let alone chicken, all of which arrived after the Spanish Conquest.
Yucatán - Cream of Coriander Soup Recipe


n the Yucatán Peninsula, cilantro is made into a wonderfully bright green soup, Crema de Cilantro or Cream of Coriander Soup. Bearing in mind the huge quantities of the herb which are used to make it, the flavour is surprisingly delicate, although it strengthens if kept for a couple of days.
Yucatán - Pollo Pibil Recipe


The historical Mayan pib is a pit, dug deep in the earth; it acts as an oven, heated with hot stones and wood, both green and dead, and is an ancient method of cooking very typical of the Yucatán Peninsula. Anything cooked in it is described as pibil, meaning buried.
Yucatán - Yucatecan Stuffed Cheese Recipe


Legends abound concerning this Yucatecan speciality, but whatever Queso Relleno's origin, it is a very peculiar dish indeed, almost gothic, the type of fusion food which is difficult to understand without tasting it. Nonetheless, the end result is balanced, comprehensible and utterly delicious.
Editor's Picks Articles
Top Ten Articles
Previous Features
Site Map
Content copyright © 2018 by . All rights reserved.
This content was written by . If you wish to use this content in any manner, you need written permission.
Contact Mickey Marquez for details.