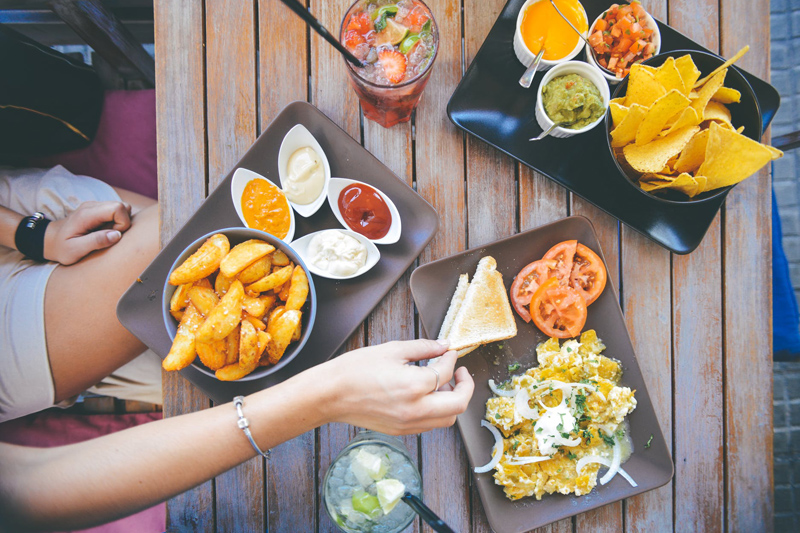 Recipes for popular snacks, appetizers, snacks and main courses.
Celebrate 5 de Mayo with a fajitas fiesta


5 de Mayo, 5 May, is a date dear to Mexican hearts and a cause for celebrations, fiestas and general jollity, especially in Puebla, where a memorable battle was once fought. No specific dishes are served on 5 de Mayo but fajitas are real fiesta food and an appropriate way to mark the occasion.
Christmas in Mexico - Tortas de Navidad Recipe


Buried amidst the passions, intrigues, anger, frustration, conspiracies, politics, machinations, plotting, scheming and deceptions of Laura Esquivel's enthralling novel Como Agua para Chocolate or Like Water for Chocolate are twelve recipes, including Tortas de Navidad or Christmas Sandwiches.
Egg and Chorizo Sandwich Recipe


Tortas are the quintessential Mexican street food, big-hearted sandwiches packed with any number of savoury fillings and bursting with flavour.
From Poldark to Pachuca – A Pasty's Journey


The Cornish pasty is a stalwart of British gastronomy, steeped in tradition, history and folklore. However, it has travelled widely, following the Cornish tin miners across the globe, and in the 19th century, it reached Mexico and the silver mines of Pachuca and Mineral del Monte.
Independence Day in Mexico


General Agustín de Iturbide, having signed the treaty of Córdoba which finally gave Mexico its freedom, made his triumphant way from Veracruz to Mexico City. His passage through Puebla resulted in the creation of one of Mexican gastronomy's most famous concoctions, Chiles en Nogada
Lard - Fatback or Leaf


Lard is coming back into use, but not hydrogenated mass produced lard. Rather lard from pasture raised animals. Easy to render, pure high quality lard is a secret weapon in preparing Mexican food and a return to an authentic ingredient that will make your food memorable for its deliciousness.
Mexican Antojitos - Tacos


Tacos are perhaps the best known Mexican dish outside the country, and the simplest to prepare. The easiest way to describe them is as a corn tortilla wrapped around a filling – but this does not even begin to illustrate their diversity and exuberance, let alone their potential for complexity.
Mexican Salpicón of Beef Recipe


A salad, a filling for tacos, quesadillas, poblano chillies or even empanadas, a topping for tostadas and a stuffing for large fish – the Mexican "salpicón" is versatile and multi-faceted, fresh, light, tangy and boldly flavoured.
New Year in Mexico - Pozole Recipe


The Aztecs' ceremonial "potzolli" still plays an important role in the Mexican diet of the 21st century, and on New Year's Eve, it will be protecting countless tummies from the effects of all the raucous celebrations and the inevitable - and abundant - consumption of alcohol!
Oxtail in Oaxacan Coloradito Recipe


Oaxaca's Mole Coloradito is a splendid partner to braised oxtail – a rich, bold and spicy combination.
Pierna - Pork leg with Prunes and Chipotle


Pork leg, more marbled than the loin, is a popular cut of meat in Mexico, used in a variety of ways, chopped for stews, roasted and pulled for the famous "torta" sandwiches, this elegant recipe is a citrus marinaded pork leg, stuffed with prunes and chipotle in escabeche. Perfect for celebrations.
Pork Carnitas Recipe


Tender, succulent, rich and satisfying, Mexico's carnitas are one of the most irresistible of Mexican dishes. The very first thing I look out for when I set foot on Mexican soil is a street or market stand which is serving them and then I know I am home again at last.
Potatoes with Poblano Chillies and Chorizo Recipe


A Mexican recipe which combines very Mesoamerican potatoes and chillies with very post-Hispanic chorizo into a deeply savoury and robust side dish to accompany a mole perhaps, or a herb and spice roasted chicken, grilled fish or fried eggs.
Tacos of Achiote-marinated Pork Carnitas Recipe


Achiote, a spice blend based on annatto seeds, is one of the most recognizable flavours of southern Mexican cuisine and finds its way into countless regional dishes including Yucatecan pork carnitas: rich and succulent, hot, sweet and sharp, wrapped in a warm corn tortilla with a sparkling salsa.
Tacos of Oven-roasted Achiote Carnitas Recipe


Achiote, a spice blend based on annatto seeds, is one of the most recognizable flavours of southern Mexican cuisine and finds its way into countless regional dishes including Yucatecan pork carnitas. Slow-roast belly of pork, basted with an achiote marinade, makes wonderfully succulent carnitas.
The Chillies of Mexico - El Mulato


Broad-shouldered, long, dark and handsome, El Mulato is sultry and wizened, tasting of ripe fruit and chocolate, with a whisper of smoke and a dash of sweetness which are barely tempered by its gente warmth.
The Sauces of Mexico - Oaxacan Coloradito


Oaxaca's Mole Coloradito is much bigger than its name which translates quite simply as Little Coloured Sauce, or Little Red Sauce. Habitually referred to as just Coloradito, it is life-sized and powerful, gutsy and spicy, rich and deep.
The Spices of Mexico - Cumin


"Comino" is one of the countless gastronomic immigrants which travelled to Mexico aboard the Spanish galleons and landed on the shores of the Gulf of Mexico - more likely than not in the port of Veracruz, where it made itself very much at home and was willingly absorbed into the local cuisine.
Tostadas from Guadalajara Recipe


Mexico's second largest city, Guadalajara, is home to Los Tapatíos, as its residents are known. They are very keen on their food and the local cuisine is rich and savoury, with noticeable pre-Columbian and post-Hispanic roots.
Veracruz - Pambazo Recipe


Tortas, huge, satisfying and nourishing sandwiches, are an essential part of Mexican gastronomic culture. While the bread traditionally used is a flat roll with a good crust known as a telera, in Veracruz a soft doughy roll is preferred for the local and very regional torta, El Pambazo.
Veracruz - Pellizcadas Recipe


The unattractively named Pellizcadas – pinched ones – of Veracruz are bumpy and dimpled, their surface a landscape of miniature hills and valleys to trap a topping and hold it firmly in place.
Yucatán - Beans with Pork Recipe


Variations of pork with beans are found all over Latin America. In the Yucatán Peninsula, the indigenous black beans are used, as well as the fiery habanero chilli which notches up an impressive 10/10 on the heat scale and can cause painful damage if restraint and care are not applied.
Yucatán - Yucatecan Stuffed Cheese


Legends abound concerning this Yucatecan speciality, but whatever Queso Relleno's origin, it is a very peculiar dish indeed, almost gothic, the type of fusion food which is difficult to understand without tasting it. Nonetheless, the end result is balanced, comprehensible and utterly delicious.
Yucatán - Yucatecan Stuffed Cheese Recipe


After a success or two and countless failures, I have given up cooking this Yucatecan speciality in its traditional form, a whole Edam cheese hollowed out and stuffed, and now make it in layers, rather like a lasagne – far from authentic but still very good and considerably easier.
Editor's Picks Articles
Top Ten Articles
Previous Features
Site Map
Content copyright © 2018 by . All rights reserved.
This content was written by . If you wish to use this content in any manner, you need written permission.
Contact Mickey Marquez for details.