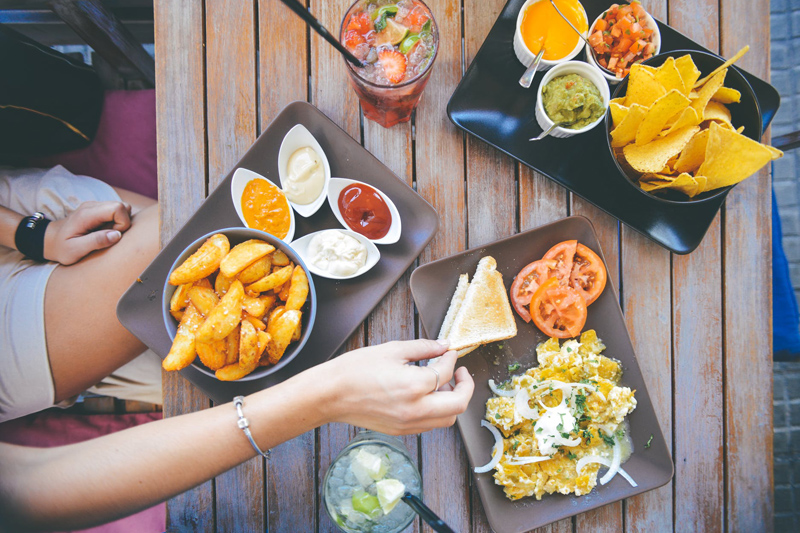 The lakes, streams, Sea of Cortez and the Mexican Pacific Coast are a rich food source for a nation. Explore the fruits of these waters.
Celebrate 5 de Mayo with a fajitas fiesta


5 de Mayo, 5 May, is a date dear to Mexican hearts and a cause for celebrations, fiestas and general jollity, especially in Puebla, where a memorable battle was once fought. No specific dishes are served on 5 de Mayo but fajitas are real fiesta food and an appropriate way to mark the occasion.
Ceviche Recipe


w fish marinated in citrus juice is a traditional way of preparing seafood, found all along the coast of Mexico, and Latin America generally. The sharp, acid fluid effectively "cooks" the flesh without ruining the soft, delicate texture.
Christmas in Mexico - Tortas de Navidad Recipe


Buried amidst the passions, intrigues, anger, frustration, conspiracies, politics, machinations, plotting, scheming and deceptions of Laura Esquivel's enthralling novel Como Agua para Chocolate or Like Water for Chocolate are twelve recipes, including Tortas de Navidad or Christmas Sandwiches.
Dried Fish, Nopales and Red Chile Sauce


In Mexico the forty days before Easter are filled with special foods representing simple meatless dishes. This dried fish recipe is exquisitely Mexican with its flavorful red chile sauce, tangy nopales and the tasty, mild, dried small fry from the lakes of Mexico.
Lenten Cooking in Mexico - Bacalao


Bacalao is virtually synonymous with Lent and features in Lenten dishes throughout the Christian world. It plays an important role in Mexico's "cocina cuaresmeña", and while badly prepared bacalao is a true penance, it can be a very delicious vehicle for many indigenous Mexican ingredients.
Lenten Cooking in Mexico - Chilpachole


Chilpachole is a spicy stew or thick soup traditionally made with prawns or crab, eaten often during Lent or La Cuaresma. Although it is very typical of the cooking of Veracruz, it is served all along the coast of the Gulf of Mexico and ranges from utter simple to downright luxurious.
Lenten Cooking in Mexico - Empanadas de Vigilia


Many dishes from Mexico's Cocina Cuaresmeña are known as "de vigilia", after the Paschal Vigil which is celebrated on Holy Saturday, the last day of Lent and Holy Week. The Vigil begins during the evening of the Saturday and lasts until the morning of Easter Sunday, when a special mass is held.
Lenten Cooking in Mexico - Gratin of Crab Recipe


With the arrival of Lent, La Cuaresma, Mexican cooks' focus turns towards fish and vegetables. Jaiba Gratinada, or gratin of crab, is a typical Veracruzano dish, and while it is very popular during the Lenten period, its savouriness and richness has nothing to do with abstinence!
Lenten Cooking in Mexico - Salt Cod Recipe


Salt cod…. It does not sound appetising, nor does it look particularly attractive. But throughout the Christian world, it makes a regular appearance during Lent, and while it has a dubious reputation – hard, stringy, chewy, briny, horribly saline – when treated well it is utterly delicious.
Lenten Cooking in Mexico - Tortitas de Camarón


Lent may bring to mind pictures of fasting, penitence, abstinence and "giving up" a food which you particularly enjoy, but it is also an opportunity to explore the wealth of vegetable and fish dishes which make up "la cocina cuaresmeña" or Lenten cooking of Mexico.
Mackerel Veracruz style


The bustling port of Veracruz on the Gulf of Mexico is a melting pot of culinary influences and much of its cuisine is based on the local fish, the most famous being Pescado a la Veracruzana, a perfect example of the blending of Old and New World ingredients.
Mexican antojitos - Tostadas


Tostadas are rather like an open sandwich: a crisp, crunchy tortilla topped with anything from refried beans to smoked tuna and halibut, shredded pork and chicken to scrambled eggs with chorizo - as with most Mexican antojitos, the topping is up to the cook, and what is in season and available.
Mixiotes, a Mexican "En Papillote"


The name mixiote is derived from the Aztec Náhuatl language: metl, meaning maguey, and xiotl, skin of the arm, and applies both to the "envelope" and the dish itself. It is simple and very pre-Hispanic, consisting of meat slathered in a spicy sauce and wrapped in the afore-mentioned xiotl.
New Year in Mexico - Shrimp Broth


"La cruda" is such an evocative name. It literally means raw, but in Mexico it is used to describe a bad hangover, from which many Mexicans will be suffering on New Year's Day.
Prawn Turnovers Veracruz Style Recipe


The word empanada translates as breaded and therefore implies the use of bread or at least a dough made of wheat. When it comes to the very Veracruzana Empanada de Camarón, however, a pre-Columbian dough made of corn (and a bit of post-Hispanic flour) provides the wrapping.
The Chillies of Mexico - El Poblano


El Poblano, as its name implies, is a native of the state of Puebla but it makes an appearance in virtually all the regional cuisines of the country. It is a handsome chilli, mild-mannered, well fleshed, broad-shouldered, with a smooth shiny skin and a rich dark green to near black colour.
The chillies of Mexico – El Jalapeño


The jalapeño chilli, plump, smooth and glossy, has a lively rather than fiery ardour, and while it notches up a creditable 7/10 on the heat scale, it is often relatively mild, warm without too much punch - but be warned, it can sometimes be very hot indeed and catch you unawares.
The Sauces of Mexico - Adobo Verde Recipe


From the verb adobar, meaning to marinate, pickle, cure or even stew, the Mexican adobo acts primarily as a medium for incorporating flavour and starts off as a chilli and spice paste sharpened with vinegar or lime juice. It comes in just two colours, red and green.
The sauces of Mexico - Pico de Gallo


Pico de Gallo translates as cockerel's beak for some unfathomable reason and is a standard salsa which appears on the table in a restaurant at the beginning of a meal, to be eaten with "totopos" or tortilla chips while perusing the menu or waiting for the rest of the meal to arrive.
Tuna-stuffed Jalapeño Chilli Recipe from Veracruz


The famous jalapeño chilli is a native of Veracruz and finds its way into pretty much every area of the state's (and country's) gastronomy, and Veracruzana cooks are keen on stuffing it with anything from fresh crab and tinned tuna to cheese, meat and vegetables.
Veracruz - Arroz a la Tumbada Recipe


The Spaniards brought rice – most likely from Europe or perhaps from Asia aboard the legendary Manila Galleons – and the rich coast of Veracruz provided the seafood for one of the state's most renowned dishes: Arroz a la Tumbada, Tumbled Rice.
Veracruz - Fish a la Veracruzana


The bustling port of Veracruz on the Gulf of Mexico is a melting pot of culinary influences and much of its cuisine is based on the local fish, the most famous being Pescado a la Veracruzana, a perfect example of the blending of Old and New World ingredients.
Veracruz – Camarones Enchipotlados Recipe


Langostinos or Camarones Enchipotlados are one of Veracruz's most classical and typical seafood dishes, partnering the very "Jarocho" chipotle chilli with the fabulously fresh seafood caught in the river waters as they flow into the sea.
Editor's Picks Articles
Top Ten Articles
Previous Features
Site Map
Content copyright © 2018 by . All rights reserved.
This content was written by . If you wish to use this content in any manner, you need written permission.
Contact Mickey Marquez for details.