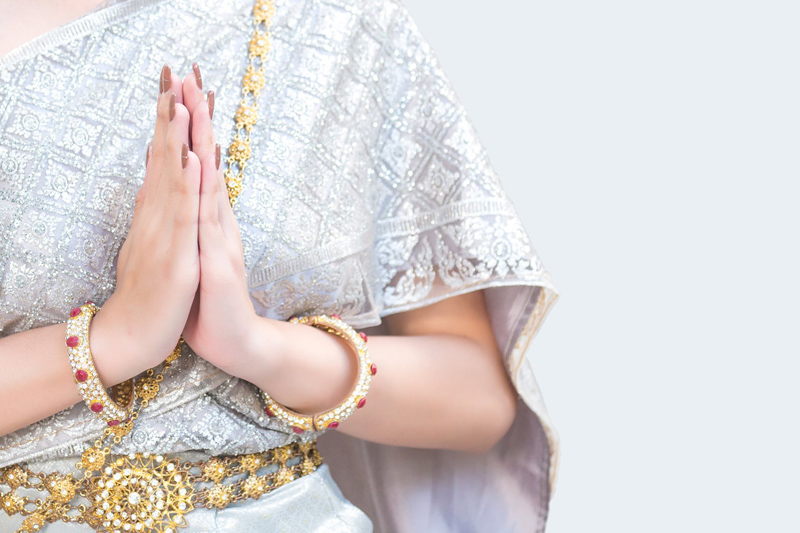 Thai Food Information
Basil Chicken & Veg Stir-fry Recipe


This quick and easy Thai stir-fry is healthy and high in flavour.
Spicy Chicken with Mint and Ginger (Ga Chien)


This quick and easy Vietnamese style chicken is sure to please everyone with the great garlicky flavour accented by mint and cilantro.
Bangkok Barbequed Chicken (Bangkok style Gai Yang)

Street Food Bangkok Style! Barbecued chicken is one of the best treats you´ll find on the streets of Bangkok. The tasty Sweet Chile/Chili dipping sauce is simply addictive.
Barbecued Chicken (Gai Yang)


Who doesn't love barbecued chicken especially jazzed up with a Thai slant? This easy to make recipe can be served with the bottled Hot and Sweet Chili Sauce for Chicken, or the curry sauce in this recipe.
Basil Chicken and Veg Stir-fry Recipe


This quick and easy Thai stir-fry recpe is healthy and high in flavour.
Carmelized Black Pepper Chicken


This savoury and sweet caramelized chicken is one of the easiest and quick meals you will ever make. Start the rice and it will be ready just as you are ready to serve this exciting dish to your family and friends.
Cashew Chicken on a Bed of Spinach


This is one of the most delicious of all Thai dishes! The flavour and texture contrasts of chicken, cashews, and spices makes for a very satisying, but easy to make meal.
Chicken with Black Mushrooms


Easy Chicken and mushroom stir fry dish.
Chicken with Cashews Recipe


This is an recipe of Thai chicken with cashews.
Chicken with Green Chile and Basil (Gai Phrik Krapao)


Tasty quick chicken dish. Serve with steamed Jasmine rice for a quick one-dish meal.
Chicken with Kabocha Yellow Curry


Wonderful rich yellow curry made with kabocha and chicken is heavenly! Easy to make using this popular squash often referred o as Japanese Pumpkin.
Chicken with the Lime and Coconut (Gai Manao Maprao)


The fragrant lime juice tenderizes the chicken, and the creamy coconut milk gives a rich taste to this easy to prepare Thai recipe.
Crying Tiger (Seur Rong Hai)


Crying Tiger is said to be so hot even the tiger will cry, but other old accounts say the name is from the sound of the sizzling of the juices of the grilling meat.
Ginger Chicken (Gai Pad Khing)


This is a quick chicken stir-fry dish with ginger and chiles. The flavours of garlic and chiles with oyster sauce make for a perfect marriage of Thai flavours.
Grilled Chicken-Isan style (Gai Yang)


Delightful Thai barbcued chicken usually on split bamboo sticks is one of the most popular Thai stree foods. It is called Gai Yang and you will often encounter sellers jumping on and off buses and trains with an armful of bambo-skewered chicken.
Grilled Quail (Nok Gata)

This elegant but easy grilled quail dish is a full flavoured starter for a Thai meal or an impressive platter for a dinner party. We love serving this at Thanksgiving!
Kaeng Massaman Gai

Wonderful, tasty, fragrant, easy to make Thai Massaman Chicken Curry recipe is sure to please family and friends.
Orange-Lime Chicken


Tasty stir fry orange lime chicken recipe is ready in 20 miutes!
Phrik Kaeng Kiao Wan


Green curry is always a favourite using any meat, fowl, seafood, or vegetables. The fragrance of the green curry ingredients like lemongrass, green chiles, etc. are mouthwatering.
Red Chicken Curry with Bamboo


Velvety Thai Red curry bathes succulent pieces of tender chicken and bamboo over steamed fragrant Jasmine rice.
Shan Chicken Curry


Shan food is similar to Burmese and Thai with many thick curries made with Thai style pastes that also include some dried spices. This Shan Chicken Curry is a wonderful introduction to some of my favourite dishes of Mae Hong Son.
Southern-Thai-Style Braised Chicken (Gai Kolae)


Tasty Southern Thai Brasied Chicken recipe perfect with steamed jasmine rice perfect for family meals or for guests. This is a very tasty meal that is ready in less than one hour.
Spicy Red Chicken


This wonderful curry is a dry curry and is mde without coconut milk.
Thai Chicken Rice


Khao Man Gai (Thai Chicken Rice) also known as Hainanese Chicken Rice is such a "simple" dish with outstanding flavour. It is a common dish all over Southeast Asia that always delivers lovely flavours. The key to the best Khao man gai is due to the "special" dipping sauce called Nam Jin.
Thai Fried Chicken with Cashewnuts


This quick and easy 20 minute meal of Stirfried Cashew Nut Chicken makes the perfect meal with steamed jasmine rice
Thai-Left-Over Turkey Stir-fry


Quick stir-fry using left over turkey meat.
Thai'd Up General Tso's Chicken


General Tso's Chicken is a favourite of many and my Thai'd Up version is sure to please those enjoying more spice than sweet.
Volcano Chicken


Gai Pu Khao - "Volcano Chicken" This is an old classic Isan recipe that isn't found in many restaurants today even in Thailand. It is so wonderful it is worth the extra effort to gather the ingredients, prep and make for your family and friends.
Yellow Chicken and Pumpkin Curry


This amazing tasty recipe is ready in less than 30 minutes! Chicken Yellow Curry served with steamed jasmine rice is an easy complete meal.
Editor's Picks Articles
Top Ten Articles
Previous Features
Site Map
Content copyright © 2018 by . All rights reserved.
This content was written by . If you wish to use this content in any manner, you need written permission.
Contact Mary-Anne Durkee for details.