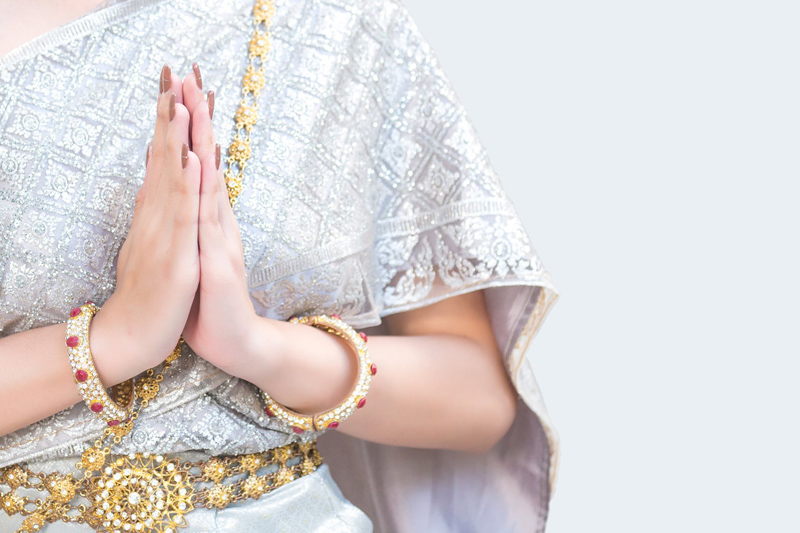 Low-fat, low carb, and healthier choices recipes using fresh ingredients
Basil Chicken (Gai Pad Kaprao)

One of the most popular of all Thai dishes. The combination of chicken, basil, shallots, garlic and chiles result in a flavourful and satisfying traditional Thai dish. An easy to make dinner in less than 30 minutes.
Basil Chicken (Gai Pad Kaprao)


This is one of the most popular of all Thai dishes. It is a healthy and quick stir fry-ready in less than 30 minutes from start to eating!
Basil Chicken/Gai Kaprao


A healthy, tasty quick Thai dish to please everyone.
Chicken with Green Chile and Basil (Gai Phrik Krapao)


Tasty quick chicken dish. Serve with steamed Jasmine rice for a quick one-dish meal.
Chicken-shrimp Healthy Thai Meatballs


Healthy low fat shrimp and chicken Thai appetizer.
Chile Fried Chicken with Yardlong Beans


Easy, tasty, healthy and savoury chicken stir fry.
Fusion Crab Cakes


Fusion flavours of Thai kaffir lime, Japanese Togarashi, Mexican chipotle marry beautifully to make these the best crab cakes you have ever eaten
Gai Phrik Khao Phat [Chicken Chile Fried Rice]


This is a great quick and very tasty recipe for leftover brown rice. It is important that the rice is throughly chilled and not mushy or too moist. You need the rice kernels to be separate. It can be served as a complete one plate meal, or as a side dish in a complete Thai meal.
Grapefruit and Jicama Salad


This refreshing healthy choice Vietnamese Salad has been given a Thai-twist for a lively palate pleaser.
Healthy choice summer cold tomato soup


A delightful fresh and easy, flavourful summer Thai soup to serve at barbecues and dinner parties.
Healthy Choice Thai Seafood Salad


Healthy choice Thai salad is sure to please all your friends.
Healthy Khmer Marinade Paste-Kroeung


This healthy herbal paste is the base flavor of most Khmer dishes. There is no sufficient substitute that can match its unique flavor. Kroeung is commonly used to make stuffings, soup, and stir-fry dishes.
Healthy Thai Salad of Pork, Chicken, Shrimp


A combination of pork, shrimp and chicken with lettuce, carrots and cabbage in a spicy chile-lime sauce. Garnished with ground peanuts.
Hot and Sour Vegetables (Phrik Som Phat Phak)


This an easy and very flavourful Thai vegetable side dish which is perfect with any Thai meal, or as a meal-in-a-bowl quick lunch.
Lemongrass Shrimp & Grilled Pineapple


Quick low fat recipe for a very tasty meal of shrimp, quinoa, and grilled shrimp.
Mango-Tomato-Avocado


The combination of flavours and textures make this a refreshing taste treat. It great as a salsa or cold soup or even on bruchetta. Lovely with grilled seafood, chicken or pork.
Minced Chicken Salad (Laab Gai)


Exciting flavours of Isaan! This minced chicken salad gets it´s special favour from the ground toasted rice. It is a favourite Thai Salad and very healthy.
Minced Turkey Breast Salad


A flavourful and spicy salad recipe from Isan (Northeast Thailand)
Mixed Seafood (Phat Phed Pla Talay)


A lovely mixture of fresh shellfish stir-fried with shallots, chiles, and Thai Basil (bai Krapao). Serve with steamed Jasmine rice for a one dish meal for two.
Nine Flavour Salad


This is an amazing combination of Thai flavours with a balanced sweet-hot-sour-salty dressing.
Papaya Salad (Som Tom Thai)


A refreshing popular Thai salad made from green papaya, chiles, lime, date palm sugar, and tomatoes
Pork-Crab-Shrimp Thai Sausage


The wrapper on these pork-crab-shrimp sausage balls is made from bean curd. The sausage balls are made of a mixture of pork, shrimp and crab that is wrapped in the bean curd sheet and tied with string. The string is steamed, then cut and fried in olive oil.
Quail Grilled (Nok Gata)


This elegant but easy and healthy grilled quail dish is a full flavoured starter for a Thai meal or an impressive platter for a dinner party.
Red Curry Fish Cooked in Banana Leaves


Healthy and Easy Thai Fish with Red Curry cooked in a banana leaf.
Sour Orange Curry of White Snapper and Vegetables


This healthy choice Thai curry is wonderful without the typical coconut of many Thai curries.
Sour Orange Curry Soup of Fish and Vegetables


A healthy Thai sour curry soup using fresh water fish and local seasonal vegetables.
Spicy Mixed Veggie Soup with Shrimp


Flavourful, easy to make healthy Thai veggie and shrimp soup.
Spicy Red Chicken - Healthy version


Healthy Thai Red Curry Chicken
Spicy Red Curry Prawn with Mint Raita


Healthy, quick, awesome flavours of Thai-Indian Fusion.
Spicy Red Curry Prawn with Mint Raita


Healthy, quick, awesome flavours of Thai-Indian Fusion.
Stir-Fried Prawn with Basil Leaves


Quick, tasty and healthy choice Thai prawn stir-fry recipe is sure to delight.
Thai Barbecued Chicken (Gai Yang)


Who can resist the flavour of barbecued chicken with a Thai taste?
Thai Barbecued Stuffed Chicken Wings


These Thai chicken wings will amaze both family and friends with exciting flavours.
Thai Cucumber Salad (Ajad)


This refreshing condiment is peerfect with any Thai meal
Thai Duck Salad


This healthy and tasty Thai Duck Salad is quick and easy.
Thai Grilled Chicken in Lettuce Cups


Flavourful healthy grilled chicken is always a hit for family and friends.
Thai Red Curry Duck Wonton Appetizers


Scrumptious Thai red curried duck appetizers are sure to be a hit with your guests.
Thai Salad Rolls


Versatile Thai Salad rolls make the perfect summer day meal or party appetizer.
Thai Salad Rolls


These fun to make Thai Salad rolls are the hit of every party. I'll make these for our Christmas Eve family gathering as both young and old alike love them. I will make some using local fresh Dungeness crab as an added holiday treat.
Thai Stuffed Cabbage (Kalampliphan Ruan Muu )


Tasty Thai stuffed cabbage rolls filled with tofu and pork and aromatic spices.
Thai Suki-Yaki


Suki-Yaki is such a fun meal that you cook at your table in a pot of steaming broth that is placed on a charcoal burner or hot plate. You pick out the "sets" or plates of ingredients you want from a menu.
Thai Wok Fired Clams


Amazing flavours of wok fried clams in an amazing Thai sauce.
Yum Woon Sen Gai (Bean Thread Chicken Salad)


This salad is healthy and full of wonderful Thai flavours. Bean threads are very low in carbs and calories!
Editor's Picks Articles
Top Ten Articles
Previous Features
Site Map
Content copyright © 2018 by . All rights reserved.
This content was written by . If you wish to use this content in any manner, you need written permission.
Contact Mary-Anne Durkee for details.