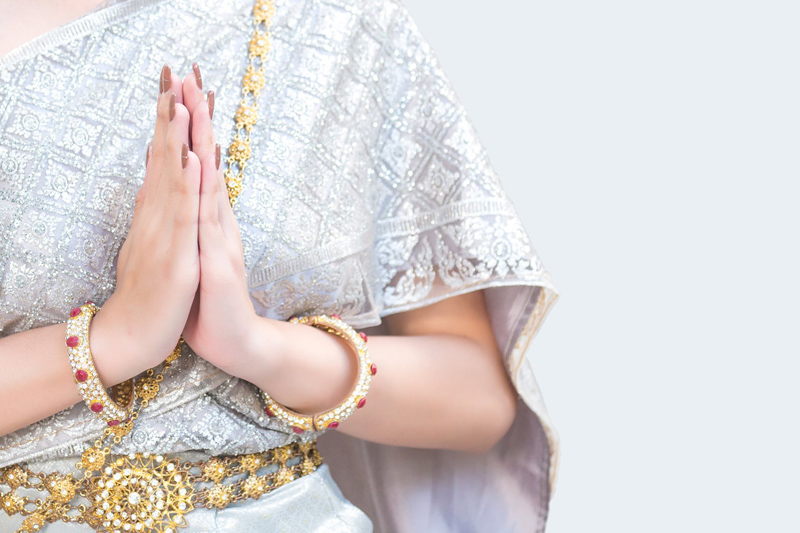 Thai Food Information
Amok - Steamed Khmer Curry


This wonderful steamed curry from Cambodia is very much like the Thai Haw Mok, but has a little different taste due to th tumeric, kaffir lime and galangal.
Awesome Crab Cakes


The best crab cakes I have ever eaten any place! The touch of kaffir Lime and smoked chiles compliments the delicate flavour of fresh crab meat.
Bay Scallops with Cashews


Delectable flavours and contrast of textures make for an exciting quick and easy meal.
Bu Ja (Crab And Pork)


Bu Ja is a festive dish of crab and pork steamed in it's shell. This can be made ahead and steamed just 20 minutes before dinner for a gorgeous fragrant fist course.
Catfish Green Curry


This amazing Thai Green curry is sure to please your guests and family alike.
Choo Chee Prawn


Choo-chee is a most popular Thai seafood curry taste. This flavourful recipe is easy to make.
Clams in Thai Coconut Red Curry


Thai red curry with coconut milk is the perfect bath for fresh clams. You can use all ready prepared curry paste or make your own. I like to keep a jar of my home made curry pastes in the refrigerator for quick and tasty meals.
Cracked Crab with Curry


This delectable yellow curry is the perfect fresh Dungeness crab recipe. It is an easy one dish meal!
Crispy Scallops with Fresh Water Chestnuts recipe


The water chestnut is actually not a nut at all, but an aquatic vegetable that is sweet andf crisp. In this wonderful dish of crispy scallops the water chestnuts add a sweet and crunchy texture.
Curried Crab Claws


This is a mild curried dish, usually served as a counterpoint to a more intense curry or garlic dish.
Curry Shrimp (Kaeng Khua Saparot)


This quick and easy flavourful Thai stirfry of Shrimp Red Curry has a lovely touch of pineapple and is colourful as well.
Fiery Seafood


The perfect fiery Thai curry to please family and friends alike.
Fiery Shrimp Curry


The sweetness of coconut milk tames the heat of this quick curry, but it remains a dish for fans of fiery food. You can of course reduce the heat by using fewer chiles.
Fish Choo-Chee


Choo-Chee is one of my favourite curries. The delectable flavours are the perfect back note for fish. I often use wild caught salmon or a firm white fish such as catfish, cod, or halibot works great. Take advantage of the fresh catch of the day at your fish monger and make an exciting meal.
Fish Curry over Noodles


The marriage of flavours-curry and fish make the perfect lunch entre.
Fish In Tamarind Sauce


A delightful tasty Thai fried fish with tamerand sauce. It is easy to make. The fresh fish makes you a star chef.
Fish with Crab Mousse Rolls


I developed this easy to make Sole with Luscious Crab Mousse for festive family meals that is ready in minutes. Using sole fillets and a can of crab plus a few common ingredients from the refrigerator and dinner is ready in 20 minutes.
Fried Oyster Pancakes


A traditional Thai seafood pancake often a street food dish.
Green Curry with Seafood


Seafood Green Curry (Aban Talay Gaeng Khiew Wan ) is one of the best of all Thai curries!
Jungle Curry (Gaeng Pah)


Popular North Thailand Jungle curry can be made with frog or chicken. Frog is usually available at Asian markets.
Leaf Wrapped Grilled Fish


Fish Char-Grilled Wrapped in Bai Chaplu Leaves is a wonderful exciting taste treat. The flavourful sauce keeps the fish moist as you grill it.
Lemongrass Shrimp & Grilled Pineapple


The marriage of flavours of quinoa, saffron, garlic, spicy chiles, shrimp, and the sweetness of the pineapple work beautifully. This meal is ready in less than 30 minutes and there is only one pan to wash!
Lobster Balls with Green Curry


Luxurious Thai Lobster Balls in creamy coconut green curry sauce with your favourite seasonal vegetables makes a quick but very tasty meal. You can purchase the Lobster Balls or make your own. Same with Green Curry paste make your own or buy ready made.
Mixed Seafood Curry


This amazing seafood curry, "Talay" is always a popular dish using your choice of fresh shellfish and or fish.
Mixed Seafood Curry (Choo Chee Talay)


This is one of my favourite Thai recipes. I first learned to make it from award winning Thai cooking teacher and athor, Kasma Loha-Unchit 20+ years ago and the recipe as evolved to this it's present one.
Mixed Seafood with Basil


A lovely mixture of fresh seafood stir fried with shallots, chiles, and Thai Basil (bai Krapao). Serve Mixed Seafood with Basil (Phat Phed Pla bai Kaprao Talay) with steamed Jasmine rice for a one dish meal for two.
Mussels in Coconut Milk Lemon Grass Broth


Mussels in Coconut Milk Lemon Grass Broth is an impressive, but very easy dish to make. Fresh mussels kissed with lemon grass coconut milk broth make for a fragrant appetizer or entree. Yummy with steamed jasmine rice or crusty French Bread!
Pork-Crab-Shrimp Thai Sausage


The wrapper on these pork-crab-shrimp sausage balls is made from bean curd. The sausage balls are made of a mixture of pork, shrimp and crab that is wrapped in the bean curd sheet and tied with string. The string is steamed, then cut and the sausage balls are then deep fried.
Scallop Red Curry


Exciting scallop curry is the perfect entree for a Thai meal. You can use either diver scallops or the small Bay Scallops as your prefer.
Sea Bass with Lemon Grass & Shallots


This fish turns out moist and flavourful with the Thai seasonings. I cook it in a claypot, but any baking dish will work.
Shrimp Green Curry with Thai Noodles


This fast curry in a hurry meal is ready in just 15 minutes, but bursts with flavour. The perfect meal for a quick night meal.
Shrimp & Crab Coconut Rice Crêpes


Simple crêpes are a popular street food in Northern Thailand. The recipe below is a more elegant savoury crêpe served as an entrée or as a first course for a sit on the floor Khon Toke meal.
Shrimp Curry


A delightful Thai shrimp curry that can be made ahead of time and at the last minute finish off with the just cooked shrimp.
Shrimp with Cashews


This is one of the most delicious of all Thai Shrimp dishes. It can be served on a bed of steamed fresh baby spinach.
Sour Orange Curry of Trout and Vegetables

Sour Orange Curry with Fish & Vegetables


This easy curry is perfect for fish and shellfish with most vegetables. The Sour Orange Curry is especially popular in the Central Plains area of Thailand around the historical areas of Sukathai.
Spicy Thai Shrimp with Mint Raita


This dish combines the exciting flavours of Thai and Indian Cuisines. Quick and healthy dish for a flavourful entree. Served with a mixed green salad makes a delightful meal.
Spicy Yellow Fish Curry


This amazing Spicy Yellow Fish Curry recipe is a great introduction to the exciting flavours of Isan (Northeasdt Thailand).
Steamed Seafood Custard in Banana Leaf Cups(Haw Mok Talay)


One of my favourite Thai dishes. This rich coconut milk curry custard surrounds the seafood morsels in a banana leaf cup. It is a beautiful presentation and can be served on a plate or eaten out of hand with a spoon.
Stir Fry Frog with Basil


The flavours of hot-sour-sweet-salty are a perfect compliment to frog. If you have never eaten frog you will be surprised at how tasty and tender it is. Yes it does taste a bit like chicken.
Stir-Fried Prawn with Basil Leaves


Pad Ka-prao Goong (Stir-Fried Prawn with Basil Leaves) is a quick and exciting flavoured stir-fry dish of Thailand. This recipe takes less than 20 minutes to prepare.
Stir-fry Clams (Hoi Pad Nahm Prik Pow )


Traditional Thai-taste clam dish that is quick and easy to make.
Thai Crab-Shrimp Cakes


A delightful combination of two favourites from the sea-shrimp and crab make delightful cakes for an entree if served with a salad, or as a fabulous first course.
Thai Fusion Crab Cakes


Simply the best crab cakes you´ve ever eaten! The fusion of Thai Kaffir Lime Leaf, Japanese chile Togarashi, and smoky chipotles combine to create an exciting Fusion dish. Perfect as an appetizer, or double up for an entree.
Thai Pesto Grilled Shrimp (Goong Phao Pak-chee bai Horopha)


This tasty Thai appetizer is sure to please your guests. The drizzle of Thai Pesto adds the perfect touch to a lovely first course or salad.
Thai Salmon Cakes with Curry


Fabulous flavourful and easy entree made with smoked salmon and curry sauce is the perfect lunch or dinner entree.
Thai Style Stingray


Steamed Thai Stingray flavoured with lemmongrass, ginger, orange and lime.
Thai Ti Wrapped Sea Bass


A delightful ti leaf wrapped sea bass steamed with shitake mushrooms, onions, and carrots with Thai aromatics, served with a Cilantro Nam Pla Sauce.
Thai-Style "Singaporean" Chile Crab


Thai-Style "Singaporean" Chile Crab is one of the most exciting flavours you will ever eat. Feel free to use your local crab to make this dish, but please use fresh crab! I am sure it would be divine using Maine Lobster!
Tips on choosing the best in seafood


Tips on choosing fresh seafood.
Editor's Picks Articles
Top Ten Articles
Previous Features
Site Map
Content copyright © 2018 by . All rights reserved.
This content was written by . If you wish to use this content in any manner, you need written permission.
Contact Mary-Anne Durkee for details.