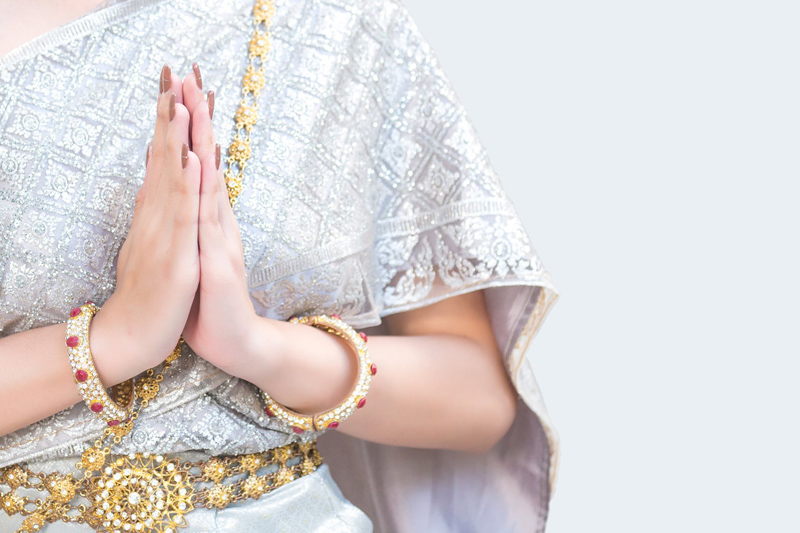 Condiments and Dipping Sauces are the backbone of Thai cuisine.
Chile Anchovies Relish (Nam Phrik Haeng Pla)


Dried anchovy chile relish condiment
Thai Pickled Cucumber (Ajad)


This refreshing Thai condiment adds zest to any meal and is often served along side satays and barbecued meats.
Amazing Thai Condiments


Thai meals are only complete with an array of Thai condiments . You can easily make these at home.
Basic Thai Sweet Chili Sauce


We use this "magic" sauce for many things including barbecued chicken, with sliced cucumbers as an instant salad, for dipping egg rolls, over deep fried whole fish, or the perfect sauce for grilled quail, etc.
Black Bean Sauce (Nam Jeem See-eu Dam)


Flavourful dipping sauce often used with
Candied Ginger Topping


Candied Ginger Topping tastes so wonderful on ice cream. It is especially delightful over Coconut Milk Ice Cream.
Chile Soy Sauce Condiment (Prik siyu wan)


Chile Soy Sauce Condiment
Chile Vinegar Condiment (Prik dong)


Chile Vinegar Condiment
Chile-Ginger-Garlic Sauce (Nam Phrik Jaew)


Nam Phrik Jaew is a popular dipping sauce or Thai table condiment
Cilantro Fish Sauce (Nam Pla Pak Chee)


Spicy and flavourful dipping sauce suitable for fish, eggrolls, salad rolls, and chicken.
Cucumber Pickle (Aa Jaad )


This pickle is from Isan, IE Northeast Thailand.
Dipping Sauce from Hell

The perfect condiment for those who love some heat. I like using smoked chiles with the catfish for a very special flavour.
Fish Sauce and Chile Sauce (Nam pla phrik)


Nam Pla Phrik or Chile Fish Sauce dipping sauce is a must on every Thai meal table.
Flavourful Fish Sauce Condiment (Pak nam pla)


This dipping sauce or condiment is made flavourful with the addition of shallots, celery and radish in fish sauce (nam Pla)
Ginger Condiment (Khing ki mao)


Ginger-whiskey-fish sauce Condiment perfect with any Thai meal
Green Chile Seafood Sauce


Spicy green chile sauce is a favourite with seafood dishes such as Hor Joy (Seafood-pork Sausages) grilled shrimps, or sates.
Green Mean Sauce


All Thai´d up Sauce, Green Zebra tomatoes, spicy dipping sauce, Thai style tomato sauce,
Hot-Sweet Spicy Dipping Sauce (Nam Jeem Kai Yang)


This hot, sweet and spicy dipping sauce is excellent with barbecued chicken and deep fried snacks such as egg rolls or fried calamari.
Nam Jin Sauce


One of the most popular dipping sauces in Thailand is Nam Jin. It is also used as a salad dressing as well as a meat or chicken dipping sauce.
Roasted Chile Paste (Nam Phrik Pao)


Nam Phrik Pao is key to many Thai dishes and although prepared is available once you make your own you will never want to use the already made commercially available Nam Phrik Pao again.
Satey Sauce


A tasty peanut dipping sauce for Sateys.
Sauces for Thai Salad Rolls


Sweet, hot, sour, salty saucers for Thai Salad rolls.
Suki-Yaki Sauces


Exciting dipping sauces for Thai Suki-Yaki
Sweet Soy with Ginger Condiment (Prik nam siyu wan)


This flavourful Thai dipping sauce is perfect with any Thai meal.
Sweet-Sour-Salty-Spicy Dipping Sauce


Sweet-sour-spicy-salty dipping sauce is perfect for Spring Rolls of all types
Thai Condiments & Dipping Sauces


Spicy green chile sauce is a favourite with seafood dishes.
Thai Condiments recipes


In Thai Cuisine there are several popular condiments. All can be made at home preferably at least one week before serving so as to allow maturing of flavours.
Thai Cucumber Pickle recipe (Ajad)


Thai pickles are the perfect condiment for any Thai meal.
Thai Cucumber Relish (Nam Thaeng Kwa)


This colourful cucumber relish is served with many Thai dishes such as egg rolls and barbecued chicken.
Thai Dipping Sauces


Dipping Sauces are key to Thai meals, especially with finger foods. Here are four tasty Thai Dipping Sauce recipes you will love!
Thai Fruit Dip Recipe


Popular zippy fruit dip makes fruit snakes extra appealing.
Editor's Picks Articles
Top Ten Articles
Previous Features
Site Map
Content copyright © 2018 by . All rights reserved.
This content was written by . If you wish to use this content in any manner, you need written permission.
Contact Mary-Anne Durkee for details.