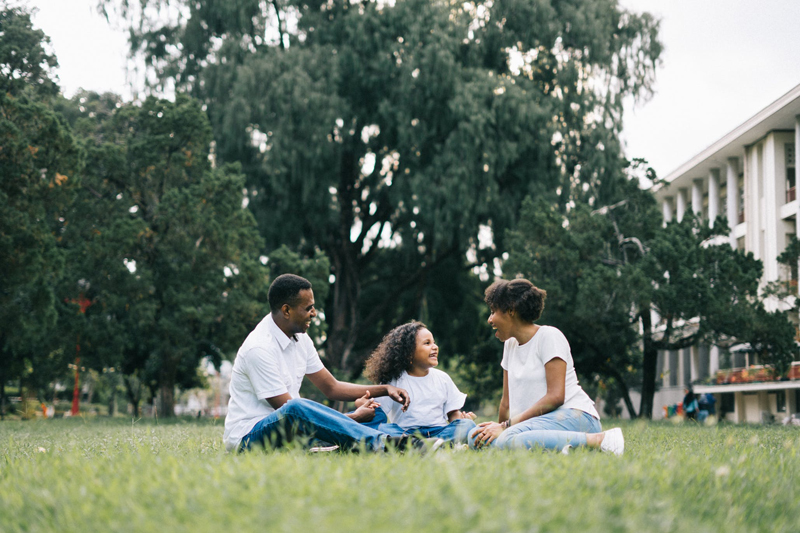 A weekly, personal note from the African American Culture Editor
A New Year A New Mindset


It is my hope that 2014 will be your best year yet! I encourage you to go after your dreams. Stand up for what you believe in. Reach beyond your comfort zone. Do something that you've always dreamt of doing, but never thought you could, or thought no one would understand.
A Year In Retrospect


A year ago, we watched as the first African American man was sworn into the highest office in the land: President of the United States. With that came a sense of hope, pride, inspiration and a feeling of change. How many of us still feel the same? What are we looking for in this coming year?
Accepting Who You Are


Why do we put so much emphasis on what someone else says about us? It is time to accept who we are, and recognize the treasure that is in us.
Balancing a Life of Leadership


Which of us are willing to do what it takes to produce the kind of leadership that leaves behind a legacy worthy of its laborer? To, produce the kind of change that will affect our people for generations to come? In order for this to be possible, we must find the balance in our lives.
Can Right of Freedom of Speech Cross the Line


When we exercise our right of Freedom of Speech, there is responsibility that comes with it…and consequences.
Celebrating The Life You Have


Your life is worth celebrating. No matter where you are in life, there is something you have to be thankful for. So start celebrating the wonder of you.
Changes Within The African-American Community


For generations, African Americans have fought for equality and justice. Changes often come with every new generation, as well as new challenges. If we expect change to occur for the better, we must begin from within the community.
Creating Memories Through Food


What is more precious than creating fond memories with the ones you love? Doing it through food! Here is a list of my favorite recipe articles to help you create your own family memories for the holidays. Enjoy!
Easter Memories


Easter is a week away. A great opportunity to get together, share good food, fond memories, and make new memories. What do you remember the most about your family gatherings? Was it the food or the many traditions, or memories you have?
Education is More Than Knowledge...It is Power


With knowledge comes power. And, with that power is responsibility. An education can be gained through many facets: home, school, the street, life. It is what we do with what we have learned that will make a profound difference, not only in our own lives, but in the lives of those around us.
Effects of Gentrification on Poverty and The Poor


Gentrification affects poor urban areas, where its poorer residents no longer are able to afford to live there due to the changing composition of their neighborhood. Is this a silent war on the poor in disguise of redevelopment?
Election Day Knowledge


It is Election Day again. It is vital that we know why and who we are voting for. be an informed voter, and make the best decision on what is best not only for you and your family. But your community as a whole.
Embracing Your Black History


I know this for certain: in order for a greater tomorrow, we must always embrace our history. It holds the keys to our future, and to the future of each and every generation to come. We cannot possibly know where we are going, without knowing where we came from.
First Obama - Romney Presidential Debate


Was it a win, lose, or draw? An Op-Ed covering the Presidential debate for the office of the President of the United States.
Free Thinking vs Political Correctness


When did it become such a crime to speak one's mind? When did it become such a heinous offense to be honest and truthful about what you think, feel, and believe? In a world that is filled with differences, including opinions, everyone will not think, believe, see, or even learn the same.
Get Involved This School Year


Do something this school year by becoming proactively involved in the education process. Get involved. Do something. Ensure that our children received the best education that they have a right to.
Giving in the African American Community


As we look over our history as a culture, African American's have been strong in the area of giving. Our ancestors understood what it meant to give. Many shared and had a spirit of giving because that is what kept us alive. It was a way of life. What are we doing to keep that spirit alive?
Governing of the People Bypassed by Politics

The numbers do not lie. Politicking has overshadowed the governing of our people. African American and Latino households are facing the most egregious times should things continue as they are. We must begin by taking a stand for change and recognize what all the political fights are really about.
Honoring Our Mothers


It is an honor to know that someone loves you in such a special way, that they would sacrifice just so you can have. It's Mother's Day! Time to let our mothers know just how much they mean to us.
I Just Want To Know


I just want to know what is on the hearts and minds of those that say they love and care. And for those that say they love God and desire to see His will be done.
Is There Closure With The Death of Bin Laden?


Almost ten years, horrific wars, grand destruction, loss of precious life—Osama Bin Laden is dead. The mastermind behind one of the most horrendous, terrorist attack on American soil now rests at the bottom of the sea.
It's Your Choice


Coming to an end of another election season. No matter what comes our way, remember: It's Your Choice. How you respond. What you do. What you think. It's still your choice. That's your God given right...to choose.
Letting Go of the Past


What a terrific way to start the New Year; by letting go of the past. As we embark on a New Year, let us remember the lessons of the past, but not linger on the mistakes and failures. Take what you've learned and create a 2011 that will launch you into your destiny.
Looking Ahead


As we celebrate Black History, we can take a page from the books of those who have gone before us—never lose hope for a better tomorrow.
Making Tough Decisions


How do we decide what is best for us? There are times in life when we are going to have to make some tough decisions. They may not be the most popular decisions, or in the majority. But this is life, and we only get one.
National Child Abuse Awareness Month


April is National Child Abuse Awareness Month. We don't always recognize the signs that are not visible. It is imperative that we understand, and open our hearts to be able to recognize what we might otherwise miss. Let's make it personal.
Nelson Mandela...A Man For The Ages


Remembering the greatness and fortitude of an imperfect man that dared to make a difference, and change a world in the process. Nelson Mandela, God's child. A man for the ages.
On Trial--George Zimmerman or Rachel Jeantel


The trial of George Zimmerman has begun for the slaying of seventeen year old, Trayvon Martin. Yet, when Rachel Jeantel took the stand, social media buzzed with less than favorable comments about the last person to hear Trayvon Martin's voice.
One Injustice Too Many


A firestorm is raging across the United States of America. The lights shining bright from the flames of injustice that leaves one with the notion that America is not united, but clearly divided. One injustice is an injustice too many.
Perceptions of African-Americans


With all of the hate and ignorance towards Black people, what is more hurtful and harmful, are those within the African-American community who share those same perceptions and prejudices; systematically destroying a people from within. First of two parts.
Preparing For The Holidays

There's more than one way to prepare for the holidays. Is your heart being prepared to give?
Protecting Our Black Children From Injustices


We have long felt the disjointed arm of justice when it comes to people of color. We long since understood that we rarely, as black people, will get a fair and just trial in America. We have only to look at the prisons. We must protect our children, prepare them for the injustices that do occur.
Reality or Fallacy...The Cost of Reality TV


What is "reality" TV? How is it benefiting our communities? What, if anything good, is it teaching the next generation? How much are we willing to sacrifice to be entertained and to gain that fifteen minutes of fame?
Saving Schools in Our Black Communities


How is it possible where there is already devastating poverty, that children are being deprived a school in their own neighborhood? Something must be done to ensure the longevity and excellence in our community schools.
Slavery Still Exists


We cannot afford for another generation to be continued repeat offenders; either dying behind prison bars, or killing each other on the streets.
So It's The End of The World


If you knew you had but mere hours to live—what would you do? If you knew that tomorrow would never come; how would you live today?
Something's On My Mind


Taking the time out to appreciate the people in our lives; regardless to what is going on around us. Sometimes we just need to know we are appreciated.
Stop The Bullying


An OP/ED. What is it? Why is it? A generation is being wiped out. So many children are taking their lives because they have been mercilessly bullied. They see suicide as an only recourse to end their pain. We have to step of our efforts before lose an entire generation.
The Black Vote


There is just a mere fifty days or so until election day is here. And how we vote will determine who will represent us; our communities; our voice; our choices.
The Courage of Our Civil War Soldiers


Is the same courage and conviction present in our lives as it were in our soldiers of the Civil War?
The Fight Against Racial Disparity


As long as the color of your skin remains the same, you will always be subject to the same disparities. Most injustices and inequality is based upon what you look like, and not what you have or have achieved in this life.
The Spirit of the Season


OP/ED What happened to the Spirit of the Season? Nowadays you hardly see or hear mention of Christ or Chanukah or anything associated with religion. It's as though it is taboo to mention the name of Christ during the Holidays.
This Christmas


This Christmas maybe you can give someone the gift of hope. An opportunity to celebrate the small things and steps being made, that will eventually lead to bigger steps and changes. Yes. Hope. It goes a long way.
We Can Still Learn From Dr. Martin Luther King Jr


As we celebrate the legacy of Dr. Martin Luther King Jr., we still have much we can learn from the man, the messenger, the Prophet, the teacher. How many of us continue to teach the next generation of what Dr. King stood for? Are we living the dream or still trying to reach it?
What Do Your Footprints Say About You?


We have the ability to leave an indelible mark in this world. We have the power to shape generations after generations. What is your life teaching those that follow you? What do your footprints say about you?
Year of Triumphs and Hurdles for African-Americans


This year has seen its share of triumphs, defeats, evil and good. African-Americans saw many changes take place in the past few years. However, for many, 2012 felt like they took a step back in time to the days of Civil Rights—fighting for a our right to vote, equality, and justice.
Editor's Picks Articles
Top Ten Articles
Previous Features
Site Map
Content copyright © 2018 by . All rights reserved.
This content was written by . If you wish to use this content in any manner, you need written permission.
Contact Ruthe McDonald for details.