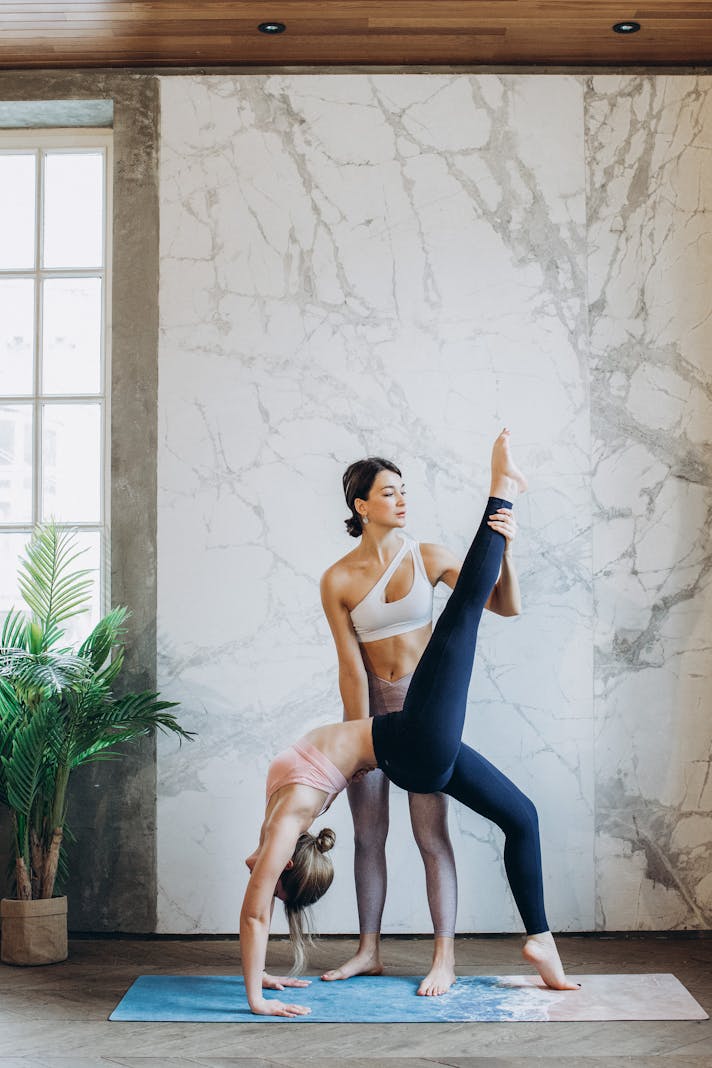 There are all sorts of reasons for the importance of balance work, particularly as we age. Physically, we want to avoid falls. Mentally, we want to avoid obsessive-compulsive thinking and behavior. Spiritually, we want to make sure that our lives are full in all sorts of ways. So it makes sense that we utilize balance poses in yoga. But how do props work here? Shouldn't we be practicing our balance by, well, balancing on our own?

It sounds reasonable, but the truth is that balance and asana, like balance in our everyday lives, is a complicated concept. Every yoga pose has multiple parts. When practicing a shape that requires us to balance, we have to have the mechanics of the shape down before we go for the final touch of stability.

As an example, let's take Virabhadrasana, or Warrior I, which we usually don't think of as a balance pose. We are standing up with our legs separated; the back foot is set at a forty-five degree angle. The front foot is facing the short edge of the mat. Our arms are perhaps raised, with the shoulders snuggled into the socket, the elbows by the ears, and the hands extending into infinity. The back of our neck is long. The back is either bending backwards or straight depending on how we choose to take the pose. The reason we don't fall down with all this going on? We not only know the various parts of the pose well, but we have muscles and organs responsible for balance that know what to do when we take this position. Turn the back foot so that it's up on the forefoot or on the toes, and the balance is suddenly going to be more difficult. However, if we know the rest of the pose, we can concentrate on practicing the balance without worrying about anything else.

Take this concept and apply it to a "balance" pose such as Ardha Chandrasana, or Half Moon. Yes, balance is an issue, primarily because we aren't used to holding up our weight while touching the mat only with one foot and one hand. However, if we don't know the pose completely, our bodies don't know what to practice when we attempt to balance. We're trying to do too much at once, and so can't do much of anything at all.

This is where props come in. For balance poses, it makes sense to start by learning the various parts of the poses in turn, leaving the equilibrium challenge for last. To do this, we use a prop to stay up, and possibly other props as well. For example, we might practice Ardha Chandrasana with our backs against a wall so that we don't have to worry about balance. We also might use a block to 'lengthen' our arm. We can then concentrate on bringing the top shoulder to the wall, keeping the back straight, pulling the shoulder blades in while stretching the arms away from each other, and straightening the standing leg without locking out the knee. Isn't this enough to work on at the beginning?

In general, practice new balance poses with a wall to work on the alignment of the back and legs. Depending on the pose, you might also need a block or strap. When working on arm balances, the same principle applies, although you need to get creative with positioning. In all cases, it helps to have a teacher to act as a spotter; it may be worth it to schedule a private session for suggestions specific to your body.

You Should Also Read:
The Importance of Yoga Props
Tips for Balance Poses
Creative Props for Home Practice


Related Articles
Editor's Picks Articles
Top Ten Articles
Previous Features
Site Map





Content copyright © 2022 by Korie Beth Brown. All rights reserved.
This content was written by Korie Beth Brown. If you wish to use this content in any manner, you need written permission. Contact Korie Beth Brown for details.