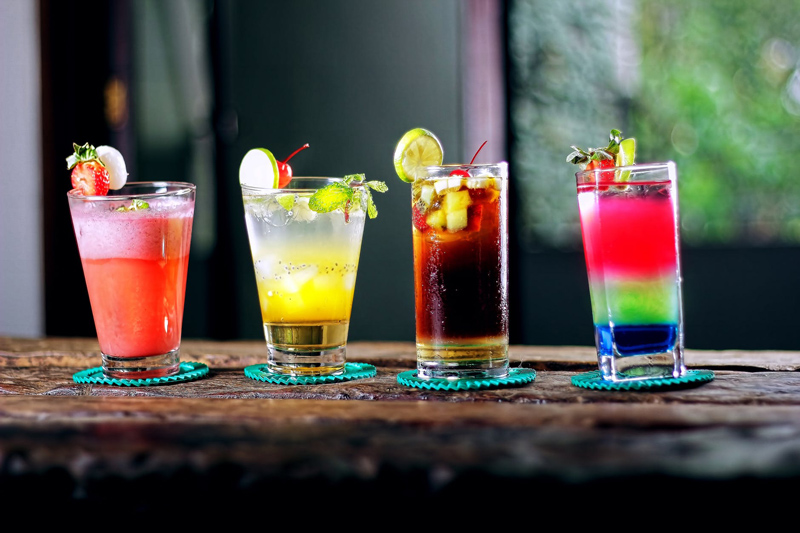 Look for recipes for the cocktails mentioned in my articles. This recipes list is short but growing every day. And please do let me know what I´m missing.
BBC Cocktail Recipe

My sister went to the Virgin Islands and all I got was a request for a "DELISH" cocktail recipe called the BBC. She knew it contained Baileys Irish Cream, bananas, and ice cream but she wanted to know all about the BBC cocktail recipe. With a start that enticing, I had to learn more, too.
Blue Hawaiian, Trade Winds, Pirate Grog Recipe


Blue Hawaiian, Trade Winds, Round the World, Pirate Grog . . . thinking about pirates yet? These tropical cocktails set the pace every time you want to party like a pirate!
Celtic Cocktail Recipes


One of my favorite Bella babes is getting married soon and her Celtic wedding theme is full of fun. She asked me to come up with some Celtic cocktail recipes. I thought I'd share these ideas with you, too.
Chocolate Cocktails Recipes

Got chocolate on the brain? Try devilishly decadent chocolate-laced cocktails, including Hot Peppermint Patty, Gingerman, and African Coffee. Find these chocolate cocktails recipes here. . .
Cocktail Recipe - The Mary Pickford


This sweetly refreshing cocktail is named in honor of the legendary silent film actress, Mary Pickford. Did you know she was one of the founders of the Academy of Motion Picture Arts and Sciences, that glitzy organization that brings us the Academy Awards and the much-coveted Oscar statuette?
Damn The Weather, It's a Whiteout: Gin Recipes

Winter is definitely upon us and weather is a hot topic. Cool off with these two refreshing cocktails both based on gin - Damn The Weather and Whiteout.
Dark 'n Stormy Cocktail Recipe


Dark rum, zesty ginger beer, and the Caribbean Islands - what better way to wind down a long hot summer?
Dog Days, Sloe Dog, Bloodhound Recipes

The dog days of summer are most definitely upon us and I, for one, am looking for some cool, refreshing cocktails to stay cool and sane till cooler weather returns. The Sloe Dog features grapefruit juice, one of my favorite mixers, and the Bloodhound is fruity and red, of course!
Drink Recipes - Lioness, Tiger's Tail, Polar Bear

"Lions and tigers and bears. Oh, my!" Oz isn't the only place where trouble seems to lurk around every corner. When the jungle closes in on you, think about some Oz-inspired cocktails: the Lioness, Tiger's Tail, and Polar Bear.
Escape Route, Coming & Going, SOS Cocktail Recipes


Enjoy these cocktail recipes perfect for discussing election returns. Try an SOS, Coming & Going, and Escape Route to get the post-election conversation flowing freely.
Freezer Drinks


Some cocktails are best served very cold. Freezer cold. Martini, anyone? These are serious cocktails you can make right in the liquor bottle. Store them in the freezer for a quick individual cocktail and, prepped in advance as they are, they make easy work of serving a party crowd.
Frozen Strawberry Daiquiri Recipe


A daiquiri is a traditional Latin American drink, created with rum and fruit. I happen to adore strawberry daquiris. Here is a recipe for you to make your own.
Frozen Strawberry Daiquiri Recipes


Frozen Strawberry Daiquiri Recipes are on the mind of one reader with an August birthday coming up so we provide three recipes for this icy, sweet delight.
Ghoulishly Halloween Cocktail Recipes

Still looking for some ghoulishly good cocktail recipes for the big Halloween party? What do you think about these three ideas - tricks or treats?
Godiva Chocolate Vodka Recipes


These four Godiva Chocolate Vodka recipes are the perfect way to celebrate National Chocolate Lovers Month - today and every delicious day of the month!
Golden Start, Jade, Ruby Cocktail Recipes


These Golden Start, Jade, and Ruby cocktails are as lusciously rich in flavor as they are in looks. For added fun, serve them in the prettiest glasses possible.
Hot Cocktails for Cold Nights


Brrrr! It's sure cold outside lately. What to do in times like these? Enjoy hot cocktails till the snow melts. Think Anti-Freeze, Hot Toddy, Mexican Coffee - all excellent hot cocktails for cold nights wherever you are.
Ice Cream Drink Recipes


July is a month of high celebration for ice cream lovers everywhere - it's National Ice Cream Month! Here's the whole scoop and some ice cream drink recipes sure to go down with a long, smooth, satisfying finish. Mmmmm, cool.
Irish Coffee Recipe


One of the most popular things to do with good Irish whiskey is to add some hot coffee and top it with cool cream. That's the basic Irish Coffee recipe, yes, but there are lots of ways to add a little "color" to the brew. Here's my favorite Irish Coffee recipe.
Leap Year Cocktail Recipe


What better way to celebrate the one day of the year that comes around only once in every four years than with a cocktail created especially for the occasion - Leap Year! Chill those cocktail glasses, fill the cocktail shaker with ice, and party like it's February 29!
Mint Julep Cocktail Recipe


In little more than two weeks, the most famous horse race in the United States will get underway - the Kentucky Derby! Enjoy this trifecta of Mint Julep cocktail recipes to sip at your own Run for the Roses soiree.
More Celtic Cocktail Recipes


Here are more Celtic cocktail recipes that are perfect for a Celtic wedding theme and an Irish toast or two! They're even pretty tasty if your not getting married any time soon.
Perfect Lady Cocktail Recipe for Mother's Day


Mother's Day is just days away. Blend up this frothy, festive Perfect Lady cocktail to show Mom what a peach she is! Gin, peach brandy, fresh peaches, sugar-frosted rims - it's all right here, in the Perfect Lady cocktail recipe for Mother's Day. Perfect!
Pink Squirrel Cocktail Recipe


What's pink, creamy, and tastes like chocolate and nuts? It's the Pink Squirrel cocktail! Light on booze but big on flavor, this liqueur-based frozen drink has been a big hit with the ladies for decades. It's even made with ice cream!!
Scotch Whisky, Rob Roy, Clansman Coffee Recipes


Here's all sorts of interesting tidbits and some truly delicious cocktail recipes using Scotch whisky, this very British spirit thought to have its origin in the days of the Ancient Celts.
Sea Breeze, Sea Dog, Salty Dog, Yellow Parrot


Want tropical drinks but not a fan of rum? Try a Sea Breeze, Salty Dog, Sea Dog, or a Yellow Parrot to bring the tropics home to you. Find recipes here.
Shamrock and Clover Club Cocktail Recipes


If thirsty thoughts are conjuring up something green, the super-potent Shamrock will solve the problem. For a less-spirited cocktail cousin, the Clover Club, will spread a nice rosy glow throughout your next cocktail party. Both these cocktail recipes are sure to please.
Stinger, Grasshopper Recipes


Put a fresh, minty spin on Happy Hour with a Stinger or Grasshopper. Find recipes here!
Strip and Go Naked Cocktail Recipe


August 13 is Skinny Dipping Day. Swirl up a blender full of cool, refreshing Strip and Go Naked frozen cocktails and party in style!
Sunburn, Summer Time, Sun City Cocktails


Global warming a hot topic at your last cocktail party? Who's to blame? Does it really matter? The bottom line remains the same: baby, it's hot outside! Tame the heat and enjoy the sunshine with these Sunburn, Summer Time, and Sun City cocktail recipes.
Super Bowl Cocktail Recipes


Stir up these delicious cocktails full of team spirit for Super Bowl Sunday. Black Cherry Rum Punch is sure to please a crowd of Baltimore Ravens fans while the Golden Hornet in honor of the San Francisco 49ers, is best shaken one drink at at time.
Tequila Mojito Recipe


Tomorrow's National Tequila Day - July 24. Serve this exhilarating Tequila Mojito recipe for a smashing success!
Tequila Sunrise, Tequila Sunset

Expand your appreciation for Mexico's favorite elixir with the Tequila Sunrise and the Tequila Sunset. Whether it's for brunch or a cocktail party by the pool, your guests are sure to be delighted by these beautifully layered cocktails that are as much fun to make as they are to drink.
The English Rose Cocktail


Even though it's been years since her tragic death, the world still mourns the loss of Diana, Princess of Wales. We celebrated her life as a fairy tale come true only to learn that there was a very real person behind the magic and glamour. Remember her life today with the English Rose cocktail.
The James Bond Martini Recipe - Casino Royale


Interested in the authentic James Bond martini recipe? Here it is - straight from the original tome, Casino Royale, written by Ian Fleming in 1953.
UFO, Interplanetary Punch, and Stratosphere


News lately has been out of this world - no more astronauts, Juno to Jupiter, Perseids meteor showers, and all that extraterrestrial jazz. Enjoy tonight's full moon with cosmically inspired cocktails - the UFO, Interplanetary Punch, and Stratosphere.
Editor's Picks Articles
Top Ten Articles
Previous Features
Site Map
Follow @drinkandbemerry
Tweet
Content copyright © 2018 by . All rights reserved.
This content was written by . If you wish to use this content in any manner, you need written permission.
Contact Sandy Hemphill for details.