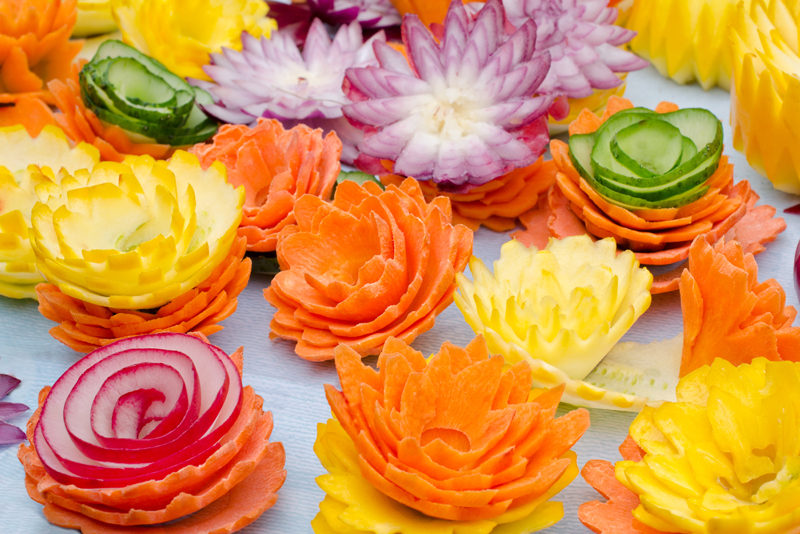 Healthy tips to get your kids eating more nutritious meals.
Eating Healthy While Eating Out


Going out to eat at a restaurant can be a rewarding family experience. However, if you or your children are trying to eat healthier, some simple research before will save you a lot of calories later.
Eating Healthy While Traveling


A little preparation goes a long way when planning nutritious meals for your family's next travel journey.
Fast Food at Home


We've taken three fast food restaurants, and two kid popular food items, chicken nuggets and hamburgers. See how the calories and fat differ between the restaurants and our own recipes that are easy to do at home!
Fed Up With Lunch Blog


In a mission to bring awareness about the quality of school lunches, one teacher is eating a school lunch every day in 2010—and blogging about it anonymously.
Fresh Tomato and Basil Pasta


A quick healthy pasta recipe that is one step up from the same old Mac n Cheese!
Fun Tips for Cooking With Kids


Here are some more of my Cooking with Kids tips to make your produce shopping and healthy meal prep a pleasant experience. Learn about organic produce, how to pick what you really need, and how to get the kids involved in age-appropriate and fun ways.
Getting Started- Healthy Foods for Healthy Kids


Do you have children who are picky eaters? Do you want to get your family eating healthier? Here are simple suggestions to get you started!
Healthy Foods Site at Bella Online


The Healthy Foods site at Bella Online is full of great recipes and tips for cooking healthy. The editor, Jill Rachel Tamucci, has done an excellent job in providing delicious recipes and book reviews.
Holiday Help From Your Kids


Do your children run the other way when you ask them to help out around the holidays? Do they fight over having to take out the trash, or setting the table? Here are some ideas to get your children moving and ready to help!
Kid's fried lentil recipe


Lentils are not just for vegetarians. They are a fantastically nutritious food, which surprisingly most kids love. These days many people don't know what to do with lentils so here is a quick easy recipe that can be used as an accompaniment or enjoyed as a meal on their own.
Pizza and Calzone Recipes


Who needs pizza delivery service when you can easily throw together a grilled chicken and mozzarella pizza or a cheese and pepperoni calzone? You can even cut out some fat and calories!
Roasted Vegetable Pizza Recipe


Pizza has long been a kid favorite meal. Instead of ordering pizza in, why not try your own healthy version with your kids? Substituting low fat cheese and adding a few vegetables cuts down on the calories, fat, and sodium, but not the taste!
Super Bowl Snack Recipes


Super Bowl snacks don't have to be loaded with fat. Buffalo chicken bites, served alongside fresh vegetables and a creamy dill dip are healthy recipes for your Super Bowl crowd!
Three Healthy Salad Recipes


These low fat chicken, tuna, and pasta salad recipes provide healthy options for every child's taste.
Tricks To Healthier Meals


Tired of picky eaters? Kids wont eat their veggies or fruits? Here are a few tricks that just might get them to eat a little healthier without arguement.
Editor's Picks Articles
Top Ten Articles
Previous Features
Site Map
Content copyright © 2018 by . All rights reserved.
This content was written by . If you wish to use this content in any manner, you need written permission.
Contact Kymberly A. Morgan for details.