What to Give Travelers on Your Gift List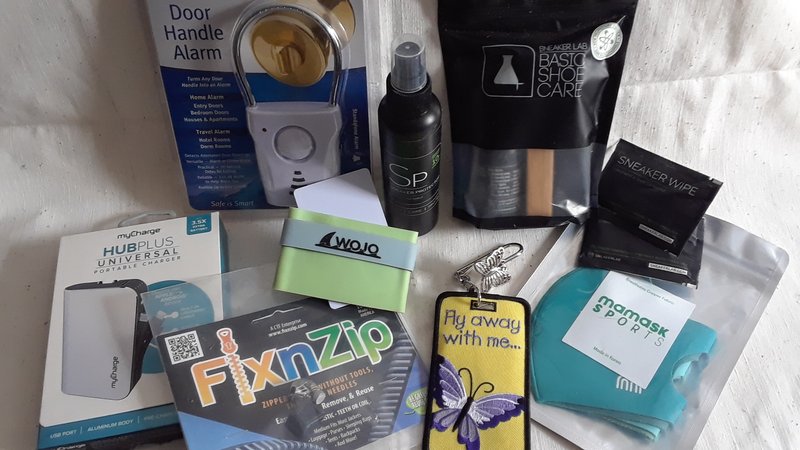 First on everyone's mind this season is safety, so masks are sure to be a top priority. A lot of different styles and materials are on the market, but two that have come to our attention really stand out as top picks for travelers.
The
Mamask Sports Mask
is our pick for the skiers on our list. All ski areas are requiring masks on lifts, in lines, in lodges and throughout their properties. The usual fleece ski masks are meant for warmth, but do not filter out particles – in fact they may break them into smaller particles that travel more easily.
Mamask is made of breathable copper fabric with a neoprene outer layer that forms itself smoothly cross the face and around the ears. The ear loops are flat, flexible, without toggles and especially comfortable under ski helmets. The inner lining is made from a combination of copper ion fiber with polyester for antimicrobial and deodorizing benefits. They are washable in mild soap and warm water. Mamask also makes cute, colorful masks for children.
The second mask we sampled (it came too late for the photo shoot) is
Sonovia's SonoMask
, which uses a zinc-based formula that actively neutralizes more than 99% of bacteria, fungi and viruses, including Covid-19. The formula, which creates an active shield instead of a passive barrier, changes the role of a mask so it protects the wearers as much as it protects those around them.
The design is sleek, with a wire for tight fit at the bridge of the nose, a smooth, close fit at the chin and sides, and toggles to adjust the ear loops. Despite its super-filtration qualities, the mask is breathable and comfortable; it is washable, by hand or in the washing machine and remains fully effective after as many as 55 wash cycles. This is the mask we will wear for airplane travel or other high-contact situations. Expect to pay more for a Sonovia SonoMask, but you'll get your money's worth in a mask that protects you even after months of washing and wear.
Another kind of safety is provided by the
Sabre Door Handle Alarm
, which hangs over a door handle and sounds an alarm when someone tries to open the door. The battery-operated device will either chime or sound an alarm that can be heard as far away as 600 feet – enough to scare away an intruder awaken anyone in the room. The 110-decible alarm can be used to scare off intruders when the room is empty – there is a 30-second delay so you can set it as you exit the room and turn it off as you return. The alarm is compact, weighs only a few ounces and installs in seconds. It adds a level of comfort to staying in a hotel, especially for women traveling alone.
Also handy for hotel stays is the
Finders Key Purse
. Shaped like a luggage tag – and it does double duty as one – the tag come with a detachable clip and a hook to hold it securely over the top of a handbag, where you can find it instantly instead of fishing around for it. The hook unclips, and a plastic strap is included for use as a luggage tag; on arrival the tag quickly becomes a case for hotel keys or other cards.
Alone, the clip is equally useful attached to car keys – or any key you need to have handy. The bright butterfly design on the tag makes your luggage easy to recognize, too. (Handy tip – enclose a photo of yourself with the card in your luggage tag as instant proof of ownership should someone else try to claim your luggage at an airport.)
For a good place to stow hotel room key cards, identification, credit cards and a little cash while walking or running, working out, swimming or any place where you don't have tight-closing pockets,
Wojo Wallets
come to the rescue. A slightly stretchable loop holds several cards and cash securely and won't slip out of a pocket. It also floats, a plus for swimmers and kayakers.
Although they don't mention it in their advertising, the Wojo Wallet has another use for me: my hands are small enough that the separate band slides over them so I can wear the wallet securely around my arm just under my sleeve when I have no pockets or wish to have my money and cards out of sight.
The handiest multiple device charger we have tested is the
HubPlus Universal Portable Charger by myCharge
. Slim and light enough to suspend safely from a wall outlet to recharge, the HubPlus handles up to three phones, laptops and other Android or Apple devices at a time. It has built-in USB-C and lighting cables and a USB port for a third device. The wall prongs fold back into the case when not in use, as do the cables, so the charger is easy to tuck into a pack or briefcase.
Nobody ever accused me of being obsessive about my clothes or the shine on my shoes. But I do like to have my light blue sneakers looking fit for city wear when I'm trudging miles of stone-paved streets in a typical travel writer's day.
Sneaker Lab's
Sneaker Protector and Shoe Care Kit have become my shoes' BF, for cleaning at home, protecting against travel dirt and quick cleanups to keep them respectable on the road.
The Basic Shoe Care kit gets things started with pro-bacterial solution that breaks down dirt, and a bristle brush that is safe for fabric, suede and nubuck. Once clean, I spray the shoes with Sneaker Protector for a long-lasting shield that makes them easy to clean. Handy little packs of Sneaker Wipe give me a way to clean off new stains before they settle in. I'm giving this kit to my teenager, who is really finicky about keeping her sneakers white, whether she is traveling or staying home.
One final gadget will go in everyone's Christmas stocking: FixNZip. This tiny device does what no amount of struggling or bad language can do for a zipper that's slipped off track. As everyone knows, this happens most when you're in a hurry and shivering while trying to zip a jacket on a cold day. This handy little gadget slips onto the zipper and re-aligns the track, then snaps off ready for the next time. Don't let your traveling friends leave home without one.


Related Articles
Editor's Picks Articles
Top Ten Articles
Previous Features
Site Map





Content copyright © 2023 by Barbara Radcliffe Rogers. All rights reserved.
This content was written by Barbara Radcliffe Rogers. If you wish to use this content in any manner, you need written permission. Contact Barbara Radcliffe Rogers for details.