Gifts for Food Loving Travelers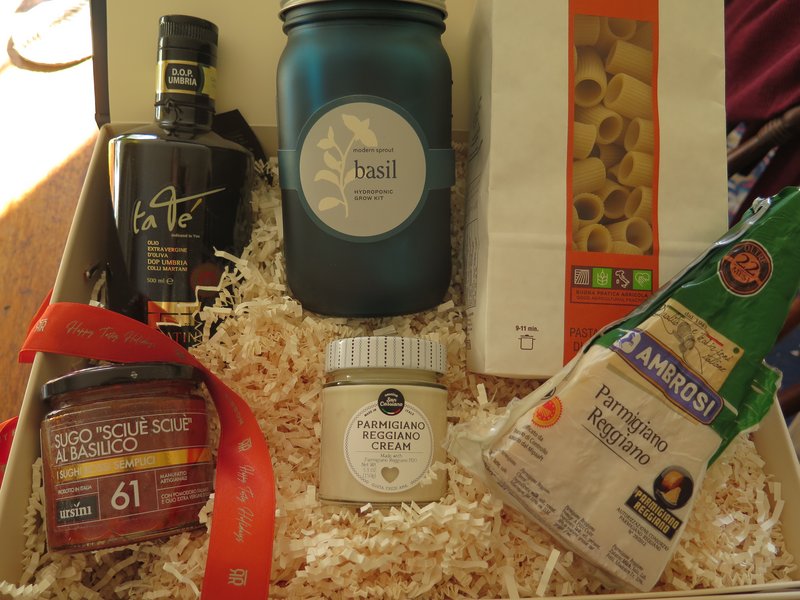 With travel now seeming like a far-off dream, we find ourselves longing for some of the flavors we savor in far-off places. As we search for holiday gifts to give family members who, in normal times, are travelers and foodies like us, food is the first thing we think of.
Several companies seem to have anticipated our Christmas shopping needs this year, with beautiful gift assortments to choose from. We sampled two of the (we had to be sure they were right before we used them as gifts, right?)
The first, the Pasta Master collection by
Tasty Ribbon
, arrived in an impressively solid box, decorated in red ribbons and filled with all the essentials for a traditional Pasta al Pomodoro. The collection of ingredients, all imported from artisanal makes in Italy, included a large bag of Mancini rigatoni (more on that later), a jar of Sciue Sciue sauce with basil, a jar of Parmigiano-Reggiano cream sauce (which was ambrosial stirred into risotto just before serving), a bottle of I Potti de Fratini extra-virgin olive oil, and a generous half-pound wedge of DOP Parmigiano-Reggiano, aged over 22 months.
And so the gift could keep on giving even after the ingredients had been eaten, a hydroponic basil kit topped off the package, ready to plant for a winter-long supply of fresh herbs.
The rigatoni was sensational; this was no ordinary pasta. Instead of the bland flavor of grocery store brands, this had real flavor and texture. It had a bite to it without being undercooked. The only way to get ordinary pasta to have a firm texture is to undercook it, which gives it a slightly raw flavor. This rigatoni, made with durum wheat, held its shape and mouthfeel when fully cooked to bring out its best flavor.
We varied a little bit from the plan because we don't think Scui Scui sauce is the best to use with rigatoni. In Italian, scui scui means hurry hurry, and it's a simple sauce made fresh, with very few ingredients and cooked only a short time, perfect, we think, for lighter, more delicate pastas.
So we saved it for later and made a traditional hearty Bolognese sauce with crumbled ground lean beef, which the pasta caught and held so that each bite was a perfect blend of pasta, meat and sauce. And of course, the Parmesan, which -- unlike the grocery store variety – shaved beautifully into little bursts of intense flavor. The Pasta Master Kit is a worthy gift for anyone who misses the flavors of Italy.
Food gifts for travelers can reflect places closer to home, too. For those who have been lucky enough to sample some of the fine regional cheeses that don't reach the cheese shops across the nation,
Cheesemonger Box
gifts can take them on a local cheese trail. The box we received contained three excellent Vermont cheeses, along with the accompanying crackers and a jar of raspberry mostarda.
The boxes, which can be a one-time gift or a subscription that arrives fresh each month, contain three generous cuts of small-batch cheeses from American and occasionally European artisanal cheesemakers. The one we ordered contained Harbison, from Jasper Hill Farm, a pasteurized cow's milk cheese with a soft center and bloomy rind. The kind you slice the top off and dip in to with a spoon or crackers.
The generous block of Shelburne Farms extra-sharp, raw milk cheddar was aged two years, for a rich tang that to any New Englander just cries out for a wedge of apple pie. Our hands-down favorite (you'll always get us with sheep cheese, and this is our favorite American-produced one) was one we already knew, Vermont Shepherd's Verano, a raw sheep's milk cheese made in Putney, VT.
The Blake Hill Raspberry Mostarda, from Jasper Hill Farm, was a fruity condiment especially good with bloomy rind cheeses such as Harbison, made with raspberries, mustard and ice apple cider. Travelers in Europe, especially in Spain, are used to having quince paste or other sweet condiment served with cheese, and this continental touch was perfect with the Harbison. The generous 10-oz jar lasted far beyond that and went beautifully with several subsequent cheeses.


Related Articles
Editor's Picks Articles
Top Ten Articles
Previous Features
Site Map





Content copyright © 2023 by Barbara Radcliffe Rogers. All rights reserved.
This content was written by Barbara Radcliffe Rogers. If you wish to use this content in any manner, you need written permission. Contact Barbara Radcliffe Rogers for details.