Solo on the Seine – Cruising on the Scenic Gem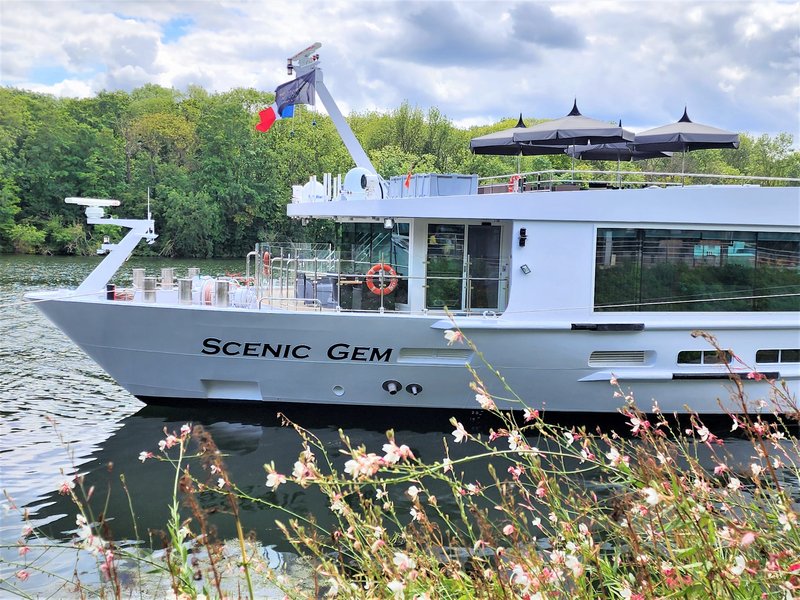 When my taxi pulled up to the dock in Paris beside the
Scenic Gem
, I felt some twinges of apprehension. Why? Because, despite years of solo travel around the world, I was nervous that I would be that awkward single on a ship filled with happy couples paired off for a romantic Seine River cruise.
Who else, I wondered, would take an 11-day
ultra-luxury cruise through Normandy
on a sweet ship like the Scenic Gem? My assumptions, like most preconceived notions, were quickly proven way off-base.
From my first moments aboard the Scenic Gem, I felt entirely welcome. After I was greeted with a glass of champagne, my butler led me to my stateroom, where my bags were already waiting for me. He showed me where to find everything in my cabin, how to access schedules and ship information, and made sure I knew that I could call on him any time for assistance – I already felt like I had a friend on board.
At dinner that first evening, I met a mother and son traveling together, and that's when I began to realize the ways the Gem offered an experience for everyone, not just couples. Within a few days, I had met a mother-daughter pair, two other solo passengers, and a set of widowed ladies on their annual summer holiday – my assumptions were tossed aside, and I looked at the cruise with new eyes.
The first thing that struck me was how rooms are set up in a way that would be comfortable shared with someone other than a romantic partner. The room was spacious and well-appointed for two – something that is rare on any cruise ship, whether river or ocean.
The entire suite was a marvel in efficiency and larger than many hotel rooms I've stayed in, with over 200 square feet. A set of cleverly designed balcony doors tuck away neatly, expanding the room to include a comfortable seating area, aptly named the Sun Lounge. The flexible configuration of the Sun Lounge also provides a separate space when the glass doors are closed, and a heavy curtain serves as an additional barrier for both sound and light.
Another element I noticed was the beds, which feature two individual mattresses with their own separate bedding. This provides enough separation that I would be comfortable with if bunking with a friend or relative, and the spacious bathroom provides a private spot for changing clothes.
As an added bonus, there is ample storage space under the beds, allowing a pair of guests to stow their suitcases easily with room to spare. Even as a solo traveler, I appreciated the fact that my suitcases could stay in the room, so I didn't have to unpack every last item and find spots for them – although closet and shelf space was generous enough to do so easily.
The all-inclusive aspect of this cruise really impressed me with its scope. So many ships advertise as such but, in reality, still have enough upcharges and add-ons to rack up quickly. With the exception of spa services and a very few select tippity-top-shelf wines, everything on the Gem was covered, including all gratuities. For me, the absence of anxiety over judging appropriate tips was a godsend.
I couldn't help thinking this would also be a relief for parents traveling with their adult children. As someone who often travels with her own parents, I know that moment of awkwardness when the bill arrives, everyone self-consciously negotiating responsibility, trying to be generous without offending the other.
None of that here, though, so have that nightcap and snack from the mini-bar, take the e-bikes for a ride every day, and order room service every morning.
Although river cruises are usually less focused on social activities, since there is plenty of time in each port and limited transit time during waking hours, I assumed that I would inevitably have to do the awkward "where do I sit" dance any time I joined the passengers at a meal or in the lounge. I was equally wrong on this.
Instead of hosting group activities that are designed to force passengers to get to know each other, which can be very uncomfortable or even off-putting for some, gatherings were casual and light. There was encouragement to meet fellow passengers with no pressure to participate. Seating configurations encouraged us to form groups instead of pairing off at individual tables, while there were always some private spots open for couples (or solos) who needed some space.
Of the many new friendships I made on the Scenic Gem, most were kindled during tours and shore excursions. Since each stop had at least three or four options to choose from, many couples chose different activities. Those of us who were un-paired seemed to naturally gravitate toward each other, often after finding common interests while lingering at an attraction.
On my first excursion, I met another woman who was also cruising solo, and we bonded while photographing architecture in the tiny town of Lyons la Forêt. In Honfleur, I went to the Bayeux Tapestry Museum and had a delightful time discussing fiber arts with a woman whose husband had opted to tour the Normandy landing sites. During a walking tour in Rouen, a chat while admiring wares in a storefront turned into an afternoon shopping spree with a lady who appreciates quirky shops and crepes as much as I do.
While I might have met and enjoyed the company of these marvelous people during a typical getting-to-know-you event, meeting them organically while sharing an experience we both found meaningful made a much more genuine connection. Instead of mere recognition the next day, we continued to socialize, knowing that we had more in common than simply being on the same boat.
***
Note from the Editor: While I have cruised a lot of Europe's rivers, I have never cruised on the Seine, and I have never cruised alone. My colleague Lura Seavey has just returned from doing both, and I know that women who travel alone will want to hear her story.


Related Articles
Editor's Picks Articles
Top Ten Articles
Previous Features
Site Map





Content copyright © 2023 by Lura Seavey. All rights reserved.
This content was written by Lura Seavey. If you wish to use this content in any manner, you need written permission. Contact Barbara Radcliffe Rogers for details.