Testing our New Picnic Grill on a Spring Road Trip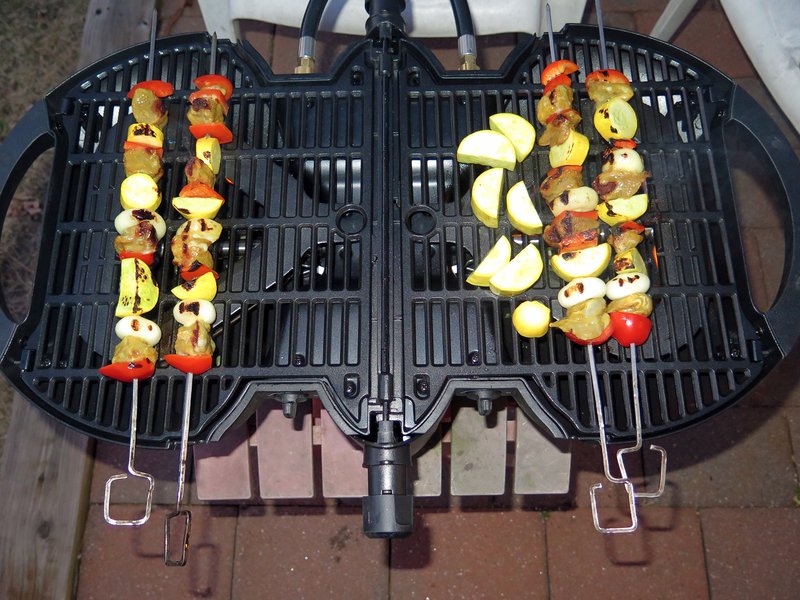 Photo © Stillman Rogers
With afternoons warm enough for picnics we were anxious to try out our new
nomadiQ grill
, so we planned a day rambling back-country roads in New Hampshire's Lakes Region. Instead of the busier area around the sprawling Lake Winnipesaukee and lovely little Squam Lake, we chose to explore the area around Newfound Lake.
Less known, and as a result, less visited, Newfound Lake is in the center of the state, west of I-93. Unlike many lakes, its shores are largely undeveloped, with camps and a couple of hotels on the east side and nothing but green forest and a steep mountainside on the other. The northern end is largely protected by nature reserves.
On the undeveloped side of the lake, Wellington State Park protects a pine-clad peninsula and a large swath of the mountainside above. Later in the season it will be filled with families enjoying one of the state's loveliest beaches. But today we only had to share its waterside picnic area with a couple who were putting in their kayaks for a paddle around the lake.
From the trunk of our car we retrieved our new nomadiQ grill, which we set up in minutes. We had brought the instruction booklet, which is very clear, but we barely needed it to have the grill unfolded from its compact case and ready to fire up. The grill unfolds into two separate grilling surfaces, which are also fired separately so you can use one or both.
In our cooler we had a container of lamb cubes marinating in olive oil, lemon juice, wine vinegar and curry powder – a cookout favorite that keeps well and continues to deepen its flavor in the cooler as we drive around. A baggie of precut red peppers, cipollini onions and summer squash were quick to alternate on skewers with the lamb. The grill is designed to heat evenly, so there's no need to do anything but turn the skewers once for a perfect shish kebab dinner.
The food is protected from the direct flame by a deflector, so there's no burning fat, and the grill surfaces are easy to wipe down for storage. The grill cools in five minutes, far less time than it took us to eat, and packed away as quickly as it opened. A sturdy case protects from other things in the trunk when it's in transit.
It was lucky that we had another handy bit of equipment – a
Trac-Grabber
-- still in the trunk from winter driving. After a leisurely picnic and a walk on one of the parks trails, we drove north to see one of the state's most interesting waterfalls, called Sculptured Rocks.
Here the riverside bedrock has been carved and smoothed by the river into deep pools that look as though they had been created by a giant-sized ice cream scoop. With the spring runoff rushing between the carved and convoluted ledges, this was an even more spectacular sight than in summer.
Never content to stay on marked roads, we decided to follow one that looked as though it might cut across to another route home. Our explorations took us, as they often do, on an unpaved road, and we soon realized that we'd miscalculated the route – and the season.
Early spring is better known here as mud season, and the road in front of us was deeply grooved in ruts through the mud. But there was no place where we could turn around, so we kept going. And mired into the mud. Trac-Grabbers, I'm happy to report, worked just as well in mud as it did this winter when we got stuck in a friend's unplowed driveway.
They attach easily to the tires and their deep grooved tread grips into the surface, stopping the spin and continuing to do so until you're on firm footing again. We ended up with muddy boots, and the car needed a good shampoo, but we weren't stuck in the mud.
Unpaved roads being a common part of exploring New England's backcountry, we decide that the Trac-Grabber, like the nomadiQ (which would be great for tailgate lunches when we're skiing), earned a year-round place in the trunk.
You Should Also Read:
Luxury Travel in the new Normal Era


Related Articles
Editor's Picks Articles
Top Ten Articles
Previous Features
Site Map





Content copyright © 2023 by Barbara Radcliffe Rogers. All rights reserved.
This content was written by Barbara Radcliffe Rogers. If you wish to use this content in any manner, you need written permission. Contact Barbara Radcliffe Rogers for details.