Christmas All Year in Germany's Ore Mountains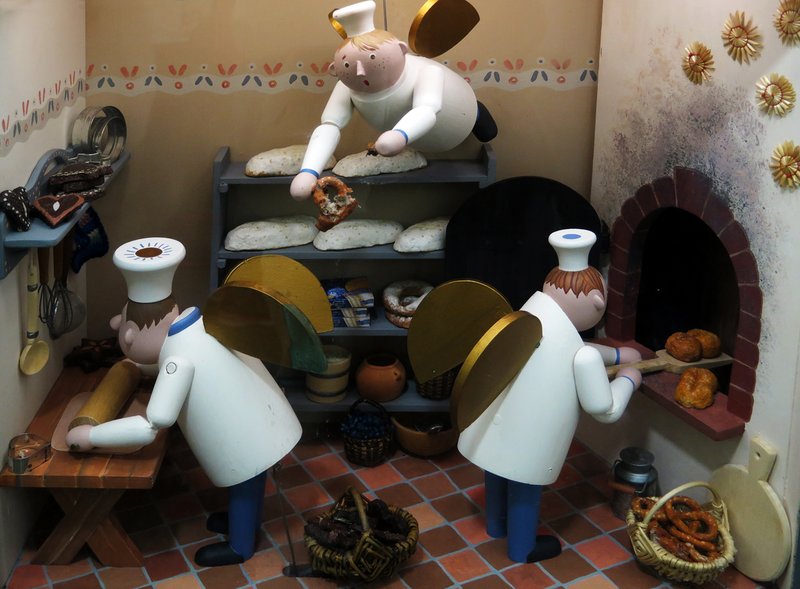 Cheery little pink-cheeked angels, scowling nutcracker and table-top carousels powered by candle flames are familiar sights at Christkindlmarkts everywhere in Germany. It's easy to picture busy little elves in the Black Forest turning these out in their woodland dens, but in fact most of them come from another corner of Germany, the Ore Mountains, or Erzgebirge.

In the southeast corner of Saxony, in Eastern Germany along the border with the Czech Republic, the Ore Mountains were once a rich mining region and the ground underfoot is still webbed with networks of mining tunnels. You can explore one of these below the museum in Annaberg-Buchholz, the region's largest town.

At another museum just down the street you can enter a fantasy world of painted wooden figures that once supplemented – and later replaced – mining as the region's main industry. The Manufaktur der Träume (maker of dreams) is not only filled with examples of the art of these woodcarvers and turners, but explains and demonstrates the skills and techniques.

Most of the traditional painted angels, Santas and other tiny figures that decorate Christmas trees are made by wood turning, as are candle holders and traditional nutcrackers. The museum relates a funny story about how these scowling figures in their guards' uniforms originated as caricatures of the detested mine foremen.

Wood turning, which is the method used to make decorative chair spindles, is a specialty of the Ore Mountains and involves spinning a length of wood against a cutting tool that carves as it turns. The wood becomes a long string of shapes that can be sliced apart. For the traditional miniature angels, tiny round heads are glued to cone-shaped bodies and flat wings are added with a drop of glue. Each segment is painted before they are assembled.

Throughout Annaberg-Buchholz, shop windows display these figures and in some you can watch as they are assembled, their faces added with a few flicks of a tiny brush.

Traditions of woodcarving – a separate craft from turning -- extend to more serious works than toys and holiday ornaments and are just as strong. Two churches in Annaberg-Buchholz are filled with magnificent examples of wood carving. In the 15th-century St. Annenkirche, look for a miner with his pick, in the figures intricately carved and painted figures decorating the pulpit.

Near the main square, where the Christmas market is held each December, the small St. Marien church is literally filled with more than two dozen life-sized figures of townspeople, carved and painted in realistic detail. As you walk around the small church you meet the local butcher, the baker, and women with shopping baskets over their arms.

Along with holiday decorations, the Erzgebirge wood-turners make toys, dolls, figural candle holders and detailed scenes and dioramas. The museum here and the Spielzeugmuseum Seiffen, in neighboring Seiffen, show examples of these through the past centuries – a visual history of wooden toys and miniatures. This museum's centerpiece is a wooden carousel of painted Christmas figures, 20 feet tall.

Smaller carousels, known as Erzgebirge Pyramids, are powered by the rising heat of a single candle flame, and we saw these in the shops that line the street of this small town. Seiffen was known for its wooden toys long before the mines closed, and it seems like Christmas here all year round.

Shops display hundreds of colorful painted figures and in one workshop we watched carvers at work on another Erzgebirge specialty, intricately carved candle arches. Called Schwibbogen, they hold a row of candles in a window, and as evening falls you see their cheerful glow in homes everywhere.



Related Articles
Editor's Picks Articles
Top Ten Articles
Previous Features
Site Map





Content copyright © 2023 by Barbara Radcliffe Rogers. All rights reserved.
This content was written by Barbara Radcliffe Rogers. If you wish to use this content in any manner, you need written permission. Contact Barbara Radcliffe Rogers for details.