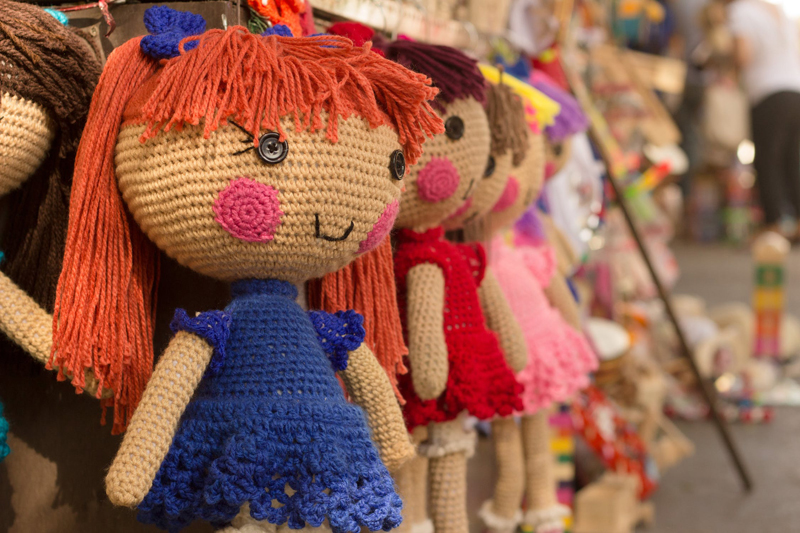 Doll Making Information
Soft Sculpture Doll Cradle


Pattern and instructions to make a fabric, soft sculpture cradle.
Cigar Box Doll Bed


This will be a fun project which will be rather inexpensive to create. It requires very small amounts of supplies and lends itself well to using up left over items.
Cigar Box Doll Bedding


It's time to add the bedding for our cigar box doll bed. This is a very easy, small project that you can add your own creative touches to and make it truly your own.
Creating a Cigar Box Doll Bed


This week we will work on turning our cigar box into a doll bed.
Crochet a Bag for 18 Inch Dolls


Here are Instructions and photos to make a crocheted shoulder bag for 18 inch dolls, such as American Girl and Magic Attic.
Doll Shop Review


I visited a doll shop, this week that is an absolute delight for doll lovers.
Doll Studio Wall Decor


Here is a cute idea for decorating your doll studio.
Easy Blankets for Your Dolls


This is an easy project which you can make in no time at all, especially if you use a sewing machine.
Easy Crocheted Baby Doll Bib


Easy instructions to crochet a bib for your baby doll.
Easy Knitted Doll Blanket


Here is instructions to knit a simple blanket for your doll. It is easy to adjust for different size dolls.
Easy, No Sew, Doll Blanket


Here are instructions to make an easy blanket for your doll, and it doesn't require any sewing.
Jewelry For Your Dolls


When we make doll cloths we try to make our dolls look as pretty as possible. Why not add some jewelry to the outfit?
Knit Booties For Your Dolls


Knit these easy, and quick to make, booties for your dolls. The directions are given in three popular sizes.
Knit Hat and Scarf for 18 Inch Dolls


Here are instructions to make a knitted hat and scarf for your 18 inch dolls.
knitted Doll Blanket


Your doll needs a warm blanket as much as you do, here´s an easy pattern for creating a knitted one.
Make a Hair Bow for Your Baby Doll

Pretty bows on stretchy head bands are so popular for baby girls, and for very good reason. Generally, babies do not have enough hair to put a bow with a clip in, but a nice stretchy band will keep a pretty bow in place. They do exactly the same thing for baby dolls.
Make Hangers for Doll Clothes


Here are patterns and instructions to make hangers for your doll dresses from recycled materials, in two sizes.
Non-essential Doll Equipment


As I looked at my doll collection it occurred to me that I have a lot of equipment for them that isn't specifically intended for dolls. My family is used to this and accepts it as part of my "eccentricities" and doesn't question. But I was wondering how many of you also have such a collection.
Transfer Artist Paper - Review


In this article I will review Lesley Riley's TAP Transfer Artist Paper by C&T Publishing, and compare it to Avery Personal Creations InkJet Stretchable Transfer Sheets.
Editor's Picks Articles
Top Ten Articles
Previous Features
Site Map
Content copyright © 2018 by . All rights reserved.
This content was written by . If you wish to use this content in any manner, you need written permission.
Contact Helen B. Wharton for details.