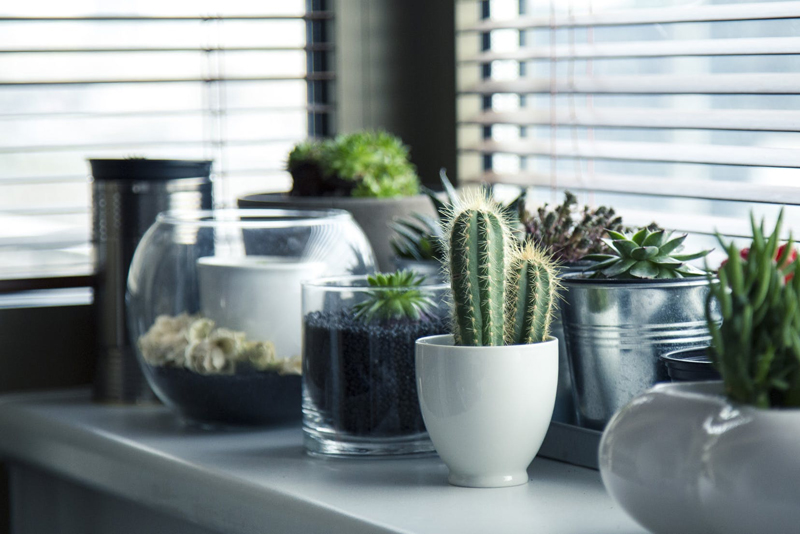 Like houseplants with beautiful foliage? Check these ones out.
Aglaonema, the Chinese Evergreen


One of the easiest to grow houseplants, Aglaonemas are a good choice for any room in any home. They do well in mixed containers, look great in baskets and are the perfect finishing touch for any style of decor.
Arrowhead plant, Syngonium podophyllum


Information on how to get your Goosefoot to thrive. Fortunately, there isn't much to it!
Caladiums


A basic how-to guide on caring for Caladiums.
Croton


This flamboyant foliage plant is easier to care for than you may have heard. Learn here how to get the most out of your Croton.
Elephant Ears


Tropical plants make great houseplants. With the many varieties found among Elephant Ears, it's likely you'll find one you'd love to grow.
English Ivy


English Ivy may not be the first plant that comes to mind when you decide you'd like to get a plant for your home, but there are a lot of reasons why it should be. Its easy to care for, has air-scrubbing abilities and a little plant grows a long way.
Fiddle Leaf Fig


This attractive relative of the Rubber Tree makes a great long-term addition to rooms both bright...and not so bright.
Friendship Plant


Friendship plant has striking foliage and is great for small spaces such as terrariums or dish gardens. Learn here how to care for it.
Golden Pothos


One of the most popular houseplants, up close and personal.
Heart-leaf Philodendron


A guide to the care and propagation of one of the best-known houseplants out there.
Moses-in-the-Cradle


The pretty purple, pink and green striped foliage of this Tradescantia is a bright alternative to a flowering houseplant.
Peperomia


Peperomias are really interesting foliage plants with fleshy leaves and stems. They are easy to care for and add texture to your interiorscape.
Persian Shield


This plant makes for a great specimen if you've got lots of space and not a lot of light. What it lacks in flowers, it more than makes up for with its showy purple leaves.
Poinsettia


A simple guide to keeping the most popular plant at Christmas, the poinsettia.
Prayer Plant


If you have some experience with houseplants or the desire to learn, Maranta is a very attractive foliage plant that requires a little know-how. Once you've got the basics, this plant is pretty easy to care for.
Purple Heart


If you're looking for color, and lots of it, check out the foliage on this beauty!
Purple Passion Plant


How to care for Purple Passion Plant, an interesting, attractive and unique foliage plant that loves the light.
Sensitive Plant


Children of all ages are fascinated by Sensitive Plant. Grow one for your own enjoyment, or share it with someone young at heart. Either way, this plant is sure to entertain.
Spider Plant


Now here's a plant everyone can enjoy; its easy to grow, easy to share, non-toxic, and it even cleans the air!
Swiss Cheese Plant


How to care for and propagate the common Swiss Cheese Plant.
Wandering Jew


Wandering Jew, or Inch Plant is a great choice for indoor hanging baskets. Its simple to grow, and easy to share! Learn about Wandering Jew and see why this plant might be the best next addition to your houseplant collection.
Weeping Fig


The Weeping Fig is a staple of interiorscaping and is one of the most common trees in malls and offices. Learn all about how to care for one in your home and deal with common problems such as leaf loss.
ZZ Plant


Zamioculcas zamiifolia is my favorite foliage houseplant, and it should be yours, too!
Editor's Picks Articles
Top Ten Articles
Previous Features
Site Map
Content copyright © 2018 by . All rights reserved.
This content was written by . If you wish to use this content in any manner, you need written permission.
Contact BellaOnline Administration for details.