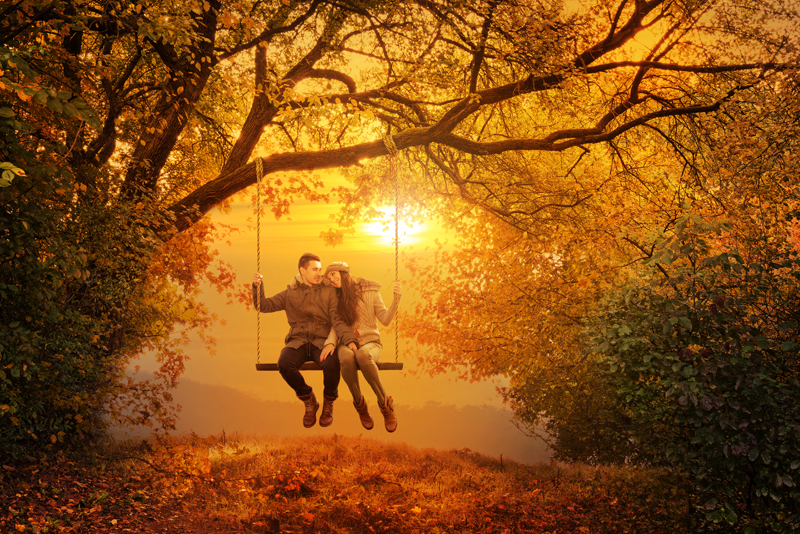 There are some couples that are just so right together, that you can't imagine them with anybody else.
Meet Wes and Jen Williams.
Married for 21 years, they have been together for 29. The two first met at band camp Wes' Freshman year and Jen's Sophomore year (although Wes said he'd had his eye on her since middle school.) Jen was the section leader for Wes' group at camp. They hit it off immediately and became good friends. They didn't start dating until Jen was a Senior, Wes a Junior. According to Jen, Wes was at her house almost every night from November to February. She said he would leave his class ring for her, and she would politely return it to him in the morning. On February 7th, she kept that ring and said, "I love you" back to him, and they've been together ever since.
They both attended college at the University of Georgia and said they were not in a rush to get married. The goal was for them to both get their degrees and steady jobs before trying to venture into the world of marriage. When I asked was it not hard to wait, Jen replied that she felt couples that rushed into marriage because they needed to make it official, were not secure in their relationship. If you trusted your partner and loved him [her], then they were going to be there waiting on you, whether you had a ring and a piece of paper or not.
This past year, Jen and Wes' marriage was tested in an extreme way. Their daughter was diagnosed with a rare type of brain tumor called, anaplastic ependymoma. M (name withheld because of age) woke up one morning with an excruciating headache. When she started vomiting, Jen decided to take her into the ER. (Jen is a physical therapist, and the progression of symptoms had her worried.) By the time they reached the hospital, M's right side had gone completely numb and she could not put any weight on her right leg. A CAT scan revealed a very large tumor. She was airlifted to Scottish Rite hospital in Atlanta where surgery to remove the tumor was performed a few days later. Despite that, she still needed an aggressive form of radiation treatment that is only available in a few hospitals, so the family packed and traveled to Texas and MD Anderson Cancer Center.
To make things in life even more hectic, this was their son's Senior year in high school, the honor student was getting ready to graduate and had all the programs and awards ceremonies to attend, not to mention graduation itself! So, the parents split their time, Jen staying mostly in Houston, Wes in Gainesville. As often as he could Wes would try to make it out to Texas to be with his baby girl, and Jen tried to get back for at least a few of her son's programs. The family was able to make arrangements for them all to be home in time for B's (name withheld) graduation.
I pointed out to the couple that marriages have split over that kind of stress. What kept them together? Wes' reply was perfect, "It would be very hard to get through something like that alone. If you recognize how much harder it would be, it serves to make the relationship stronger."
Sorrow was no stranger to the couple. In their first year of marriage, Wes' Mom passed away, Jen lost her father to Non-Hodgkin's Lymphoma, and the couple went through the heartbreaking loss of a miscarriage. Instead of letting grief rip them apart, however, they chose to lean on each other for support and grew closer together. When asked how did they think they accomplished this, they both said it was because they were very good friends before they ever even went out on the first date. That foundation gave them the strength to turn to each other.
No matter what the couple has faced, they have faced it together. It would have been easy to let themselves get weighed down by the stress, but instead they are loving and almost like teenagers. Their kids are happy and optimistic (traits they obviously got from their parents.) They still enjoy each other's company as much as when they first started dating. "There is nothing that I ever do that wouldn't be a better experience with him." Jen says of Wes.
I asked them both what the secret to a good marriage is.
Wes: the ability to communicate, try to empathize, respect. There are differences in the way people communicate, you have to communicate with someone so you understand each other.
Jen: remember to put as much effort into marriage as you did in dating. Once children come along, people forget about the relationship. Have shared experiences together.
To sum it all up, Jen says, "[He is] truly my life partner and my closest friend."
You Should Also Read:
A look at Newlyweds
A Marriage at 8 Years


Related Articles
Editor's Picks Articles
Top Ten Articles
Previous Features
Site Map





Content copyright © 2023 by Michelle Taylor. All rights reserved.
This content was written by Michelle Taylor. If you wish to use this content in any manner, you need written permission. Contact Michelle Taylor for details.