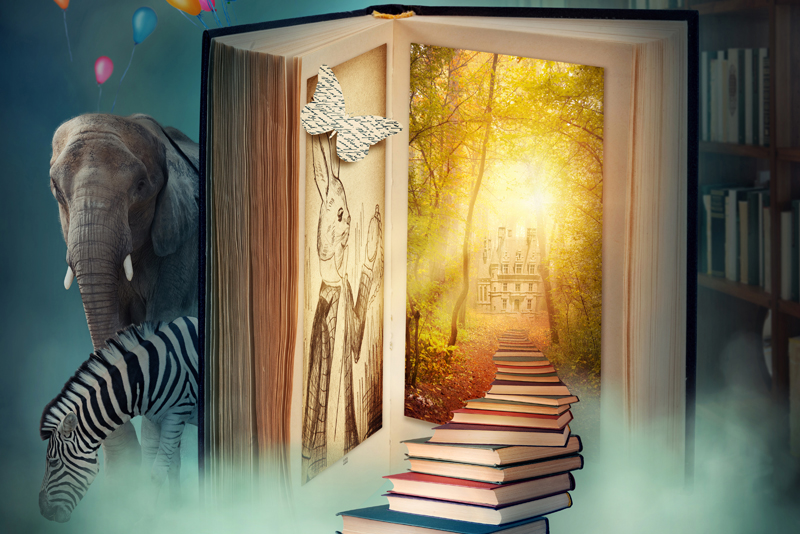 ER: When did you first discover speculative fiction and how did it affect you?

GS: I think it was when I was around eight. I brought home a copy of H. G. Wells's "War of the Worlds" from the local library because it had these huge, cool-looking monsters on the cover that looked like flying saucers with three legs and tentacles that were setting people on fire (at the time I didn't realize that those were actually the martians' travel machines). My dad and I read it together over a period of several days, and the thing I remember most clearly was the scene where one of the martians unscrews the curate's head. Ironically, as a rule my dad hates speculative fiction and won't read any sci-fi or fantasy. I guess since it was by H. G. Wells (a SERIOUS author!), that made it okay. Later on my aunts Diane and Christine introduced me to Roger Zelazny's Amber novels, Ursula K. LeGuin's Earthsea novels, and Isaac Asimov's Lucky Starr novels, and from then on I was well and truly hooked.

ER: What are your three favorite books and/or authors and why?

GS: This is always hard, but if you put a gun to my head I'd have to say my top three are Roger Zelazny's "Lord of Light" for sheer imaginative brilliance, Jack Vance's "The Dying Earth" for his amazing use of language, and Ray Bradbury's "Fahrenheit 451" for putting the maximum amount of power into the minimum number of words. Honorable mentions go to Isaac Asimov, Edgar Rice Burroughs, Arthur C. Clarke, Frank Herbert, H. P. Lovecraft, Vonda N. McIntyre, Patricia A. McKillip, and H. G. Wells.

ER: What is the hardest part of writing speculative fiction? How do you cope with that?

GS: For me, the hardest part is plotting. I start with a general idea of what I'd like to do, but I don't usually know how I'm going to get to the end. I cope with this by just plugging along scene by scene and following up on ideas as they suggest themselves to me. Sometimes this leads to things happening that I didn't plan to do when I started, such as a character dying, because it just makes sense at that point in the narrative for it to happen. Occasionally I've gone back over notes I've made and been astonished by how the story evolved in ways I hadn't planned, which is really neat!

ER: What are you working on now?

GS: I'm presently working on the eighth novel of the series that began with Key to the City, following some of the characters from that book on their further adventures. I enjoy writing about those characters, so I guess I'll keep doing it until I run out of stories to tell about them.

ER: Every speculative fiction writer specializes in something – universes, creatures, languages, technology, magic, etc. What are your specialties?

GS: I just try to create interesting characters and put them in exciting adventures. For me, the characters are what really matter. They're what stay with you. Lord of the Ring and Star Wars wouldn't have the enduring appeal they do if they didn't have characters that we like and can identify and empathize with.

ER: What are some of the values you want your fans to take away from your novels?

GS: Treat everyone with kindness and respect.

ER: What are your professional and/or personal goals for the next decade?

GS: Keep writing and lose weight.

ER: Since Speculative Fiction is often interwoven with spirituality (myths, legends, science, etc), please describe your personal spiritual path and how it is reflected in your writing

GS: I guess my personal spiritual path, if you can call it that, is to try to understand people better, including myself. I was trained as a scientist, and while science is a great tool for understanding the inner workings of nature, it has its limits. That's not to say you can't apply science to human behavior and emotions, you definitely can, but people are complicated, and most of what really matters about them is hidden away inside. You have to learn about people to understand them. In my books, I try to have my characters learn things about themselves which permit them to change, because that makes them more interesting to me.

You Should Also Read:
REVIEW Key to the City
QUESTIONS Key to the City
REVIEW Sisters Hood


Related Articles
Editor's Picks Articles
Top Ten Articles
Previous Features
Site Map





Content copyright © 2023 by Evelyn Rainey. All rights reserved.
This content was written by Evelyn Rainey. If you wish to use this content in any manner, you need written permission. Contact Evelyn Rainey for details.