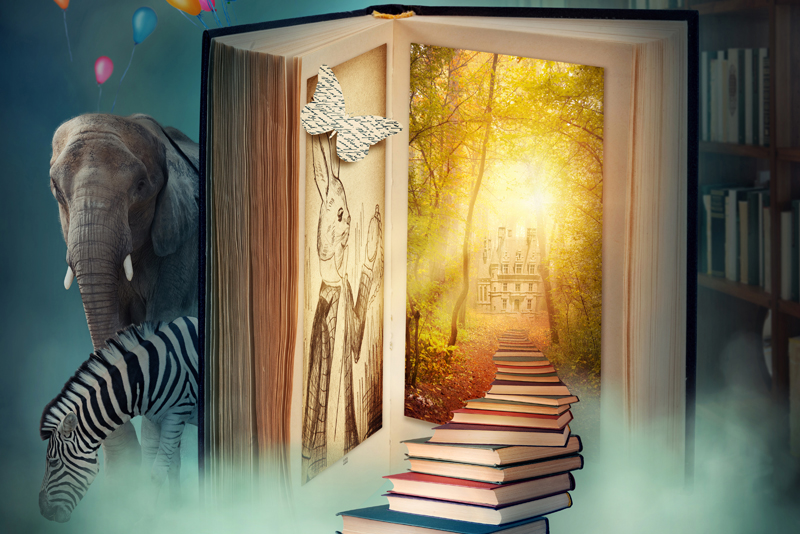 ER: When did you first discover speculative fiction and how did it affect you?
GP: My first intro to any type of writing was comic books. Later my brother Michael introduced me to The Hobbit and The Lord Of The Rings. From then on I was hooked on the fantasy worlds created there, which led me to believe that I could someday create my own worlds filled with interesting characters, creatures and storylines. From a young age I was always accused of 'living in a world of my own', so I took that advice and decided to not only enjoy living there but write about it as well. Every book I have ever read, good or bad, has taught me something I can use in my own imagination and writing. Reading is never a waste of time. I remember something singer/songwriter Mark Knopfler once said that the true test of any artist/writer is to inspire in their work the next artist/writer to take up the challenge and go beyond what they have seen or read and make it something of their own. A book to inspire someone to write a song and then the song to inspire an artist to paint a picture that turns into a book from a writer experiencing the work of art. This way the idea never dies or fades away. It lives forever. If one of my books can achieve this then it was well worth the struggle to create it in the first place. To go beyond what it was created for is something to aspire to in any walk of life.

ER: What are your three favorite books and/or authors and why?
GP: The Little Prince. Watership Down. And, of course: The Hobbit and The Lord Of The Rings. The first book taught me that you could put meaning and purpose behind your prose. The second introduced me to a world of animals within the realms of imagination but also placed and grounded in the real world. And the last two were just so much fun to read. Also Stan Lee's Spider-Man stories. They caught hold of my imagination and never let go. Each one of these books and authors has inspired me to create the characters I do and place them in the types of stories that I love to write. I don't think there would have been a 'Thorndancer' without The Little Prince and Watership Down. Or a 'Farrow And Blackstorm' without The Lord Of The Rings or 'Small Heroes' without Stan Lee's Super-Hero stories. And they all have certainly led to the latest book: The Sisters Hood'.

ER: What is the hardest part of writing speculative fiction?
GP: Making imagination seem real and then bringing others into the dream.

How do you cope with that? Making sure the characters are grounded in some sort of reality, even though the worlds around them are fantastical and unimaginable (perhaps even to themselves sometimes). You have to make the characters of your story believe that they are living in the world they are living in. If they believe it so will the reader. If a character believes, himself, that he is on Mars, then it's that much easier for the reader to accept how he got there.

ER: What are you working on now?
GP: I just finished a book: MEMORIES END (A road trip book from the perspectives of a chimp and an elephant: Moe and Basil). I am also working on the third book in the SUNNY AND RAINY series of books with co-creater/co-writer Liisa Evastina: SUNNY AND RAINY ON SAFARI (The African Journals). And then the sequel to THE SISTERS HOOD book.

ER: Every speculative fiction writer specializes in something – universes, creatures, languages, technology, magic, etc.
What are your specialties?
GP: I would like to think it's characters. Movie Director John Ford always said that he told intimate little stories (character studies) among the vast tapestry of the country's spectacular and ever-expanding landscape. I like to place my characters into these fantastic landscapes and see how they survive. (Some do--some don't). That's life.

ER: What are some of the values you want your fans to take away from your novels?
GP: Make the impossible--possible. If you can dream it--you can do it. My characters (for the most part) never give up or never give in. That's the way I have always approached my writing and my life.

ER: What are your professional and/or personal goals for the next decade?
GP: The same that they have been for most of my life. To write. It makes me happy. It gives my life meaning. It gives me a reason to get up in the morning. When I'm not writing I am walking. I also love to travel. My goal is to someday reach the 'never never' (the Outback) of Australia and do one of two things: Go 'Walkabout' (a more spiritual sojourn) or go 'Waltzing Mathilda' (just walking around with no visible means of support). Either way I think I'll find my way. 'To Get To The Never Never Just Turn West At Walla Walla'. I just have to find Walla Walla.

ER: Since Speculative Fiction is often interwoven with spirituality (myths, legends, science, etc), please describe your personal spiritual path and how it is reflected in your writing.
GP: I have never been one for organized religions or churches or things along those lines. I have found the spiritual side of myself among the trails and pathways of the woodlands near my home in Pennsylvania and along the many National Parks, coastlines and deserts I have traveled throughout this country. I found many of my stories and characters along the way. I can't say for sure if I've found God but if he's looking for me he knows where to find me. I believe that every tree, rock, river and dune has a remarkable and unique story to tell. You just have to listen. That's one thing we all have to learn to do more of in this life: listen. You'll be surprised who, besides yourself, is doing the talking.

ER: Conventions – do you attend?
GP: I have. The large comic cons it's easy to get lost in the hustle and bustle of the crowds, noise and displays. The small, more intimate ones, give you time to meet and greet the fans and let them know about yourself and the books, characters and worlds you create. It's not always about signing and selling the books, sometimes it's just about connecting with others in the same world you are. (But it's nice to then turn around and sign and sell them a book or two).

ER: Do you have a motto?
GP: 'It is only with the heart that one can see rightly, what is essential is invisible to the eye.' Antoine de Saint Exupery (The Little Prince). Don't know if that's really a 'motto' but it is words I live by. How about: 'Anxiety magnifies fearsome objects." Barney Fife. Or: 'Ahhh...Pronoun trouble.' Daffy Duck.


You Should Also Read:
REVIEW The Sisters Hood
Discussion Guide The Sisters Hood
INTERVIEW Elijah David


Related Articles
Editor's Picks Articles
Top Ten Articles
Previous Features
Site Map





Content copyright © 2023 by Evelyn Rainey. All rights reserved.
This content was written by Evelyn Rainey. If you wish to use this content in any manner, you need written permission. Contact Evelyn Rainey for details.