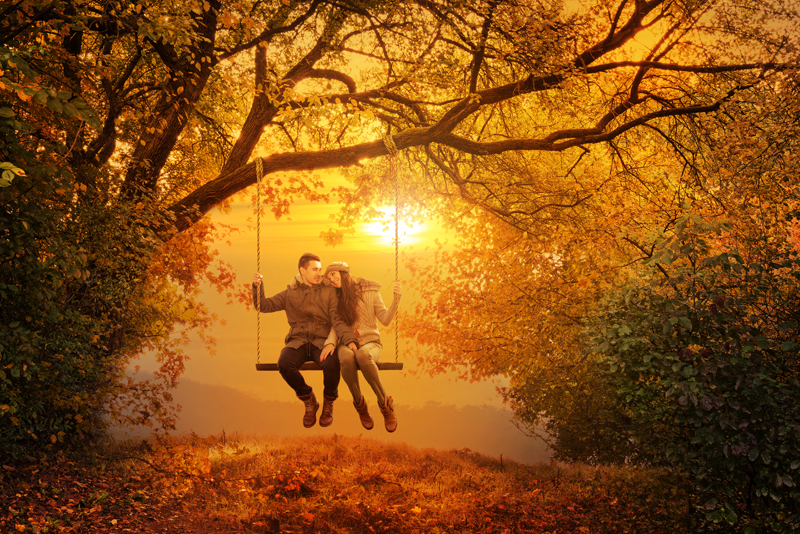 I've been interviewing other couples and writing pieces based on people whom I know to have good marriages, and in all this I realized that I completely skipped over a very important marriage – my own! So, I sat down with my husband, David, and we talked over what we thought some of the most important things are in a marriage.
David and I first met in the 7th grade, back in 1983. We got to be good friends in high school where we shared most of our core classes. We never dated back then, just remained good friends. After graduation, we each went our separate ways, him to Georgia Tech and me to Troy State and eventually a (very) young marriage.
Skip forward 10 years to 1999, and I return home to Georgia, newly divorced (and brokenhearted) along with my two children. It is just in time for my class' 10 year reunion and I got together with all my friends, including David. Especially when my kids were gone to visit with their Dad, I would try to stay busy by going out with friends, and one weekend it wound up being just David and me. That got to be a standing "date", although we were just friends. We dated for almost a year like that, before finally moving out of the "friend zone". We then dated officially for about 6 months, were engaged for 6 months, then were married on February 24th, 2001. My two children were our ring bearer and flower girl, and our rings are engraved with the words
friendship
and
love
as we believe those are the two foundations a strong marriage are built on.
Ours is a different marriage than most. We were older (both almost 30), and I had come from a previous marriage where I was able to learn from a lot of mistakes. We also already had a ready-made family, along with the fact that my oldest son has Asperger's. We soon had another baby. So, our little family is now 5.
One thing I have always been happy about, is that our children have noticed things in our marriage, and they realize it is different. Our daughter said to us one day, "You guys never fight." I won't say we never fight, but I can count on one hand the number of serious arguments we've had. We have our share of little "spats", usually brought on by stress where we blow up about something stupid, but even those are rare. They only happen when we are in a constrained space (like the car) where we can't go behind closed doors and discuss. That is one of our rules, "do not fight in front of the kids". We break it, sure, but for the most part, if it is serious, we go to our room, and we discuss. We've never had a problem communicating. We talk every day. We are tuned in to each other's lives. It keeps fights down, because we know where each other is at in our daily lives. It was funny, when I asked every other couple what was the most important thing in marriage they all said "communication". David didn't say that, but he
did it
. He shows on the daily that communication is important.
What he did say was this, "Love is a choice. You have to choose every day to honor the choice and the commitment that you've made. The ooey-gooey part of love eventually fades, and if you don't choose to love your spouse on that deeper level, then you're left with nothing."
Stress has hit us hard this year. I suffer from debilitating migraines and Clinical Depression and Anxiety, my once vital and active daughter has been reduced to a wheelchair (they don't know why yet), and David was just laid off due to downsizing from a job he has held over 20 years. I told David while we were talking that I bet most people would be surprised to find out we are in counseling. Don't get me wrong, we have a good marriage and a strong marriage, but we just have had so much happen in such a short period of time that we don't know how to handle it. Like David said, "they don't give you a handbook for this sort of thing." But his answer to the counseling was this, "Just like a car, better to do the occasional tune up before the problems actually occur." Counseling is not just for when your marriage is on the brink of divorce (although certainly it is never too late!) If you are having problems that you just aren't equipped to handle, seek help. Catch the stress when it is small in your marriage. You can go to a certified therapist, a pastor, even a support group.
I asked David what he thought it was important for couples to know. He said it was that the unexpected can happen. No one ever plans for the "in sickness" or "for poorer" parts to happen, but they do. Make the commitment to stand by your spouse and choose to love them every day.
You Should Also Read:
A Marriage at 8 Years
A Marriage at 21 Years


Related Articles
Editor's Picks Articles
Top Ten Articles
Previous Features
Site Map





Content copyright © 2023 by Michelle Taylor. All rights reserved.
This content was written by Michelle Taylor. If you wish to use this content in any manner, you need written permission. Contact Michelle Taylor for details.