Chinese New Year (Year of the Dog) Biscuit Recipe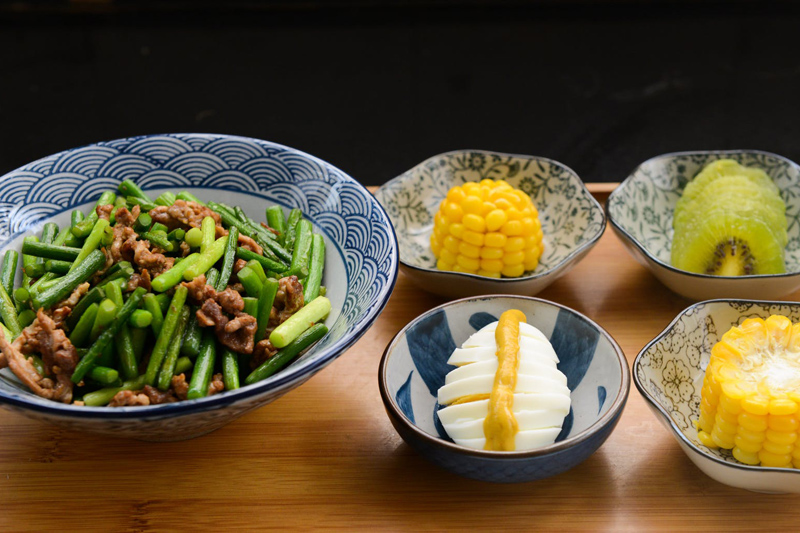 1 Can Biscuit Dough (Grand's Flaky Layers Butter Biscuits works best)
1 Box Regular Raisins
This Chinese New Year marks the "Year of the Dog" and these dog faced biscuits are a perfect fun treat to serve alongside the usual
Chinese New Year dishes.
They are quick and easy to make and only require two ingredients.
Preheat the oven to 350F.


Pop open the can of biscuits and pull them apart and place them on a cutting board or plate.


Then makes cuts to form the ears of the "Year of the Dog biscuits" by almost cutting out a triangle shape in the biscuit, but leaving the top of the triangle in tact. In other words, make two cuts on the sides of the biscuit forming the ears. To see a demonstration of how to do this click here.


Then continue to cut the ears for the dog of each biscuit.


Next, cut about a handful of the raisins in half. These are going to be the eyes for each dog biscuit. Place them between the "ears," or in the middle of the triangle top with the flat cut side down to create the eyes.


Then use a whole raisin to create the nose of the dog. Continue creating the faces of each of the dog biscuits. Make sure to press the raisins into the dough firmly so that they "stick" and won't fall out while the dough is rising when it's cooked.


Once all the biscuits have ears and a faces, carefully transfer them to a non greased baking sheet, leaving about an inch and a half in between them. Depending on the size of your pan, you may need to cook these in batches. I normally just cook 6 at a time. Also if any of the raisins fall off while transferring them to the pan, then they will definitely fall off during the cooking process. Make sure to have them pressed well into the dough so that they stick.


Then place the pan into the preheated oven and let the biscuits cook for 14 minutes.


After 14 minutes, or once they are lightly browned, remove them from the oven and let them cool for about 5 minutes. Then they can be served, enjoy! This recipe makes 8 dog faced biscuits. To see video instructions on how to make these dog biscuits click here.


Editor's Picks Articles
Top Ten Articles
Previous Features
Site Map





Content copyright © 2023 by Lila Voo. All rights reserved.
This content was written by Lila Voo. If you wish to use this content in any manner, you need written permission. Contact Lila Voo for details.