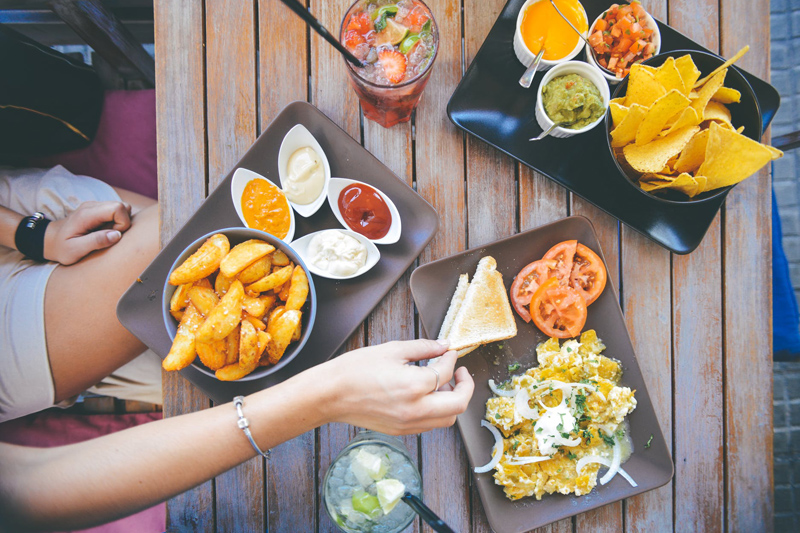 Sweet potatoes, or "camotes" in Spanish, are a root vegetable with a moist, brilliant, orange-colored flesh. Claimed by the super health conscious for the last decade as a replacement for the more common potato, because of its nutritious profile: a good dose of protein and packed with much coveted antioxidant nutrients, including high levels of carotenoids, beta-carotene, copper, vitamins C and E, plus fiber. For those looking to avoid sugar spikes, sweet potatoes off a much lower position on the glycemic index. Sweet potatoes also are easy to find — albeit frequently mislabeled as yams — year round. In Mexico they are commonly eaten in candied, or stewed form.

This fall eschew the tiny-marshmallows-over-baked-sweet-potato casserole for this simple and delicious substitute. There is a subtle crispness from the frying, but the dish still gives the satisfying, unctuous full bite of a casserole. This is a recipe with lots of latitude for degree of sweet — taste and adjust the amount of piloncillo for more or less sweetness, likewise the salt may be omitted or increased to suit your taste.

Piloncillo has a distinct flavor, a combination of brown sugar and molasses makes a good facsimile, though the real thing is available online and in Latin grocers. It is well worth adding to the pantry. Piloncillo, sometimes called "panocha" can be readily used as a substitute in recipes calling for brown sugar. It promises to give the flavor of classic recipes baked goods a new and delicious depth.

Working with piloncillo is not hard. In this recipe it is going to be melted in butter. This is best done by first chopping the cones with a serrated knife. If the piloncillo is unduly hard, soften it by heating it in the microwave for about 15 seconds to make it easier to cut.

Tools:
Vegetable peeler
Chef's knife or French fry cutter
Serrated knife for piloncillo chopping
Shallow dish lined with paper towels
Dutch oven or heavy-bottomed-high-sided fry pan
Chopping board
Salt (optional)

Ingredients:
6 medium sweet potatoes, peeled and trimmed
4 - 5 ounces unsalted clarified butter
12 ounces piloncillo cones, chopped
Flake salt or fleur de sel to taste (optional)

Steps:
1. Cut potatoes into long thin strips, roughly 2"-3" long and 1/4" - 1/2" thick.
2. Over moderate heat begin to heat cooking pan.
3. In pre-heated pan melt butter over moderate heat, do not allow butter to smoke.
4. Incorporate piloconillo stirring continuously until completely smooth.
5. Add potatoes, adjust heat to low. Do not stir initially.
6. Leave potatoes in contact with the bottom of the pan until golden brown, then stir.
7. Stir occasionally, until potatoes are tender (do not let them get mushy).
8. Transfer to a pre-warmed shallow dish, toss with salt if desired.


Related Articles
Editor's Picks Articles
Top Ten Articles
Previous Features
Site Map





Content copyright © 2023 by Mickey Marquez. All rights reserved.
This content was written by Mickey Marquez. If you wish to use this content in any manner, you need written permission. Contact Mickey Marquez for details.