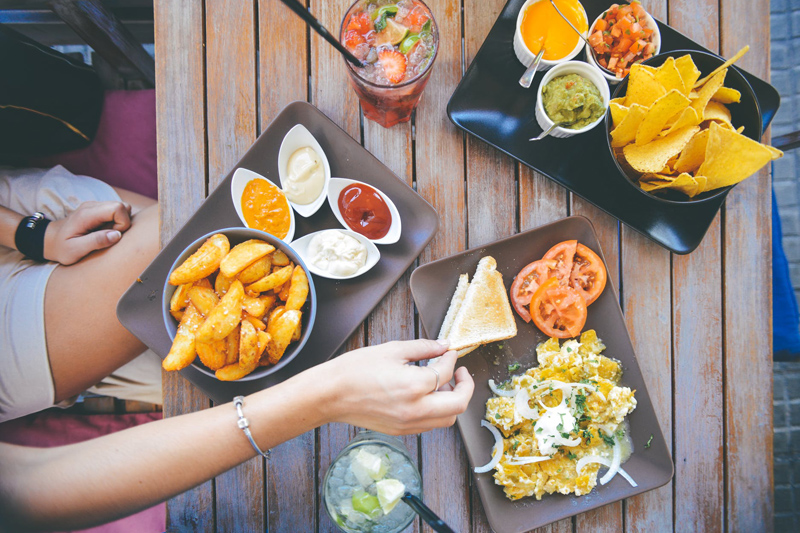 Whether it's grilled meats, taco Tuesday, or just a bowl of chips, a fresh, rustic "salsa roja" makes the difference. In Mexico, the standard table salsas are roja and verde. Roja salsas are tomato based, and verde salsas are tomatillo based. The best rustic salsas require a molcajete, the pre-Columbian culinary tool still in use today. The molcajete, a volcanic grinding bowl and hand tool, can from time to time be replaced with modern Mexico's most widely deployed of kitchen appliances, the "licuadora," or blender.

When making a quick salsa the blender is the way to go, but there are some tricks to be aware of, and although a blender will never deliver the strips and bits of a hand hewn salsa, one can get a good chewy salsa by using the blender with discretion. To do so successfully, do a bite-size rough chop of ingredients, before adding them to the blender carafe. Ingredients added that are not precut require considerably more blending which yields a more liquid sauce than is this recipe's goal. Precutting produces a more substantial salsa with a chewy texture.

For authenticty, char is essential. This salsa relies on vegetables that are not so much roasted as they are charred on a "comal," or griddle (a heavy pan may be substituted). The char in combination with the rehydrated chipotle gives the salsa a smokey flavor that further enhances its freshness, and belies this recipe's simplicity.

Yield: approximately 2 cups of salsa

Tools:
Sharp knife
Cutting board
Blender
Griddle, comal, or heavy pan

Ingredients:
3 Medium-large tomatoes, core removed
½ Large jalapeño seeded and deveined
2 cloves garlic, peeled
½ a small onion
1 small bunch of cilantro, washed and any woody stems removed
1 dried chipotle, rehydrated and stem removed (a canned chipotle in adobo sauce may be substituted)
⅛ teaspoon salt, or to taste

Steps:
1. Place tomatoes, jalapeño, and onion on griddle. Allow to fully char before turning. When all items have been turned, add garlic and char on one side only.
2. Remove vegetables and garlic from griddle. Rough chop into bite size pieces and add to blender carafe.
3. Add salt and chipotle to carafe and blend on low until ingredients are integrated, about 10-15 seconds.
4. Rough cut cilantro, stems included, and add to blender. Pulse at high speed until desired texture is achieved.
5. Taste for salt, make any adjustments.
6. Serve warm or cold.



Related Articles
Editor's Picks Articles
Top Ten Articles
Previous Features
Site Map





Content copyright © 2023 by Mickey Marquez. All rights reserved.
This content was written by Mickey Marquez. If you wish to use this content in any manner, you need written permission. Contact Mickey Marquez for details.